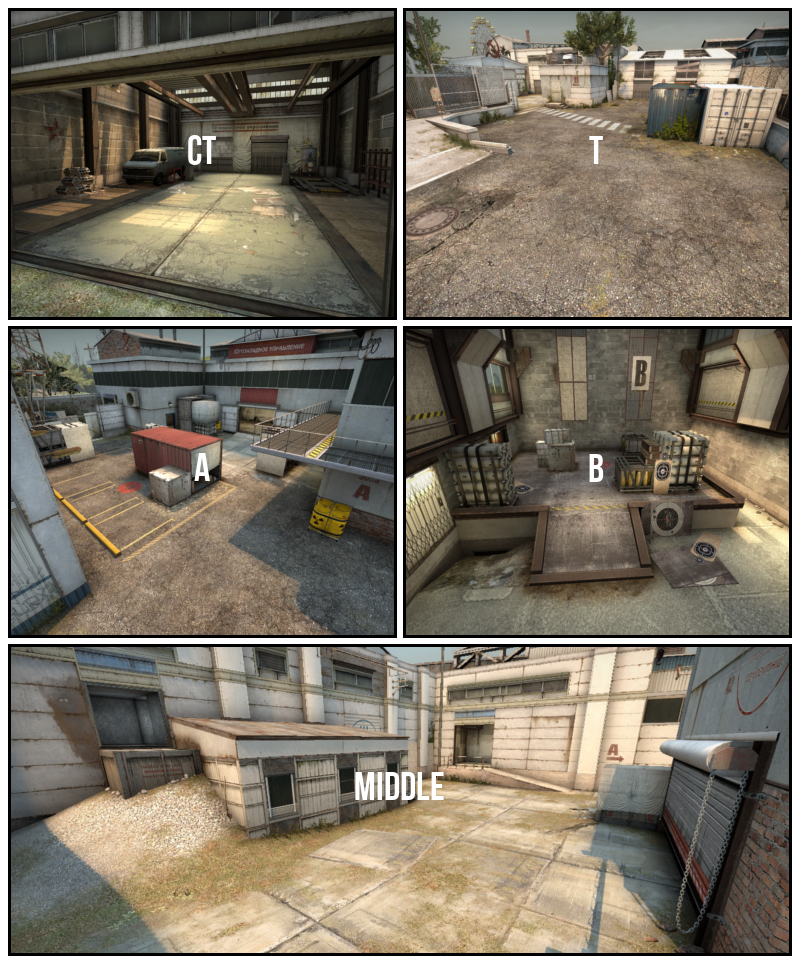 ---
Introduction
Having played a lot and having watched plenty of matches on de_cache, I think that I'm able to teach you guys a bit on how to play this map.
As I no longer play Counter-Strike: Global Offensive this guide might be slightly outdated.
With that in mind, feel free to point out any errors in the comment section.

---
Callouts
More precise callouts will be added in the future.
Post any wishes in the comment section! Basic A Site B Site Middle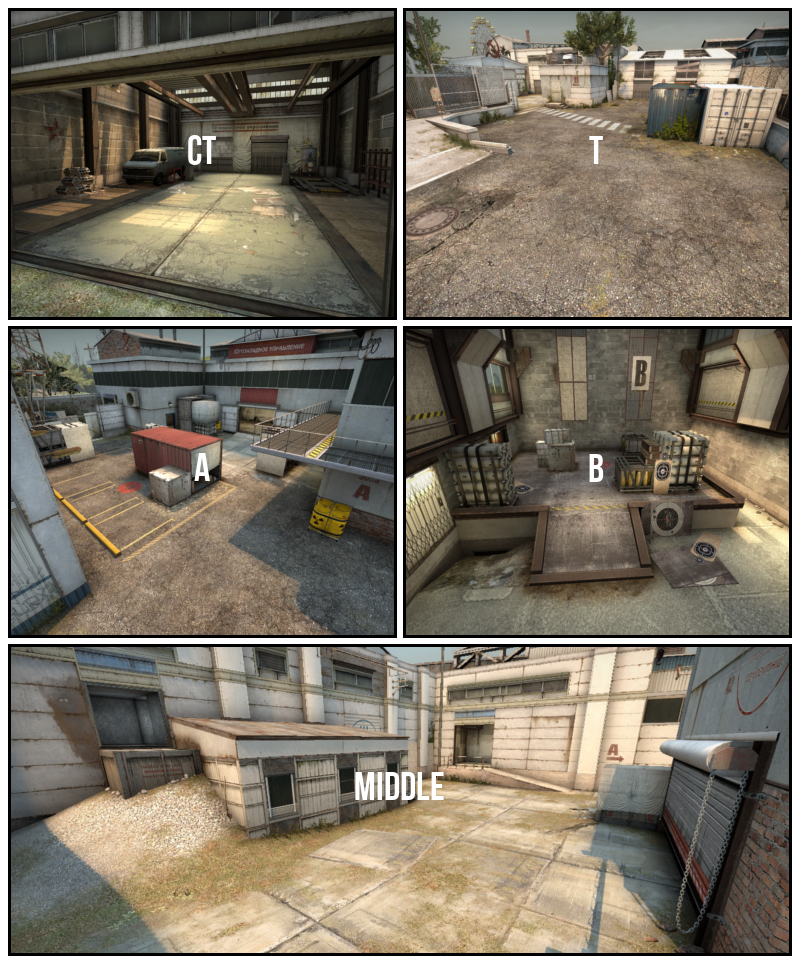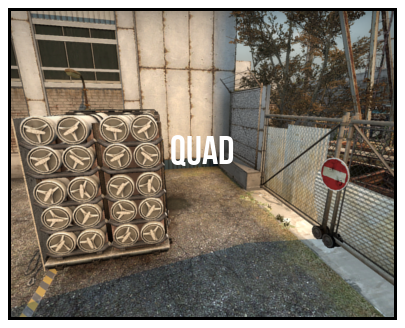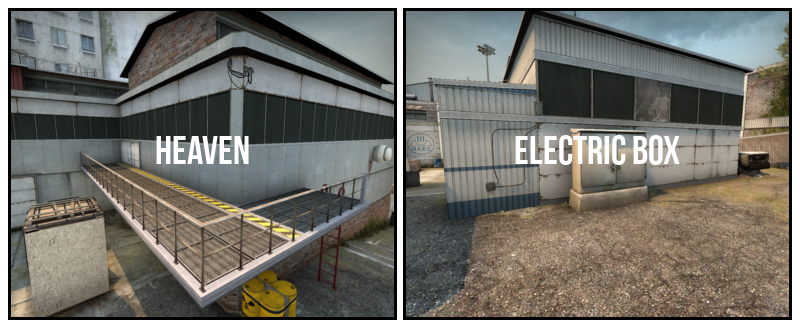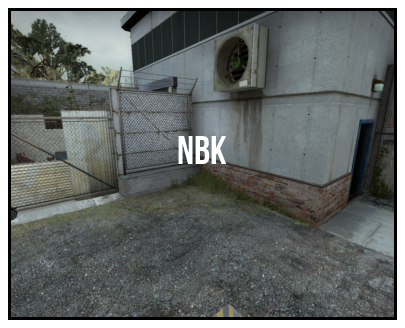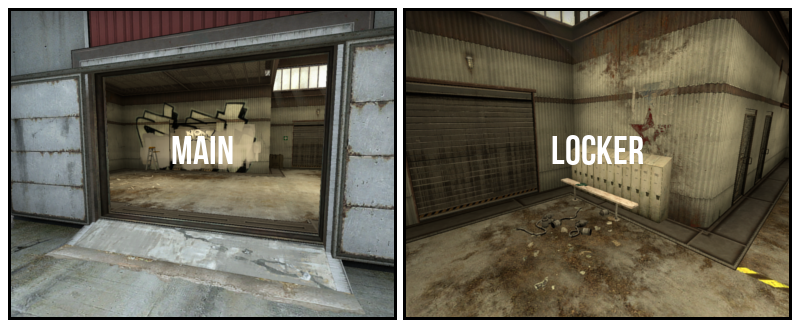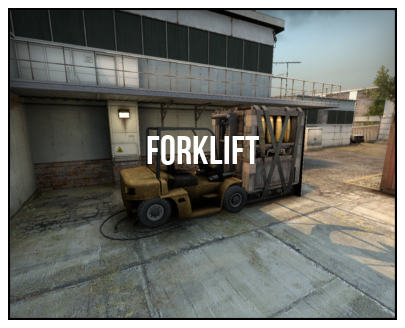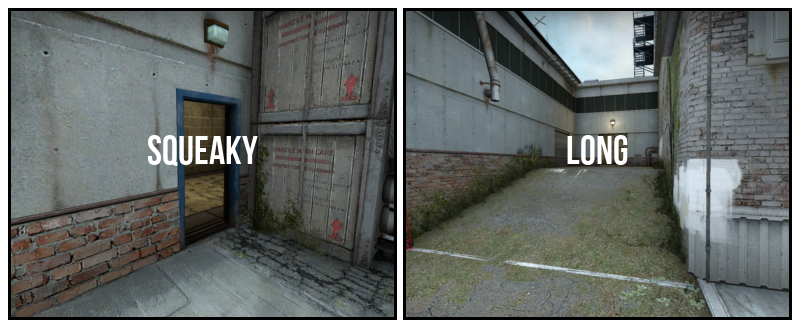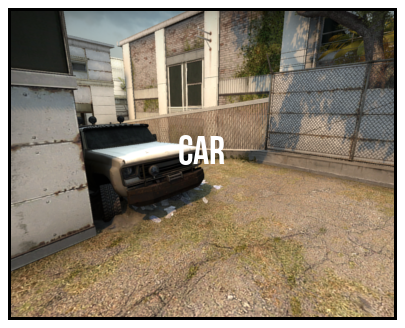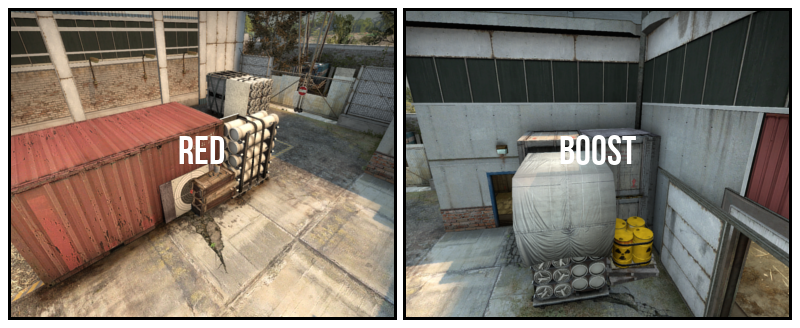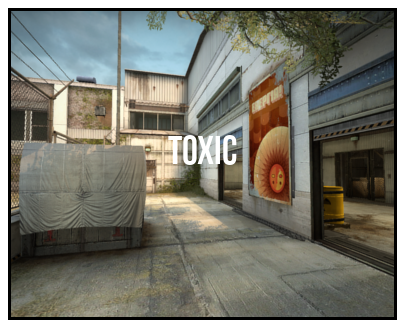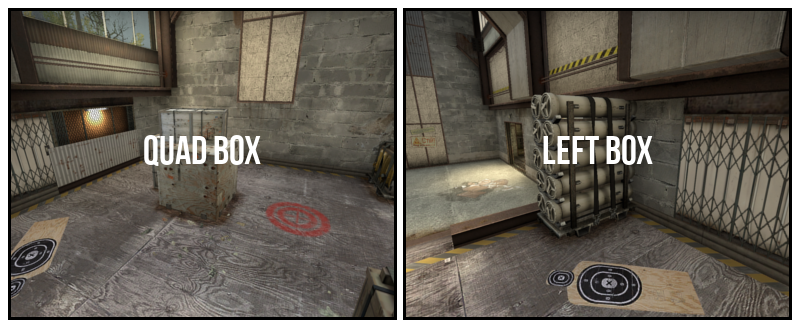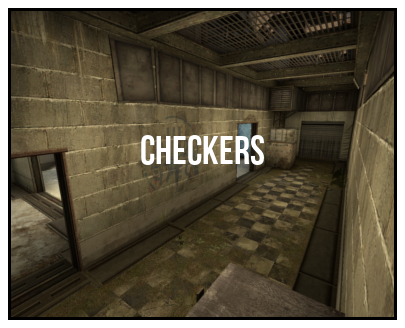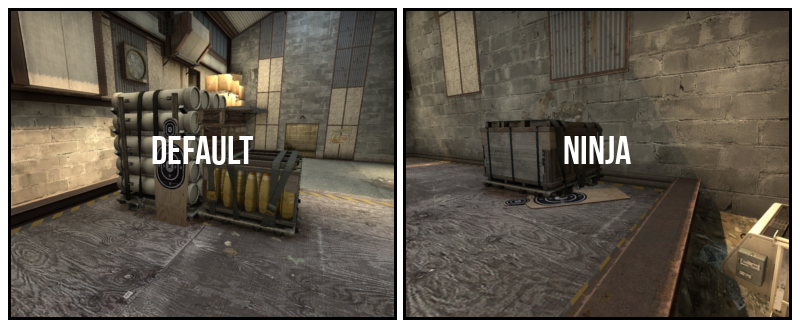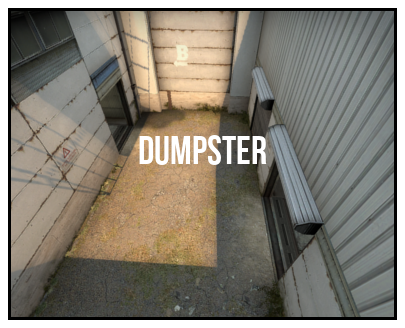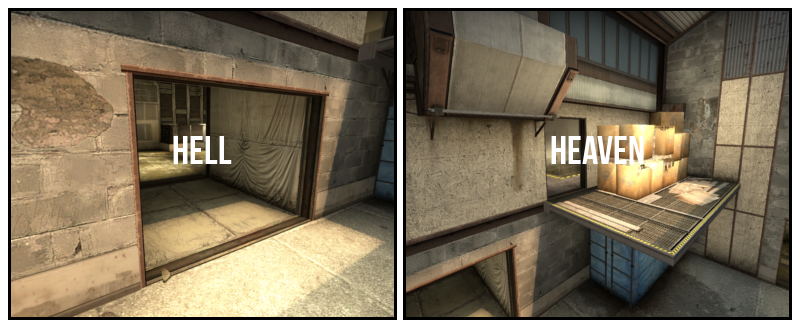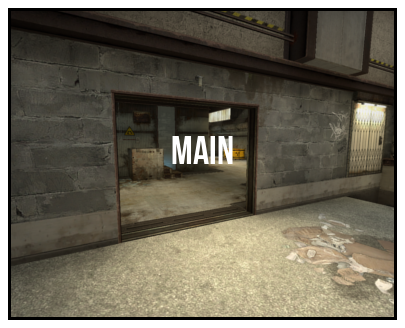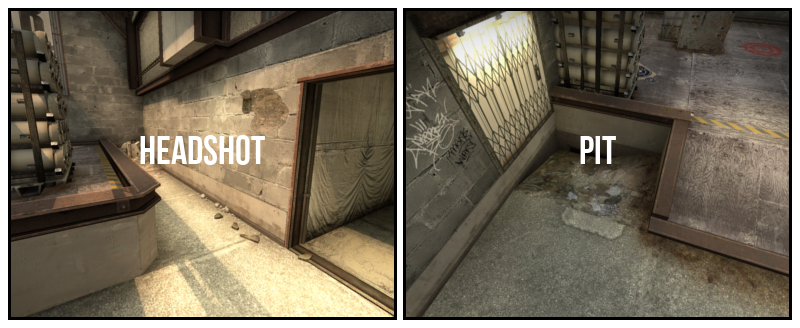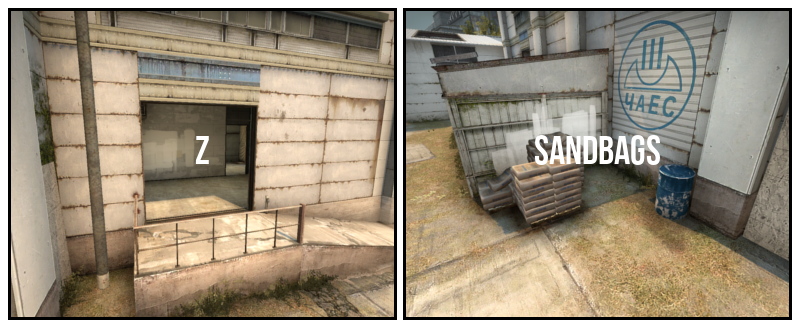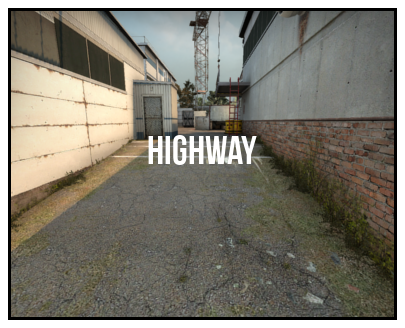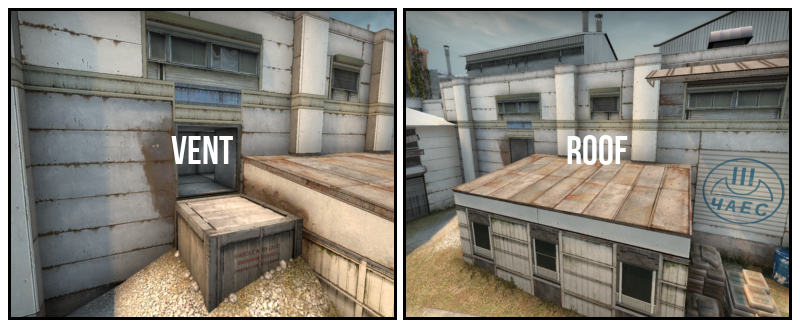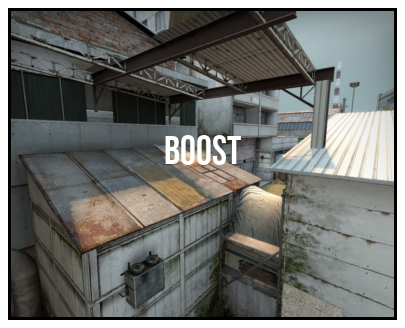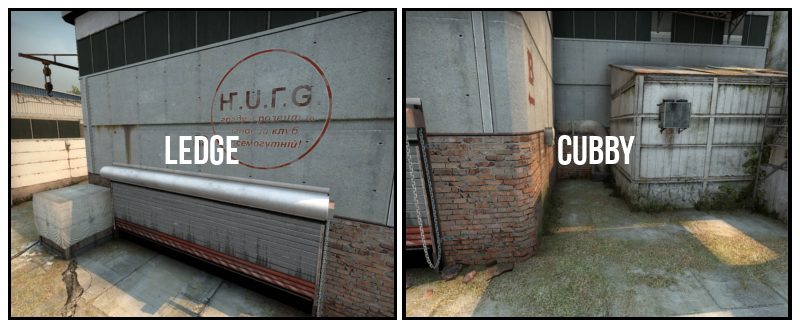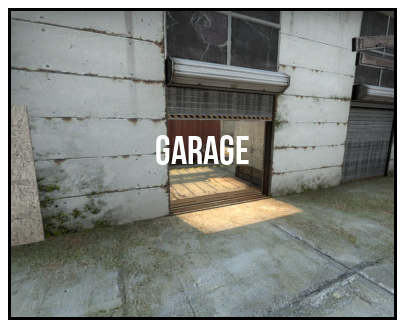 ---
Grenades
New grenades and variations will be added in the future.
Post any wishes in the comment section! These work for Valve Matchmaking Servers.
How to "Jumpthrow"What you want to do is bind "-attack" to a key close to your jump key.
Having Jump bound to Space just type the following into the console: bind "N" "-attack"Now just hold down mouse 1.
This will pull out your grenade.
To jumpthrow you only have to press your "Space" and "N" keys at the same time (with your thumb).
Smoke Grenades Car Smoke I hope I don't have to mention that this one is the most important one.
Quad Smoke Combined with the car smoke this makes your way into the A Site easier.
Z Smoke Easy version of the Connector Smoke.
Wall of Smokes Best way to start getting a bit more into Middle.
Vent Roof Smoke Combined with the Wall of Smokes it highers your chance of survival when trying to go into vent.
B Main Smoke This is how you go into checkers.
Fake Smoke to A Quad Yeah.
.
.
Fake Smoke to A Car Here you go! One Way Smoke Don't miss your first shot.
Garage Smoke from A Quad In case your teammate needs it.
Molotovs / Incendiary Grenades Sandbags Molotov Worth a throw from time to time.
Boost Molotov Usefull for pushy CTs.
Checkers Molotov Pretty usefull to clear out that corner.
NBK Molotov Basically a must have for every A take! Forklift Molotov Could help your teammate if Ts try to rush out! Flashbangs Pop Flash to A Main (CT) A player sitting on Forklift can peek into A main properly if his teammate throws that flash.
Self Pop Flash to A Main (CT) In case this player doesn't have a teammate, he can do that on his own.
Pop Flash to A Main (T) Ts can do this for their teammates.
B Main Flash (T) This one is very basic.
Pop Flash to Middle from Z (CT) For you to peek out afterwards.
Flash to Middle from Sandbags To escape from the Sandbags position.
Squeaky Flash (T)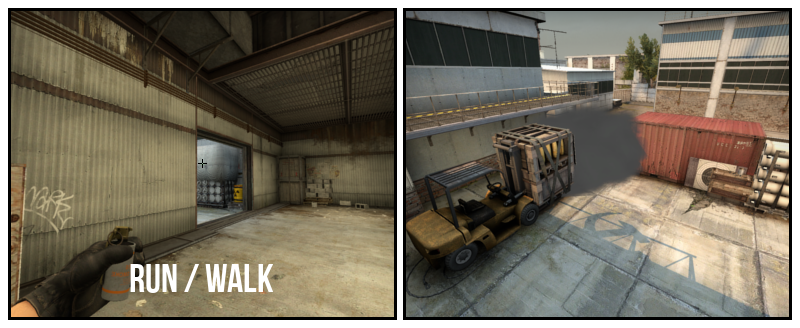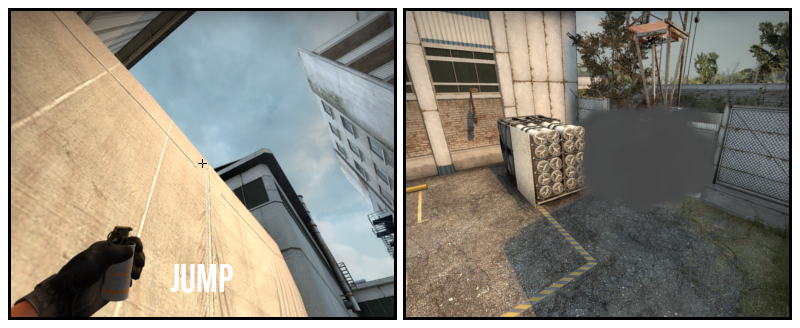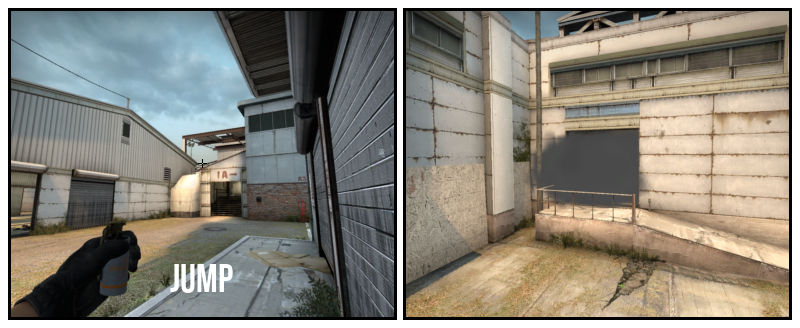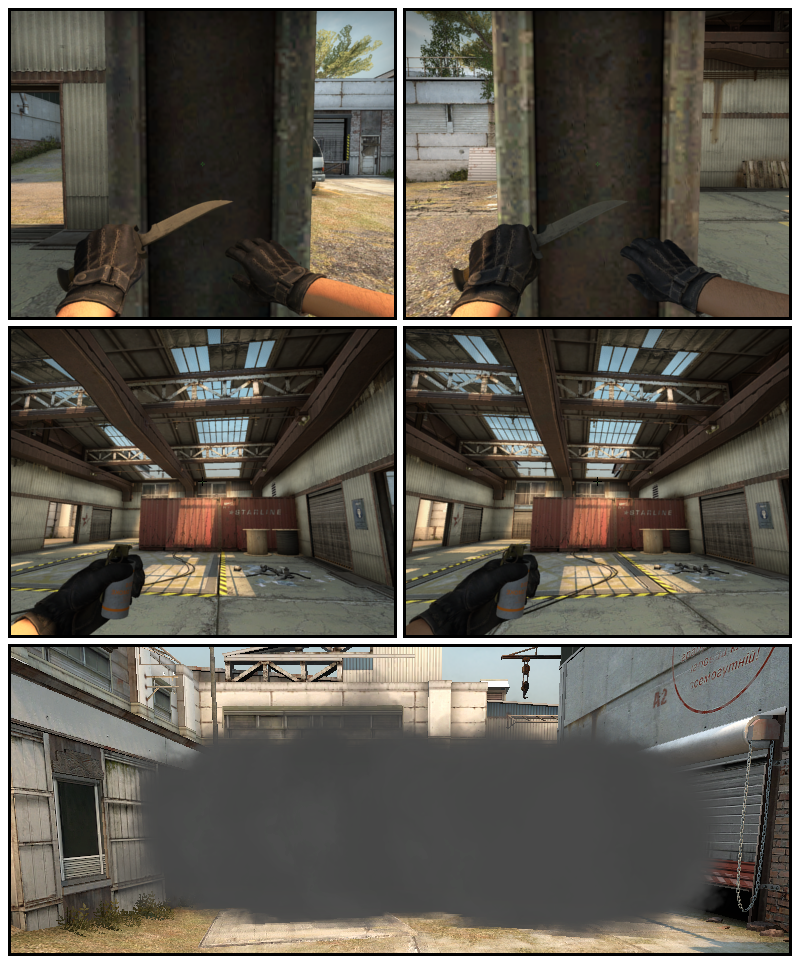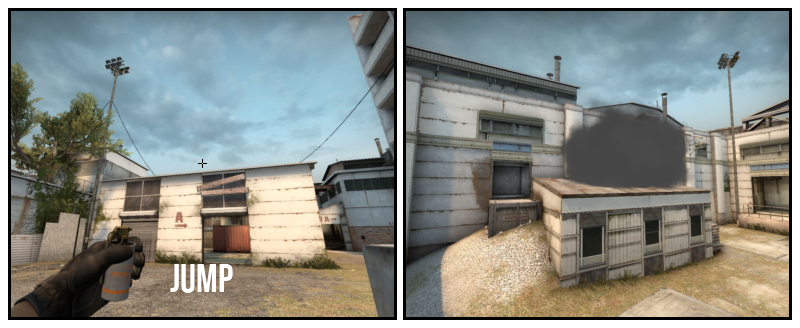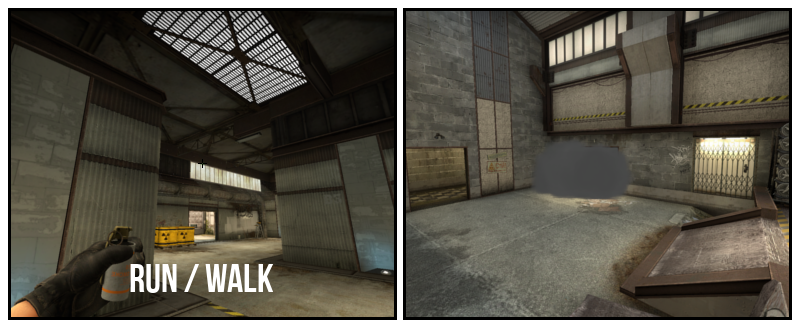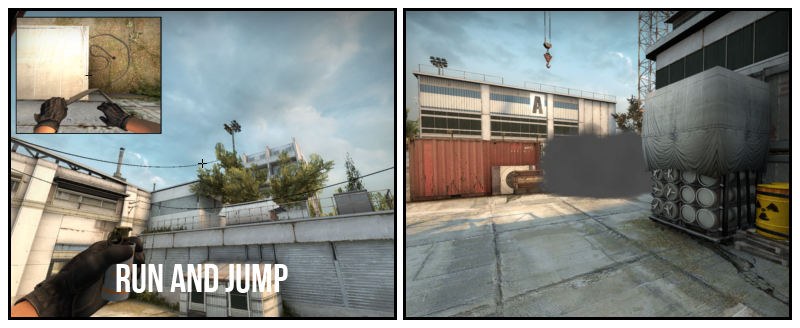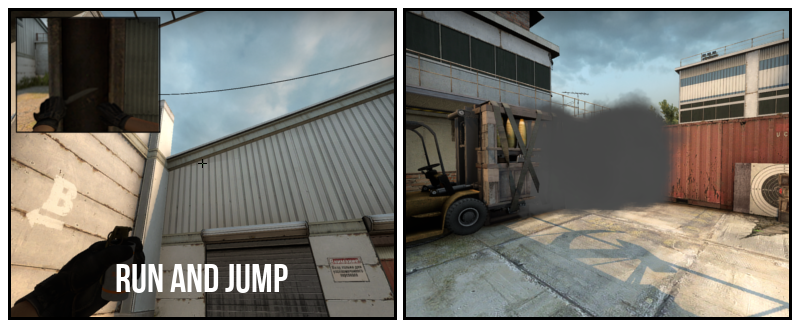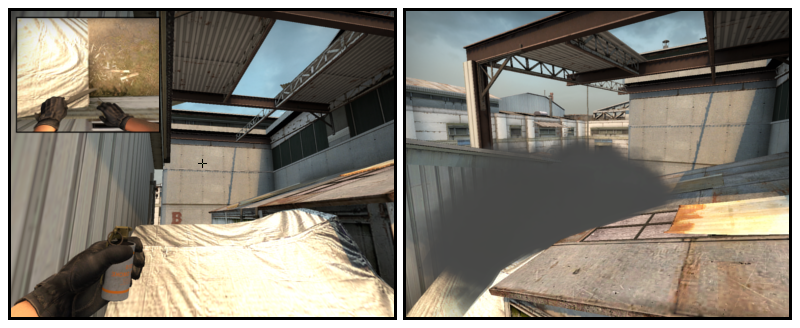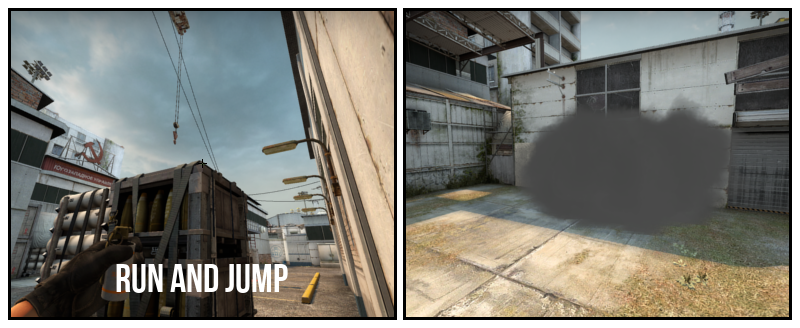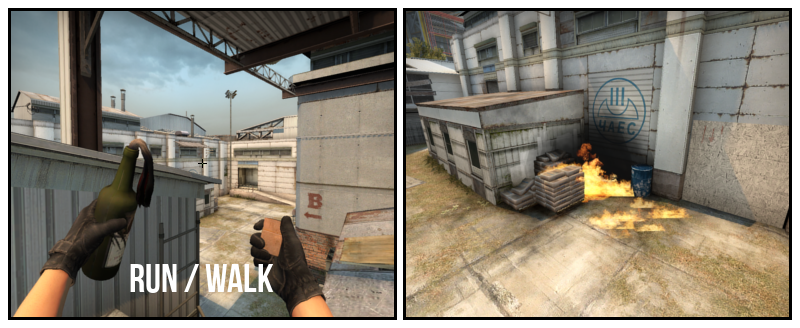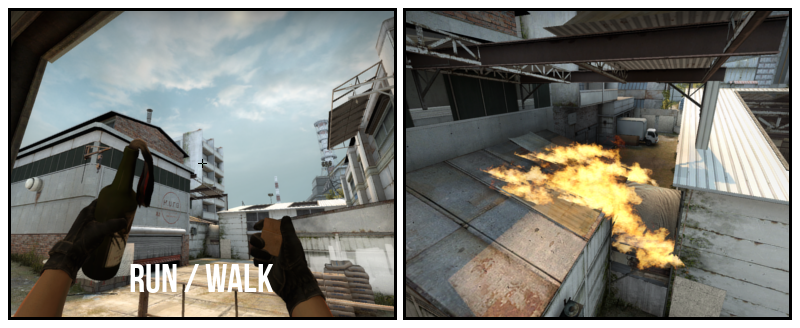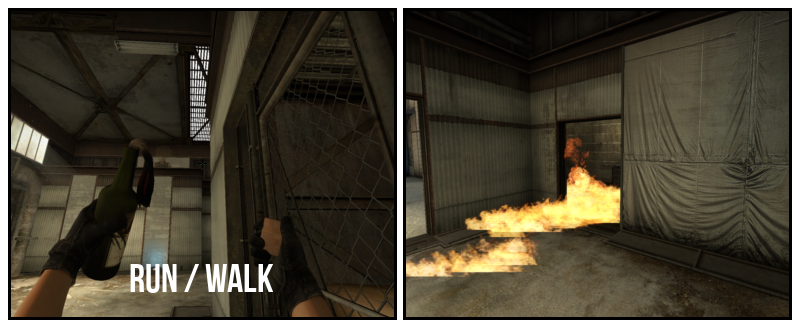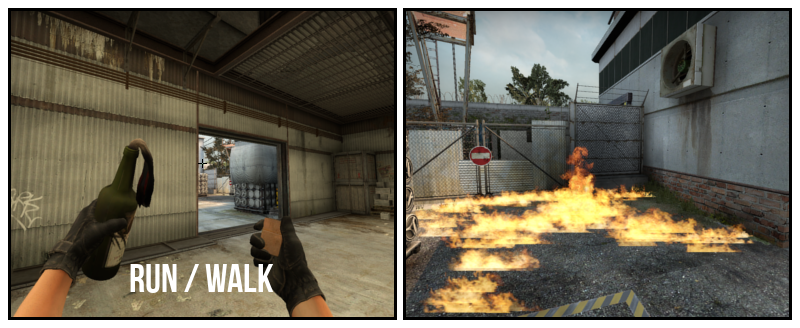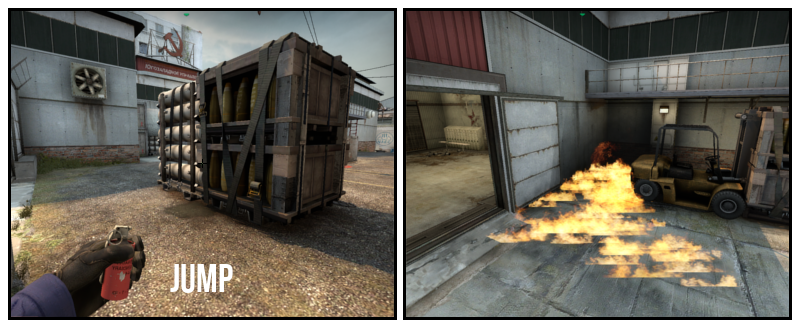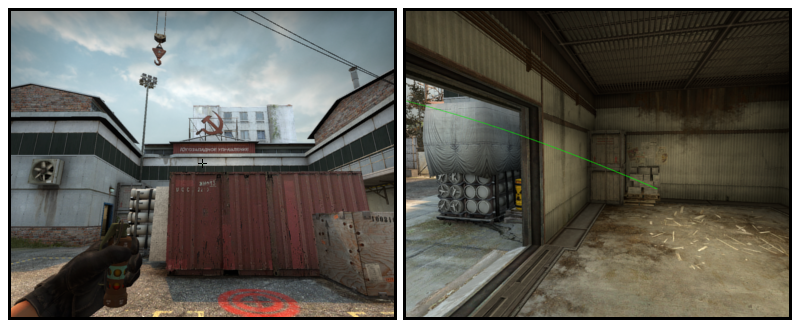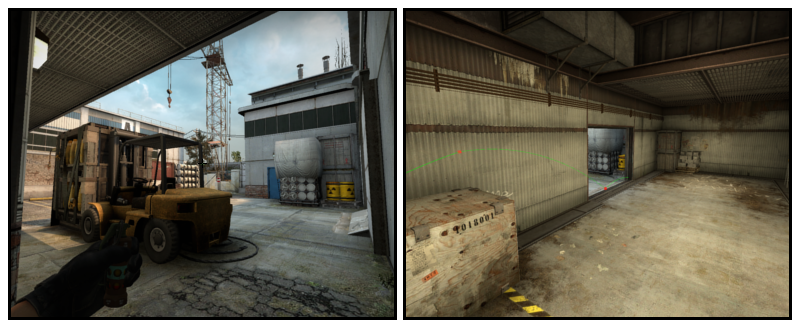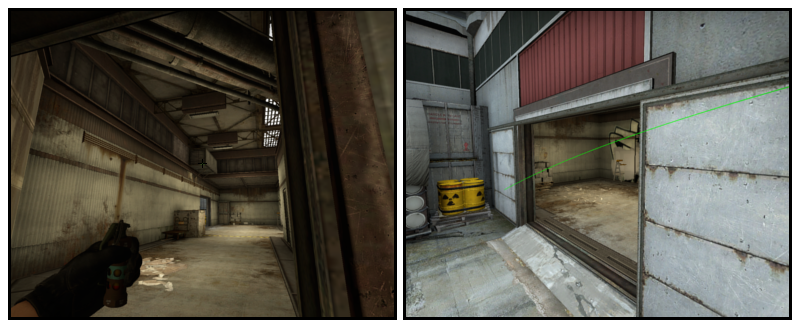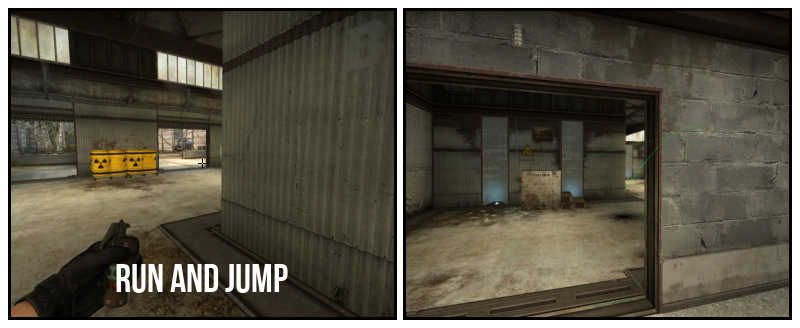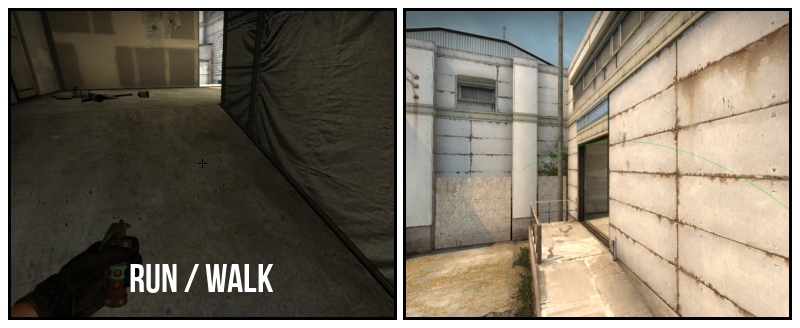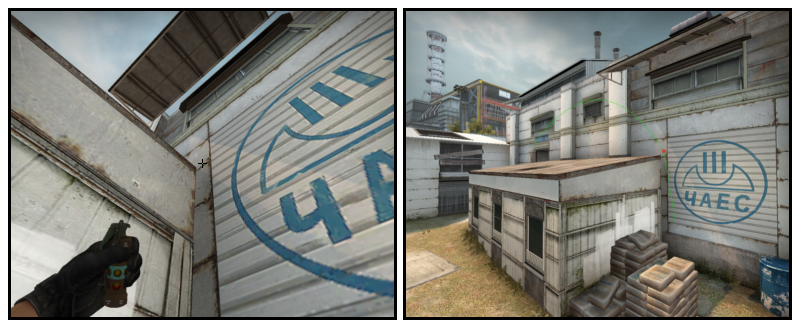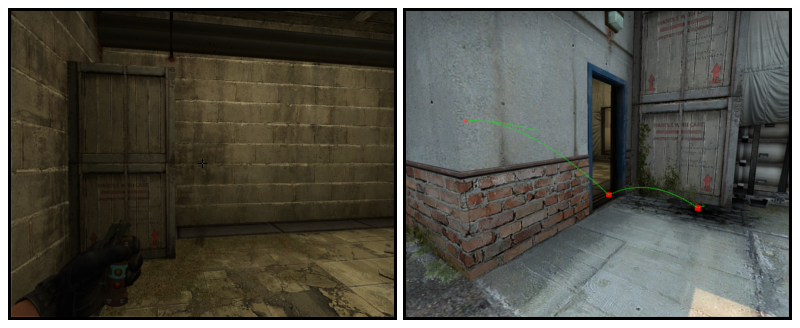 ---
Jumps and Boosts
On A Jumps If you wish to reach Heaven faster than by taking the ladder, you can take this shortcut.
From Red you can decide to jump on to Quad Box or on to Blue Door (if opened in the correct direction) to proceed to the boost area.
Towers Feel free to try out making towers on A site.
It allows a nice view into Main or Highway! Boost and Run Boost Boosting one player to the Boost area can be a powerfull move! You can access that area pretty quickly by doing a run boost from Red.
On B Tower This move is even possible with 3 player, however results in being very dangerous and makes the player placed at the top very exposed to Toxic.
Doing a tower in Vent room can be very powerfull! No, I'm not talking about boosting a player into Vent, which is pretty cool too.
Make sure to not use this more than once in a single match.
Jumps You can jump pretty much on any box here.
Feel free to try them out! On Middle Boosts You can boost a player up to Vent Roof.
You can boost up to the boost area from both sides.
Jumps Jumping on that Garage ledge can be very unexpected.
You can jump to the Boost area on your own.
And also Jump back to that initial ledge.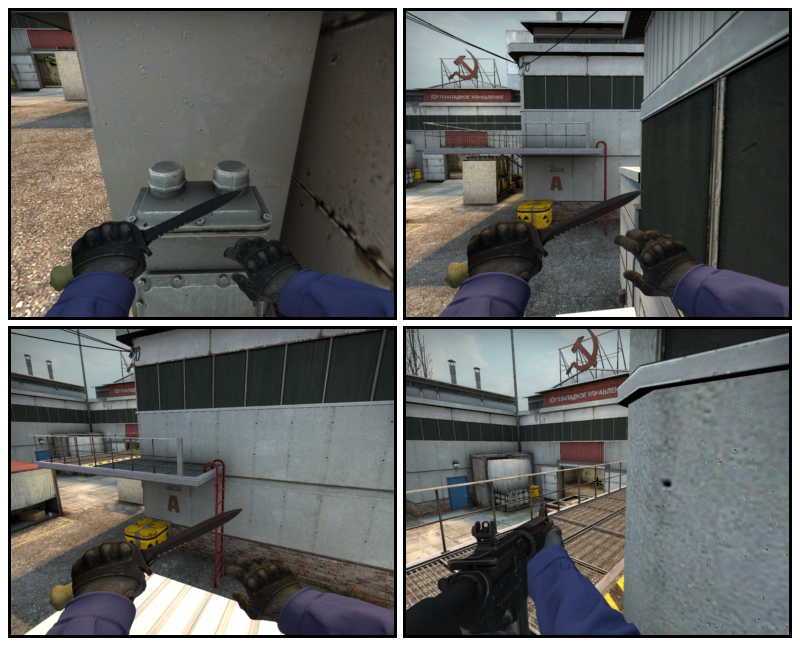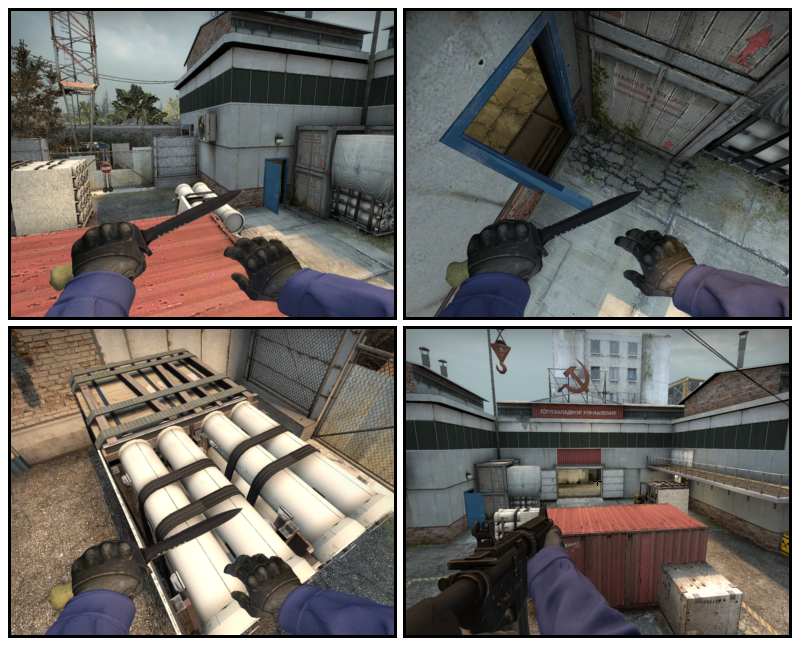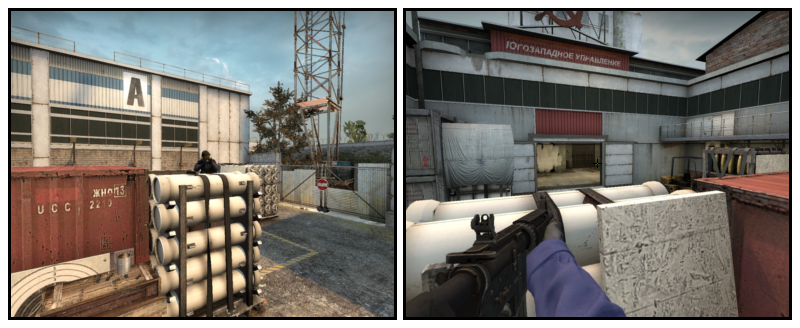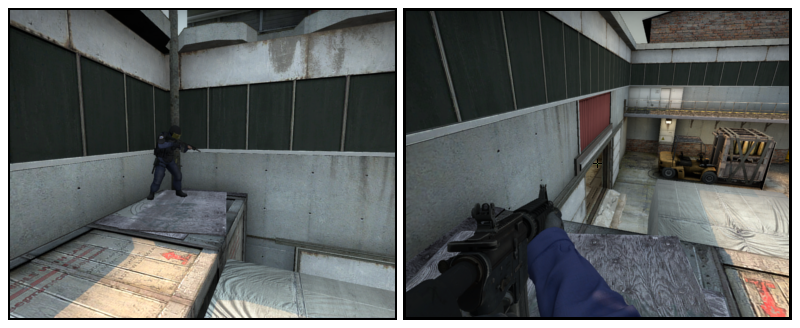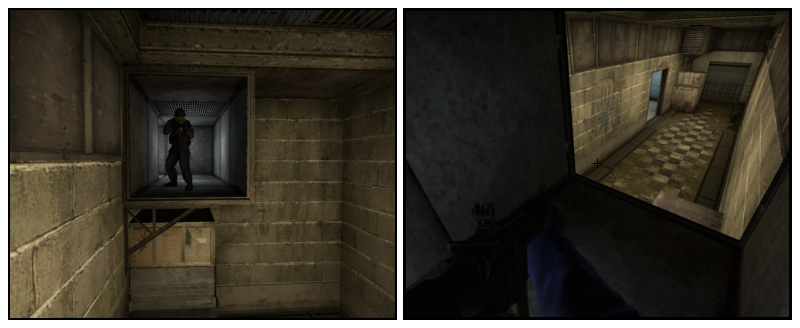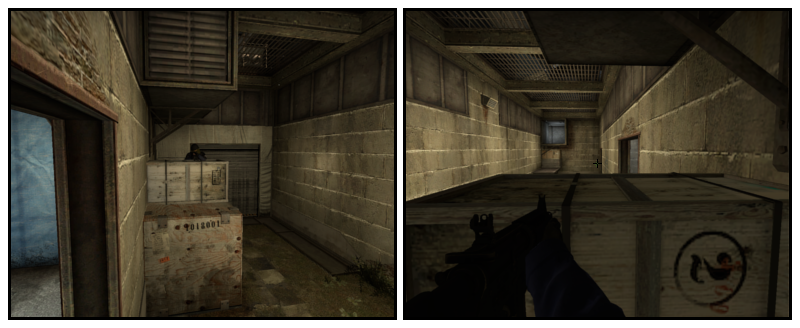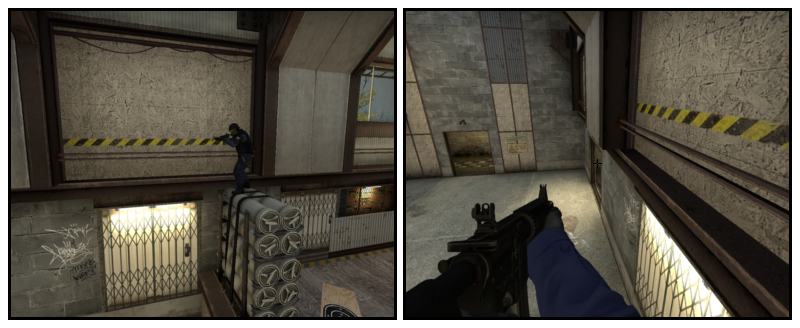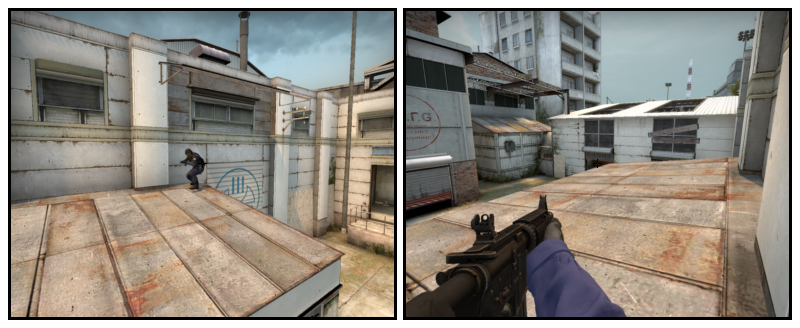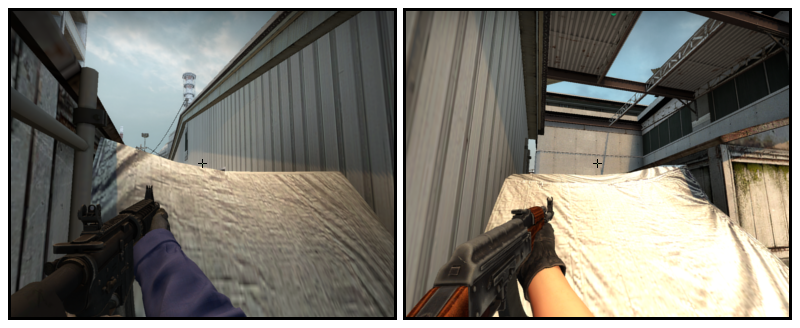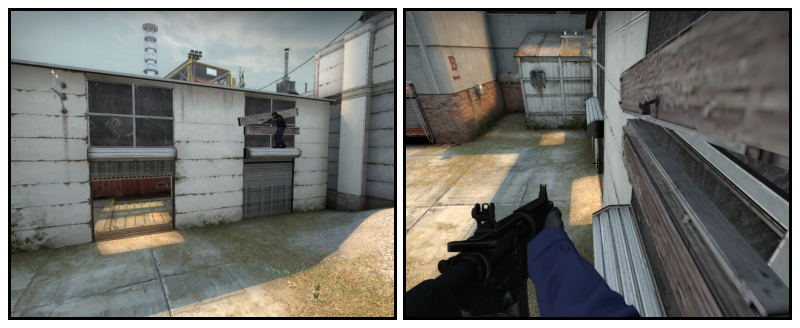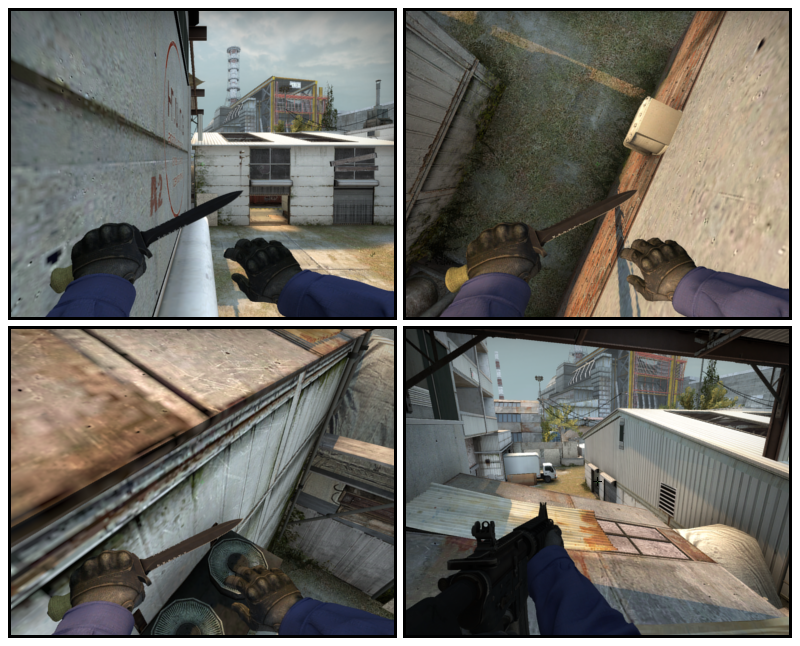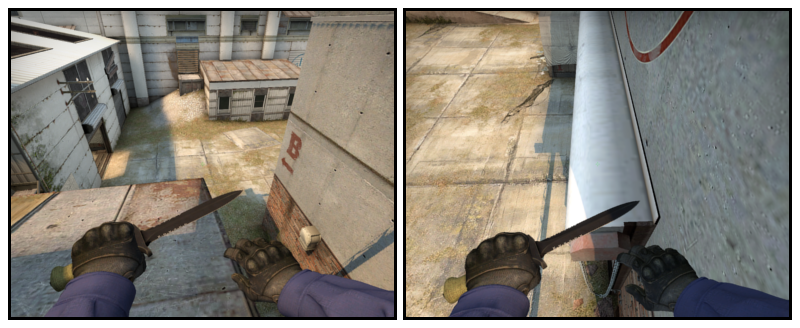 ---
Positioning
Holding A (solo) NBK This is one of the most common spots you can play from on A.
You just can sit there and chill.
Quad I recommend having an AWP for this spot due to it's high prefire rate! You want to have fast reactions over there.
Make sure to immediatly fall back to site if they are pushing you.
Site or Forklift Remember to delay them and to stay alive as long as possible! Grenade usage is very important here.
Car If you play from this position make sure to cover your Middle player(s) as you won't be doing much from here.
Wait for your teammates to rotate over to start retaking the site.
Holding A (duo) One of the possibilities you have is to make a Tower as you are two on Site.
However it is most commonly seen that players setup for a crossfire.
One of the two sits on NBK taking care of people pushing to Forklift while the other one stands at Fork to check out Squeaky.
If you have an AWPer on Quad or Site make sure to throw this molotov to prevent Ts from pushing into the Site.
This will buy a little bit of time.
Holding Middle (solo) White Box You want to make sure that you can't be seen from the inside of Garage.
This will prevent any awkward prefire shots you might recieve otherwise.
Pushing I don't like the idea of pushing alone.
However if you decide to do so you can sit on the garage ledge or chose any other corners.
Holding Middle (duo) Most new players think that cache has to be played with a 2-1-2 (2 A, 1 Mid, 2 B) setup.
It can also be played with a 2-2-1 setup.
You can create some sort of crossfire by putting one player at white box and the other one at sandbags.
However for me this only worked out on Eco Rounds.
Make sure to have at least one smoke in case the enemie throws a molotov into sandbags.
A flashbang can be pretty usefull as well in case you wish to escape from that position.
One of the two players can get boosted to vent roof.
He can either sit there or go into vents and even somehow surprise terrorists pushing B.
Holding Middle (trio)A 1-3-1 setup is also possible as Mid Control is very important on that map.
This may allow fast rotations on to both sites.
Holding B (solo) The variety of angles you can hold from is huge.
Make sure to not sit in the same spot twice in a row.
However, the most important part is to delay any rush and somehow buy time for your teammates to rotate in.
Holding B (duo) Crossfire The easiest way to create a crossfire on B is to place one player in Heaven and one the at Left Box.
Tower in Checkers Make sure to enter unseen and to not repeat that move more than once in a single match.
Agressive Peek One of the two players can peek into B Main (with an AWP) while the other player is ready to throw grenades in case a rush or hard push is comming in.
This will buy time for both players to fall back to site and other CTs to rotate over.
Boosting Vent The boosted player can keep an eye on Checkers if the Middle player holds Garage properly.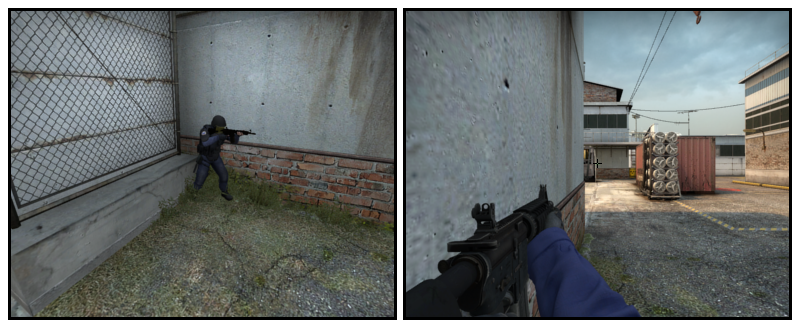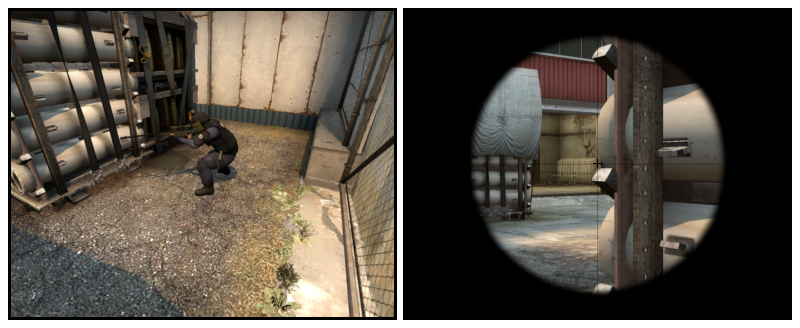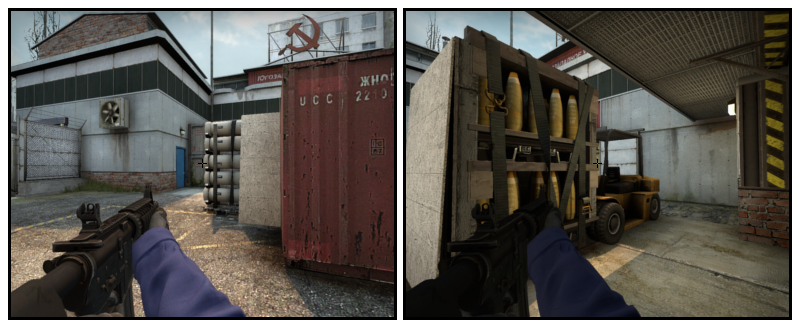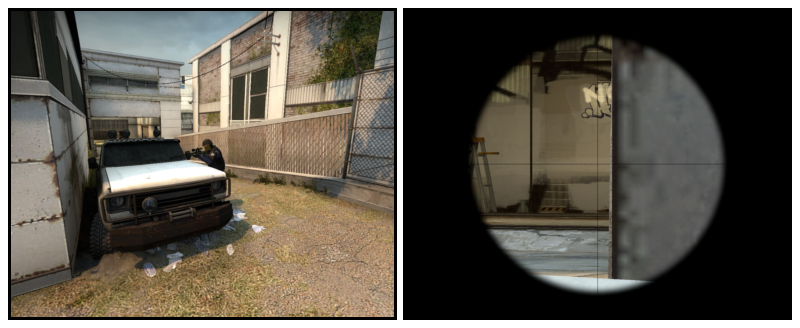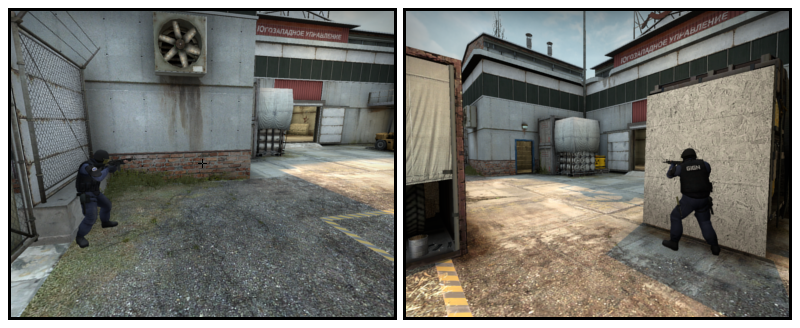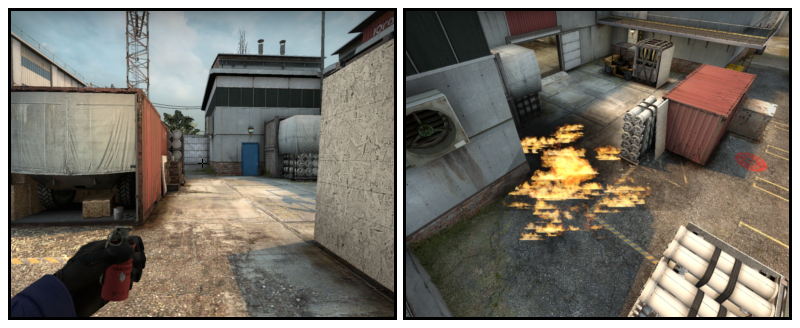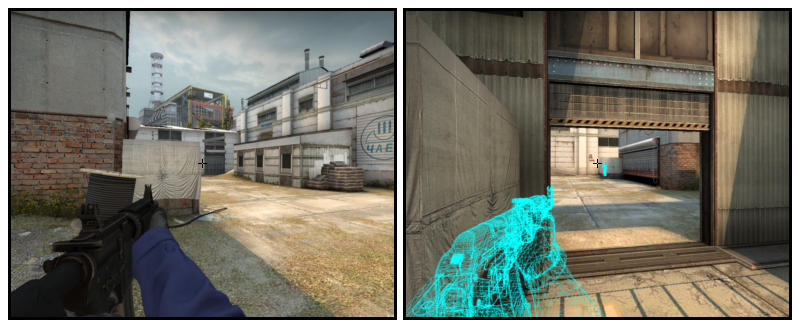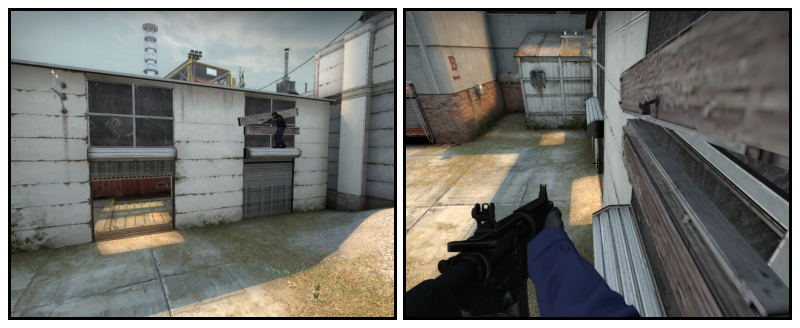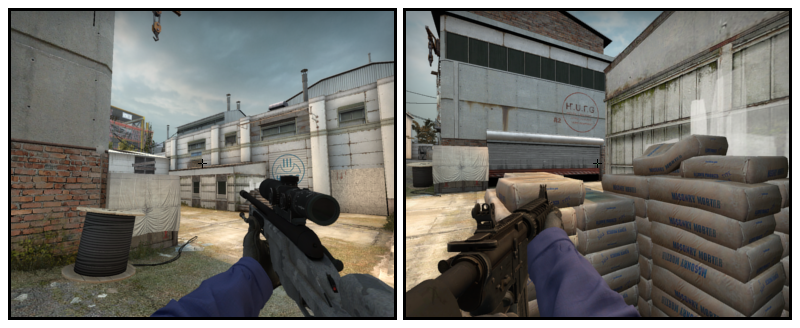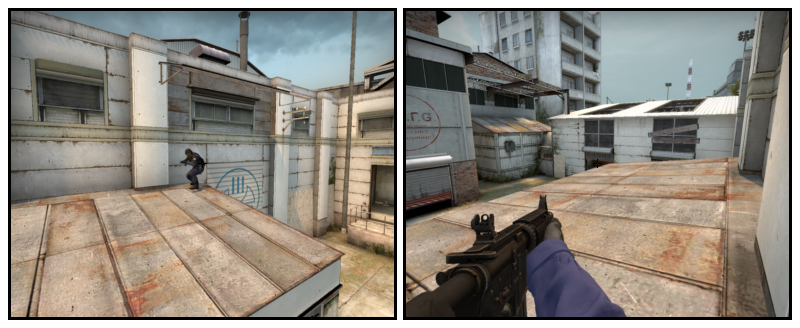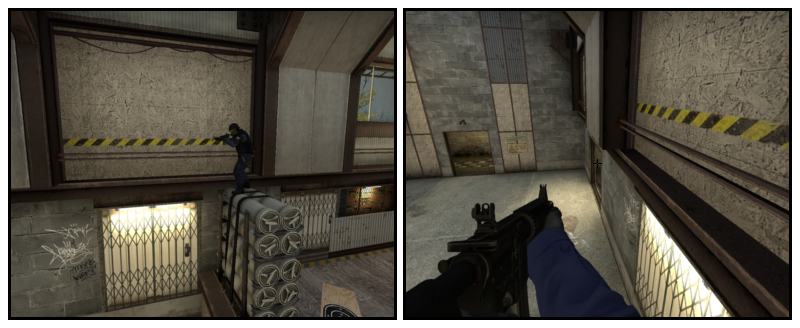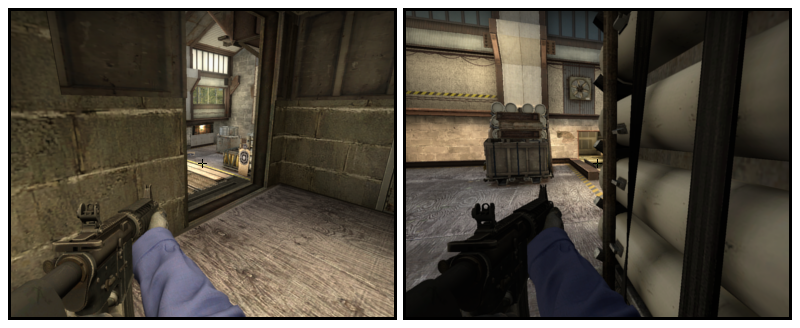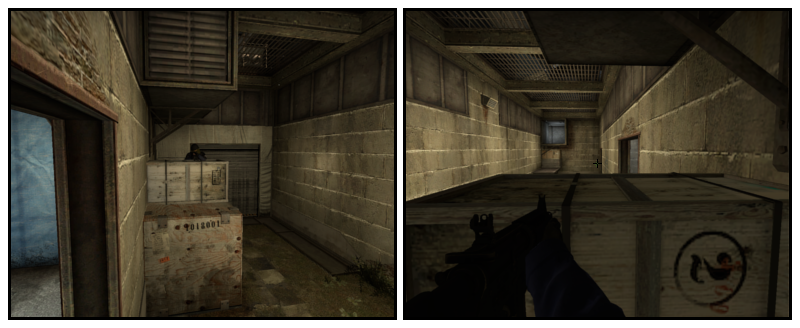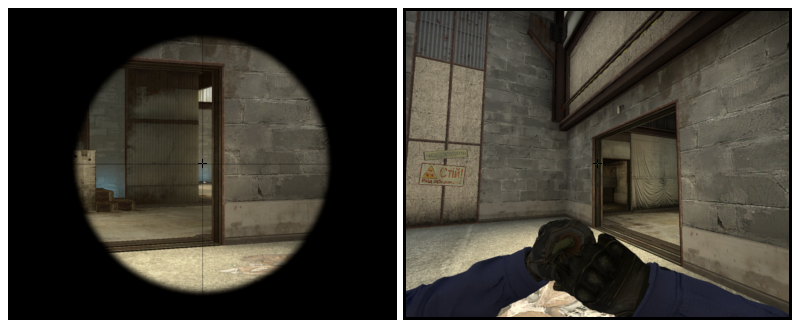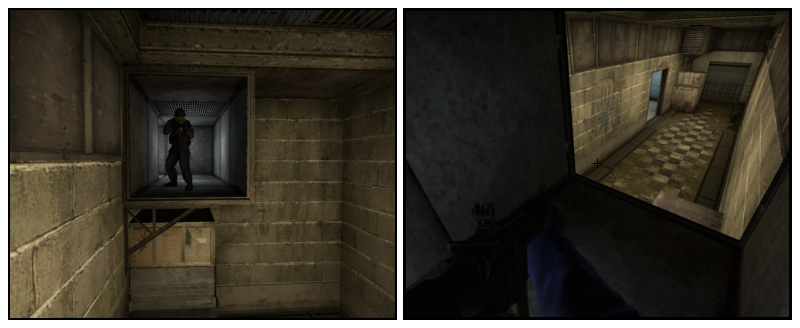 ---
Simple Tricks
Plant SpotsAs a Terrorist you want to make sure to have the best After Plant position to be able to win the rounds properly.
A Site Default Plant It is possible to plant here if you are under attack from car.
However make sure to have a teammate cover you in case CTs want to push on site and kill the planter.
Plant for Main I recommend this one a lot! Planting here opens a lot of possibilities for the Ts to sit and wait for a defuse sound to come in.
It is very easy to throw a molotov toward to that spot to buy more time.
Plant for Squeaky This plant makes it possible for Ts to stay in Squeaky and Wallbang the door in case a CT is defusing.
However this never worked properly for me.
.
.
Plant for Short / Middle Your team can stay on Middle.
Hidden Plant If you are some sort of troll, then this plant is for you.
B Site Default Plant Plant here if you are under heavy Attack.
Plant for Main I love this one.
Plant for Checkers Plant for Main & Checkers Plant for Heaven I should use this one more often.
Open Plant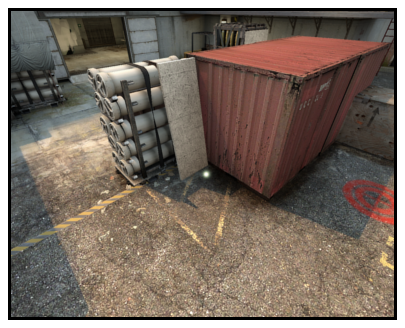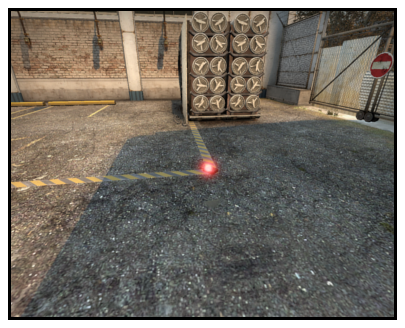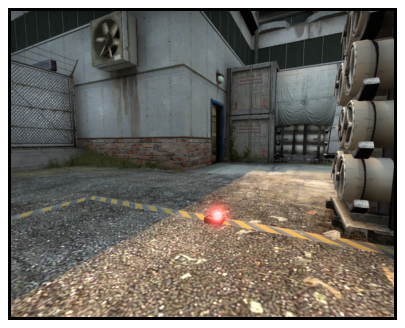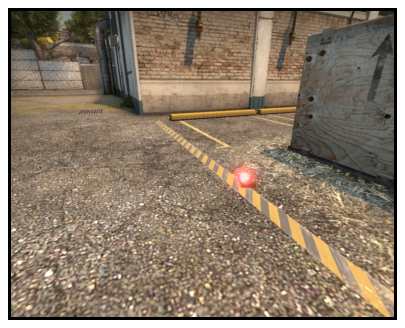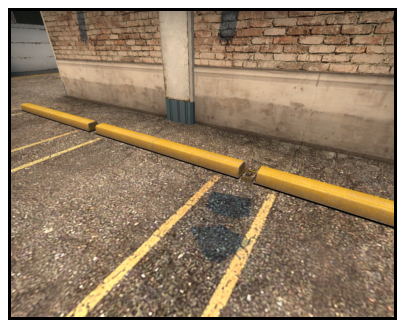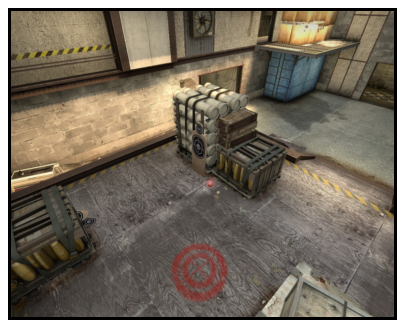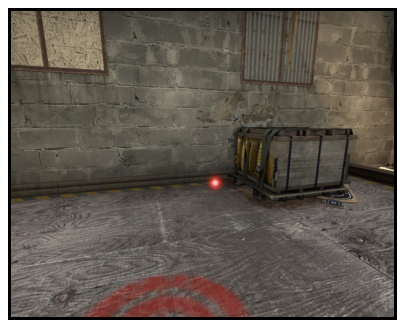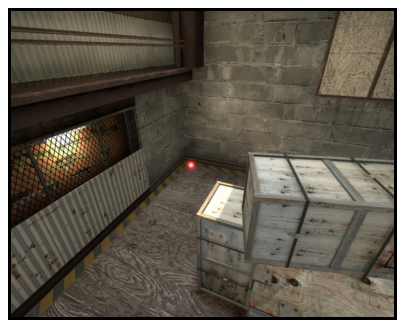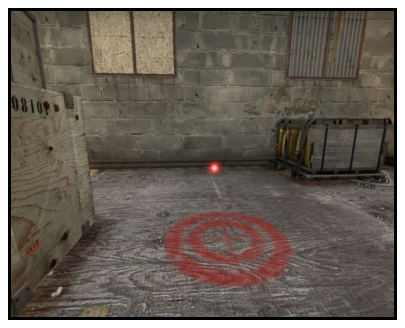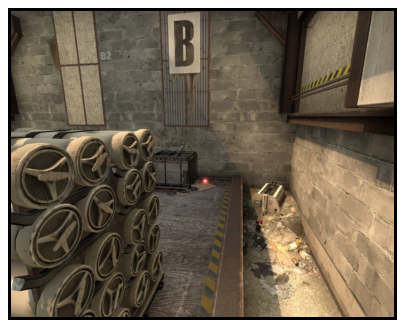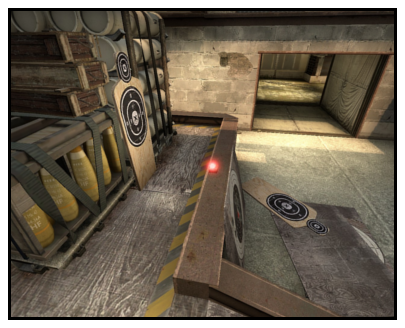 ---
Practice
At the end of the day this Guide is useless if you cannot practice properly.
I recommend downloading the map from the workshop and play it with your friends.
Type some commands into the console to make the practice better.
This one is the most important one! sv_cheats 1 It allows you to fly arround with: noclip You can bind it to a key with: bind "Q" "noclip" The first one will kick any bot present at that time.
The second one will make them immobile.
bot_kick bot_stop 1 Here some commands that will allow you to buy anything you want: mp_buytime 3600 mp_buy_anywhere 1 ammo_grenade_limit_total 10 mp_maxmoney 100000 mp_startmoney 1000000 These will make it cooler to play with friends: mp_autoteambalance 0 mp_teammates_are_enemies 1 mp_limitteams 0 mp_friendlyfire 1 You can make it impossible for everyone to die with: gods To finish things off some great stuff.
Keep in mind that only the host will see the grenade trajectory with this command.
Valve, please fix! sv_infinite_ammo 1 sv_showimpacts 1 sv_grenade_trajectory 1 mp_weapons_glow_on_ground 1 This is how you restart the game.
It is helpfull when adding money and can fix pretty much every bug you will encounter due to these commands.
Make sure to restart your game before playing any other game mode again! mp_restartgame 1
---
Outroduction
Demo ReviewsYou can to post any recent of your Cache match share links.
I will try to tell you what you did wrong.
Please only do so after reading all of this guide.
I will try to create some sort of "common mistake" list! Thank you very much for reading! As I mentioned before, feel free to point out any errors in the comment section.
I will try to update this guide as soon as possible and always keep it up to date.
Ciao! Special thanks to: Rayken (Model)
---