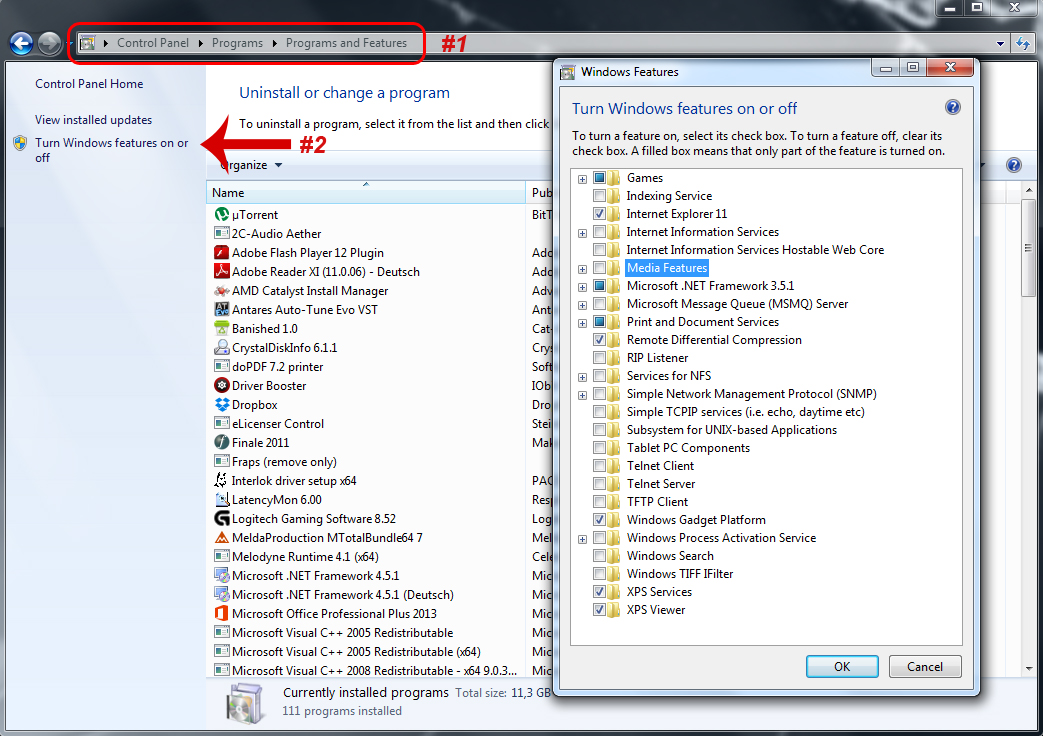 ---
Introduction
Welcome to the "Ultimate Tricks&Tweaks Guide" for Counter Strike Global Offensive.
This guide is meant to be a collection of all the most common and hidden settings, getting the last bit of performance out of CS:GO and your hardware.
Due to the fact that every little piece of the chain, starting with your hardware, Internet connection, mouse, keyboard, audio, monitor, driver settings, game configs.
.
.
etc.
is affecting your gaming experience, there will be many many little guides worth reading.
I will keep this guide up to date.
Of course I don't know every little command line out there, but you can help me and post tricks that i've missed in this guide.
thank you in advance for your help.
NONE OF THESE SETTINGS WILL BREAK YOUR COMPUTER!! Let's Get Started!
---
General Windows Optimizations
Some of the following steps go deep into the OS configurations.
Before going a step further you probably wanne make a new restore point just in case something goes wrong, like you delete the wrong driver or something.
.
.
I hope it is needless to say that you should always keep your Computer clean and up to date.
-Windows Updates, turn off the automatic update task.
-Get a light weight Anti Virus software like Microsoft Security Essentials (also disable auto update) -Disable Windows Defender -Disable the Windows Firewall if your router already has one running.
-Disable the time plan for the windows defrag tool.
-If you use a SSD, optimize your OS with a tool like Samsungs Magican.
-You can use a tool like CCleaner to clean your system.
-Get the latest CHIPSET, AUDIO, LAN, BIOS.
.
.
drivers from the Motherboard manufacturer page.
Search for your motherboards model number.
You can use a tool like Everest to find out wich components are buid into your Computer.
Get latest AMD drivers here: http://support.
amd.
com/en-us/download Get latest NVIDIA drivers here: http://www.
nvidia.
com/Download/index.
aspx?lang=en-us Windows Features and Services Open your Control Panel.
Go to Programs and Features Click on "Turn Windows features on or off" Untick all the features you don't need on your system.
Disable "Remote Differential Compression" Do not disable "Microsoft .
NET Framework".
Hit OK and restart.
Deactivate Services (only for advanced users) Click on Start - right click on Computer - Manage Under "Services and Applications" click on "Services" Deactivate (or set to Manual) all the services you don't need.
If you don't know what the service is doing, leave it alone.
You can easily crash your system by deactivating the wrong service.
So be careful.
Here is a list of services that i deactivated on my system.
Desktop Window Manager Session Manager (If you don't use Aero theme) Diagnostic Policy Service Distributed Link Tracking Client IP Helper Offline Files Portable Device Enumerator Service Print Spooler (If you don't have Printer) Protected Storage Remote Registry (Always disable it for Security purposes) Secondary Logon Security Center Superfetch (only if your systems is running on a SSD) Tablet PC Input Service Telephony TCP/IP NetBIOS Helper (If you are not in a workgroup network) Themes ( If you use Windows Classic theme) Windows Defender Windows Error Reporting Service Windows Firewall Windows Media Center Service Launcher Windows Search (If you don't use Windows Search feature frequently) Windows Time (If you don't want to update system tray clock time using Internet) DPC Latency The DPC latency is the time it takes for the CPU to process certain tasks.
The lower your latency is the quicker is the response of your system.
Even when you own a blazing fast computer, some drivers can conflict or be out dated, which causes DPC drops.
Download DPC Latency Checker: http://www.
thesycon.
de/deu/latency_check.
shtml ** Don't use it on Windows 8 as the results are not exact ** The graph shows you the latency and should always be in the green area like in the screenshot.
If you see your latency rising up to the yellow or red area you should take care about it.
Cleaning up the device manager is the first to do.
Device Manager The following step will bring up all the hidden entries in your device manager.
#1 open properties of your computer #2 click on Advanced system settings and then on Enviroment Variables #3 Add a new user variable variable name: devmgr_show_nonpresent_devices value: 1 Hit ok ok ok #4 open your device manager under view select show hidden devices Now go through the list and delete all the unplugged devices you don't need anymore.
By that I mean the grey marked entries.
Do not delete the Generic volume shadow copies as they are related to the windows restore points.
Except you know what you are doing like in my case I deactivated all recovery functions.
If you are using a virtual drive like daemon tools unmount if you don't use it all the time.
Deactivate the onboard sound if you are using an additional card.
Under "System devices" deactivate the "High Definition Audio Controller" if you don't use the sound output of your graphics card.
Deactivate all the network drivers (features) except the one you really use.
Deactivate all the usb controller you don't use.
This can be a bit tricky and you should only deactivate the controllers one by one and restart.
As mentioned above, the tool Everest shows you what is plugged into the controllers.
Plug your mouse in a dedicated and free usb controller to ensure the full bandwidth.
Restart your computer and see if this helped to lower your DPC latency.
If you still see some heavy spikes you could deactivate every driver one by one to identify the troublemaker.
Try to deactivate all drivers you don't need to run the system.
Like CD-ROM, Sound, LAN, USB-Controller.
.
.
Use device manager and disable power saving for LAN, WLAN, and USB devices.
Timer Resolution I just found this little tool called Timer Resolution.
By clicking on the 'Maximum' button you reduce the interval, your Windows will react to new tasks.
.
This should also be visible in the DPC Latency Checker.
I've checked the tool for a long time now on many systems and with friends of mine.
The performance difference can greatly vary from system to system.
Download link: http://www.
lucashale.
com/timer-resolution/ hfhf BIOS (only for advanced users) Disable C-States Disable Hyperthreading Enable/Disable the HPET (High Precision Event Timer) Some people say it performs better with HPET Enabled.
Some say different.
So test this for yourself.
If you don't find the option for HPET in your BIOS try to use these CMD lines: Start CMD with admin rights To enable type: bcdedit /set useplatformclock true To disable type: bcdedit /deletevalue useplatformclock If you want to go even deeper into the material you should check out this tutorial.
You will find some nice tools to check your system drivers for any DPC latency issues: http://www.
sysnative.
com/forums/windows-7-|-windows-vista-tutorials/5721-how-to-diagnose-and-fix-high-dpc-latency-issues-with-wpa-windows-windows-vista-7-8-a.
html I found out that one of my cpu cores produced some higher dpc latency.
By disabling that core in the BIOS I could lower the latency noticeable.
As I have still 5 cores left, it doesn't make a big fps difference in cs:go.
What ever I do, I can not drop my DPC latency under 30.
But my values never go above 100.
So at the end you have to live with what you get.
Here is another tool, that helps to lower/stabilize the DPC latency.
It's called Process Lasso by Bitsum.
https://bitsum.
com/ This tool is a process manager, optimizing the priorities of your programs, drivers, services.
.
.
#1 Make sure that all boxes are checked, when installing.
#2 Once started, right click on Process Lasso and check "Gaming Mode", "Pro Balance" and "Bitsum Highest Performance" Happy testing :-)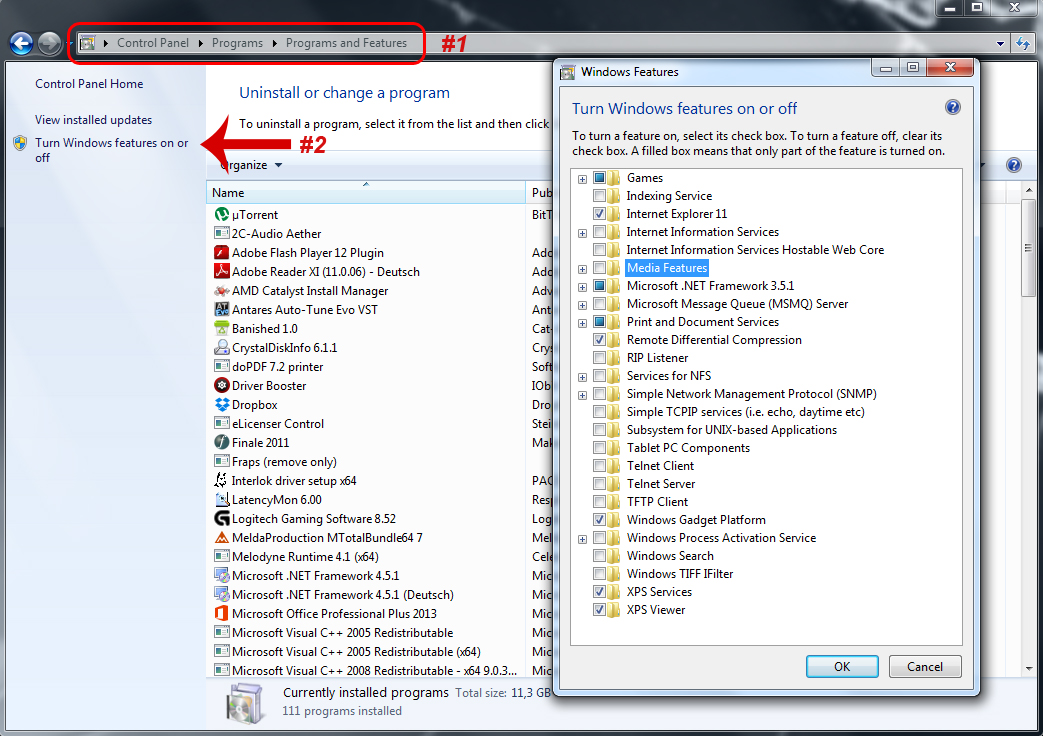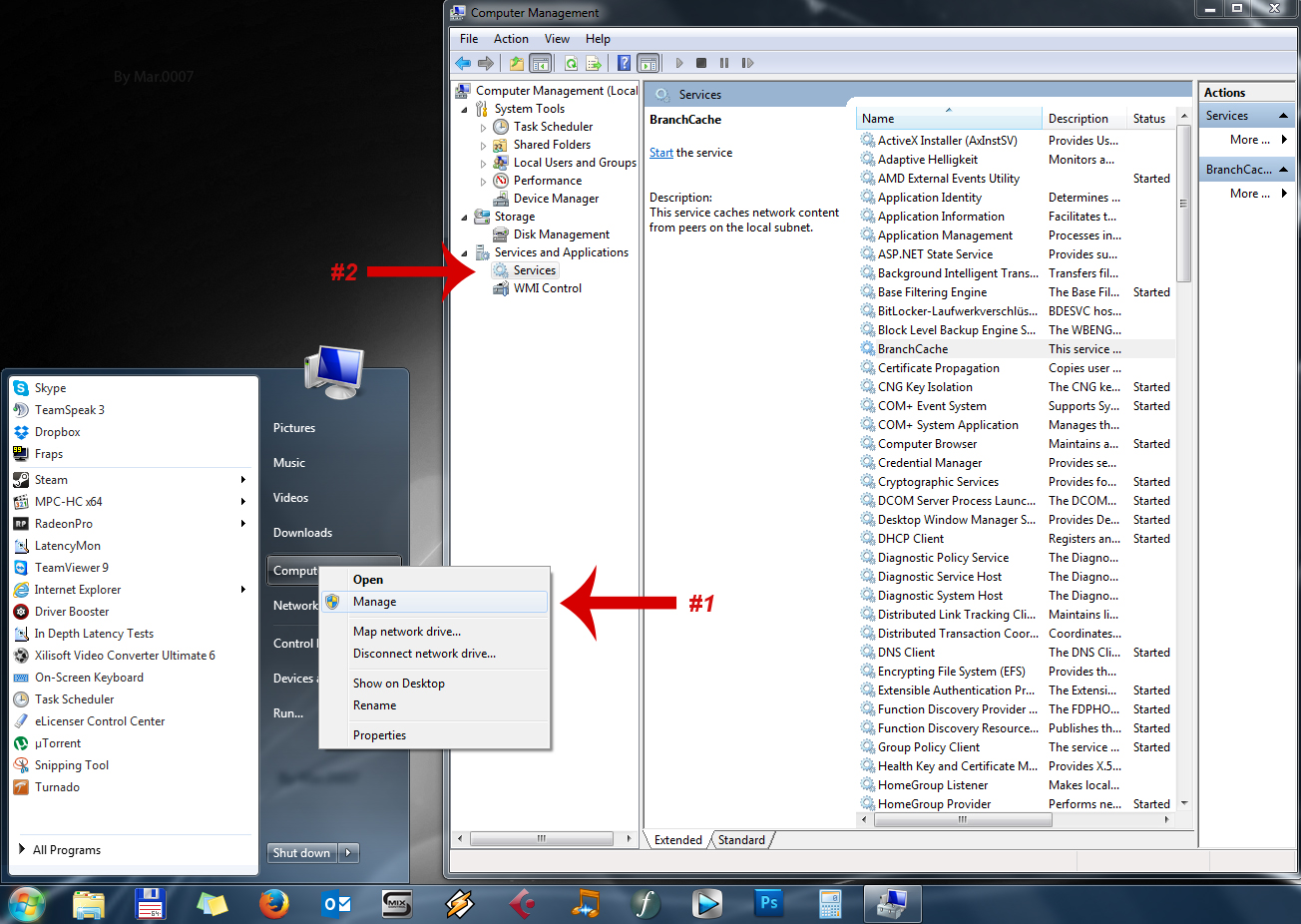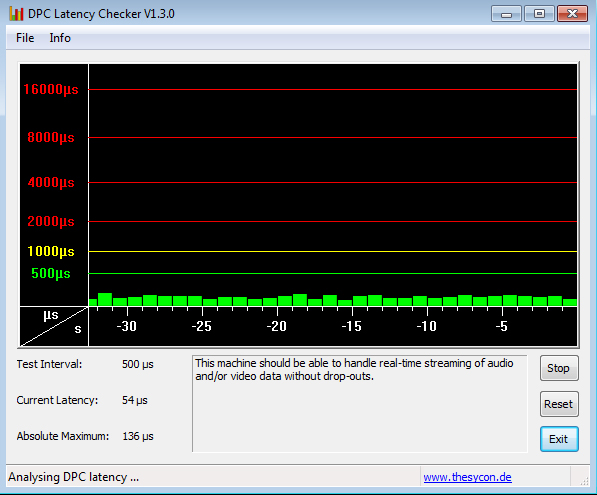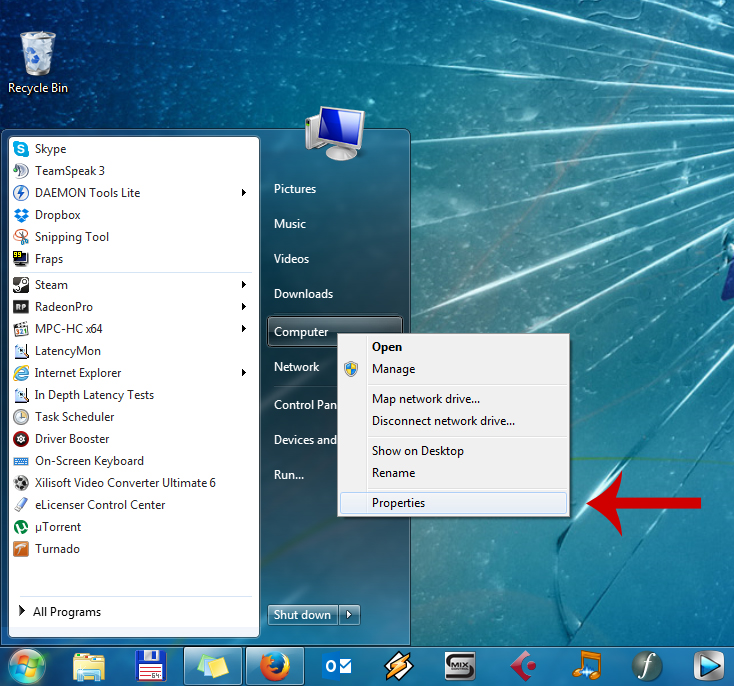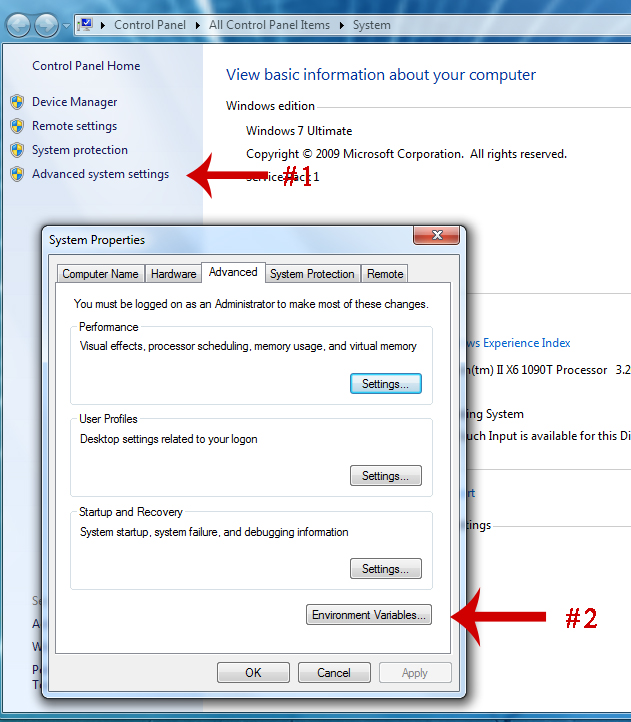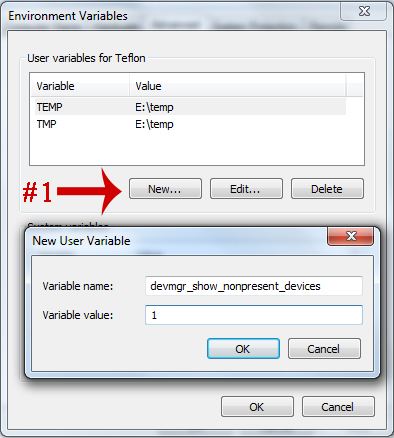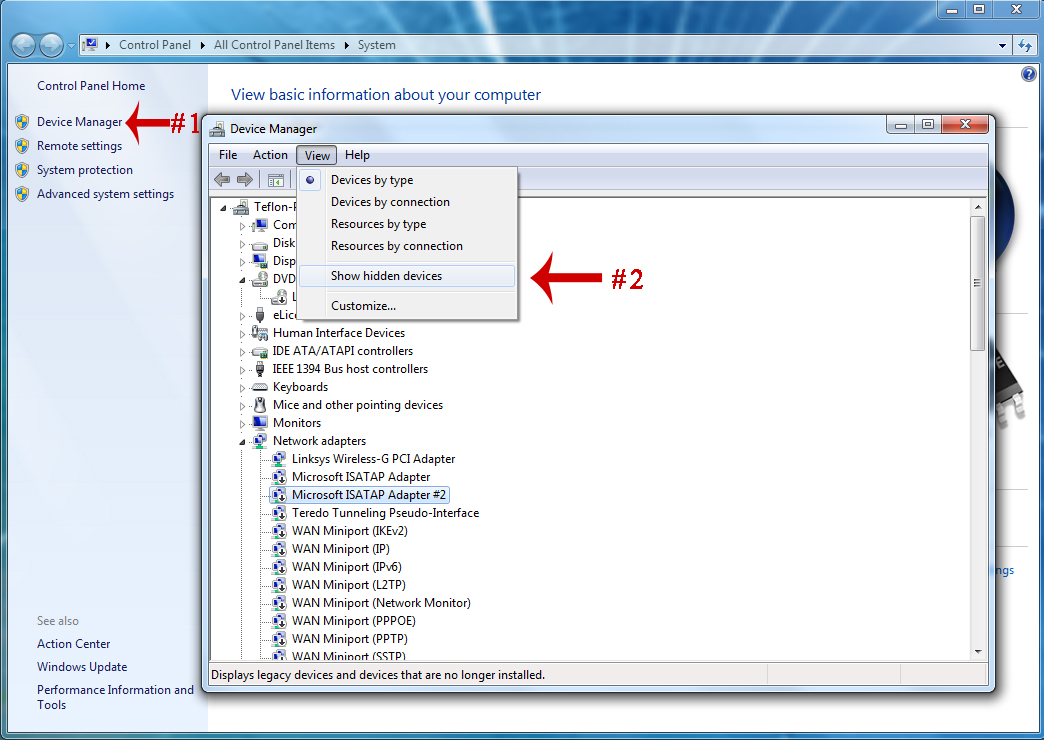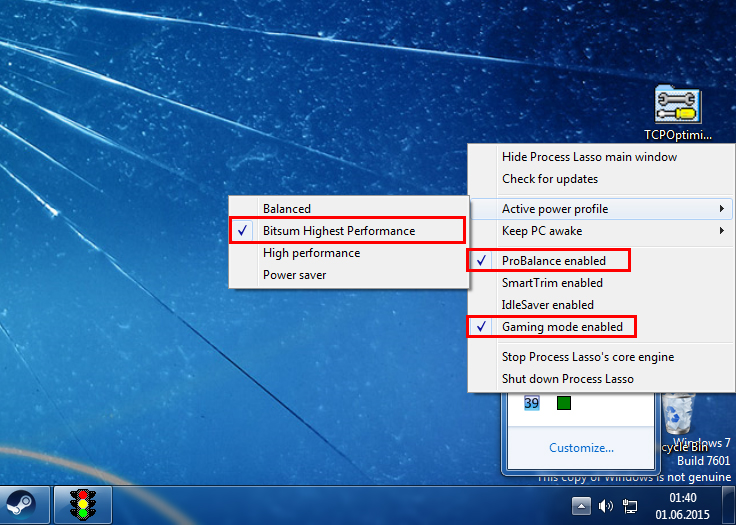 ---
Internet Connection and Network Settings
LAN/WLAN Connection First of all I can highly recommend you to use a LAN Cable.
A Wireless connection is much more susceptible to errors.
However you should always keep your router's firmware and of course your network drivers up to date.
In many cases changing the WLAN channel in the router settings can help to get a better wireless connection.
Therefor you have to google a bit for yourself.
Every router is different and i cannot go more into detail.
Follow these steps to check the connection to your router: #1 Open the "Command Prompt" (CMD) #2 Enter: ipconfig As you can see in the screenshot, this will bring up all Adapter-IP assignments.
#3 Find the network adapter that is connected to the router and search the "Default Gateway".
You need the router- (gateway-) IP for the next command.
#4 Enter: "ping -t" and add the Default Gateway IP.
So like in my case: ping -t 192.
168.
178.
1 As you can see, every second a little package (ping -t) is send to the router (192.
168.
xxx.
x) and back again.
While this is running, you should stop all ongoing network traffic of your Computer.
Keep an eye on the time column.
In the screenshot above, you can see an example of a bad Wireless connection.
the ping is jumping up and down between 1 and 10 or even more.
Changing the routers' WLAN channel or the position of your router can fix this problem.
A good wireless connection should look much more stable though.
Here is a screenshot how it should look like with a wired connection: the time is less than a millisecond with a 8m long cable.
If you experience a bad wired connection you probably wanne test a different patch cable and reset and/or update/downgrade your network adapter drivers.
If your connection to the router is fine you can go on to the next step.
Internet Connection Check your Internet connection for ping, latenzy and packet loss.
Therefor you can use for example web-tools like http://www.
pingtest.
net/ Make sure that nobody in your network or any programs in the background are using your Internet connection before running the ping test.
If you notice any packet loss or strange peaks during the test, there is nothing you can do but calling your internet provider.
They can fix most of the bandwidth related ping problems.
Network Driver Settings Setting up the network driver for gaming is another topic of its own.
I can highly recommend this little tool called TCP Optimizer.
download here: http://www.
speedguide.
net/downloads.
php (the latest Beta is now working with Windows 8) My settigns: Run the program with admin rights! First apply the preset "optimal" and reboot.
Disable "Network Throttling Index" Disable "TcpAckFrequency" and "TcpDelAck Ticks" Enable "TcpNoDelay" (This may slow down your browsing experience, but enhances the gaming feeling) Apply and reboot again.
You can find the explanation for every setting plus some extra settings on this page: http://www.
speedguide.
net/articles/gaming-tweaks-5812 The Right MTU This setting has no impact on CS:GO, because the game is using the UDP and not TCP protocol.
But setting up the right MTU improves the general bandwidth throughput for all TCP applications like browsing downloading and some other games that use TCP.
Follow the steps on the webpage to find your MTU: http://www.
dslreports.
com/faq/695 Every setting you change is recoverable.
So experiment for youself.
The preset "optimal" should be a good starting point.
LAN Adapter Settings Go to your Network Connections Select the properties of your Adapter Click on Properties Untick all the items you don't use.
For example I only use TCP/IPv4 in my network and nothing else.
Set a static IP for your LAN Adapter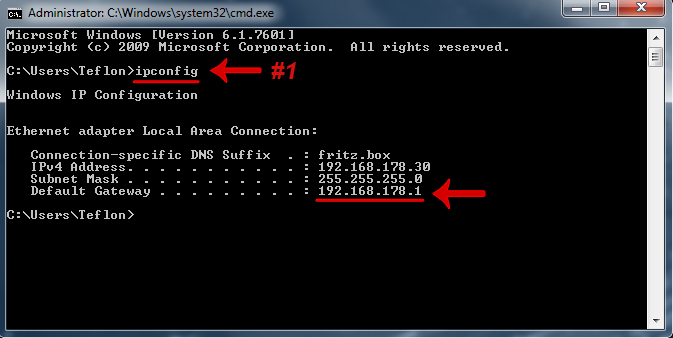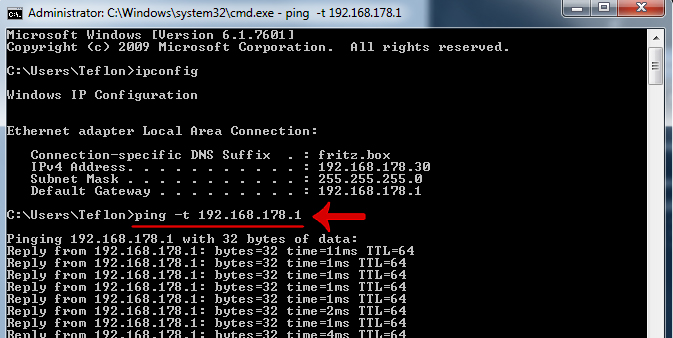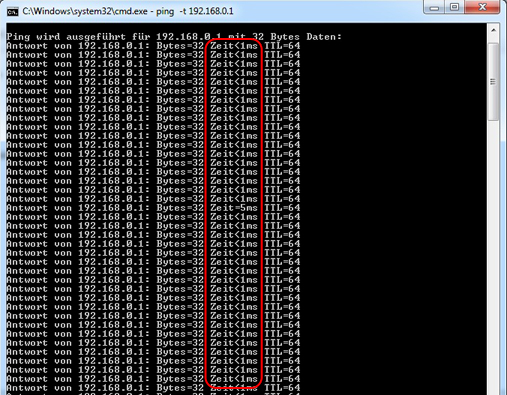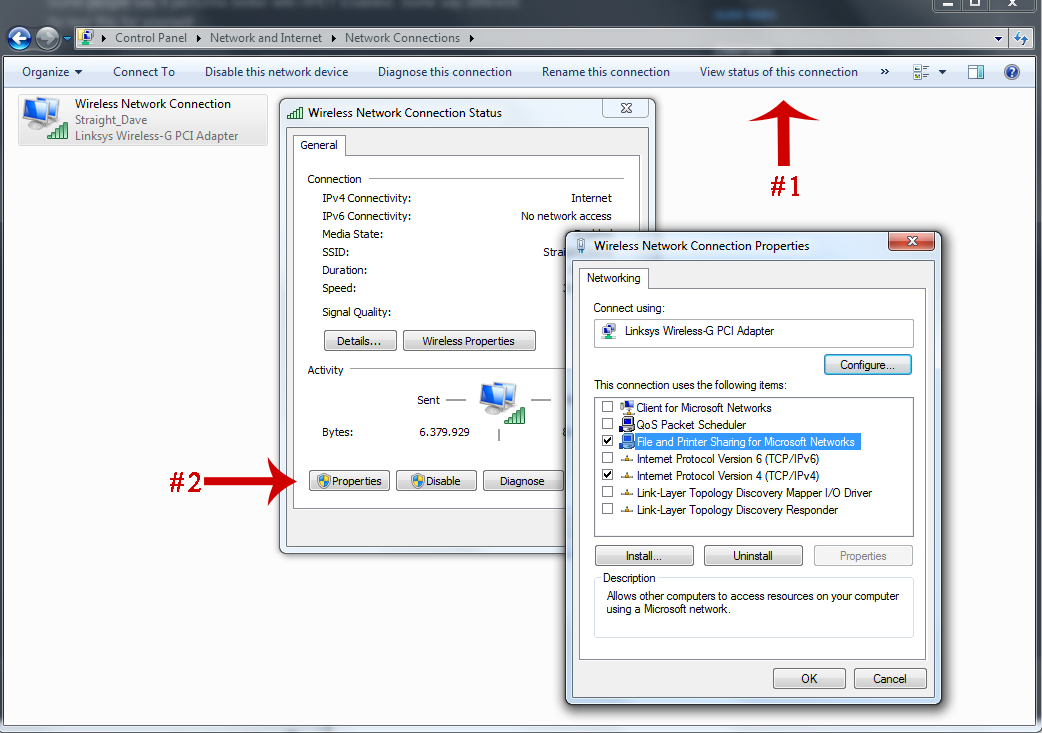 ---
Peripheral Equipment (mouse, keyboard, monitor, audio)
Mouse I will not go into detail what kind of mouse you should buy.
It is a personal preference and you have to test different mice for yourself.
Of course an optical mouse with cable and the biggest mousepad you can find is good to start with :-) If you have the options to get your mouse running on an old PS/2 connector, just give it a try.
Some of the latest mice do not support the old PS/2 connection.
While the USB controller has to ask the mouse in frequent intervals(125mhz) for the time, the PS/2 connector is an active input.
That means that the mouse itself sends the time directly to the Computer without any frequent gaps.
If you have to plug your mouse into an USB port, try to get a separate USB-Controller for your mouse and keyboard.
This will ensure that you have enough bandwidth for both.
Mouse speed / DPI / CPI Mouse settings are a very personal thing but I'll give you this as a general advice: - The Windows mouse speed (Control Panel) should always be in the middle on the 6th line.
- Right below that "Enhance pointer precision" should be unticked - DPI / CPI shouldn't be above 3000, as most of the modern mice sensors will start to send imprecise data to you Computer (400-1000 is a normal value) - CS:GO ingame sensitivity somewhere between 1 and 3) USB-Controller Frequency Get the latest driver for your mouse and install them!! Even when you don't use any of the "special features" the driver can offer you.
Most of the time you can increase the USB frequency with one click or the driver changes the values automatically.
For example the "Logitech Gaming-Software" looks like this: I can change the frequency up to 1000hz, which makes a noticeable difference.
So check out your mouse driver features!! Here is a screenshot of the Razer user interface.
You can easily change the frequency (polling rate) Use this little tool to check your mouse frequency: Downloadlink: https://www.
dropbox.
com/s/jbxtwq6fhfpk8i1/mouserate.
exe More infos on how to change the USB frequency with external tools: Here is the registry fix for mouse acceleration.
Check out the video for more details: Keyboard Settings There is not much in addition to say for the keyboard.
Like with the mouse, you can try to plug your keyboard into the PS/2 connector or change the USB frequency for the USB-Controller the keyboard is plugged in.
To be honest i can't feel a big difference using the higher frequence for the keyboard.
I think u have to be an extremely fast killer-typer to feel it ;-) Monitor Settings For me the monitor is a big part of the chain.
Comparing my three years old Samsung monitor with a modern BenQ 144 Hz monitor, it is absolutely incredible to see how the BenQ is ahead.
Much faster reaction time, very stable display of the frames, sharper models, better overall color display.
.
.
However there are some things you can maybe do to older monitors to get a better view on the enemy.
Again every monitor is different and you have to test these settings for yourself.
Search the web for a professional test of your monitor, like the reviews on this page: http://www.
digitalversus.
com/lcd-monitor.
html This is a "screenshot" from the settings of my internal monitor menu.
I turned down the color intensity for red, green and blue all the way.
It was set to 50% before and i noticed that the color display was pushed way too hard.
On the first look you think that its better with shiny colors but you lose some details with the gray gradients, which is very important to identify models and textures in darker environment.
The picture now looks a bit dull and to compensate this you can increase the digital color saturation of your GPU driver.
For AMD Cards: For NVIDIA Cards: (Digital Vibrance) Slightly inclease the values.
In most cases 20% is more than enough.
Audio It is undeniable that you need a good headset and microphone for CS:GO.
Unfortunately there is not much to set up for a better audio quality.
Far from it! I recommand you to disable all the driver functions like virtual enviroment, EQs, virtual 3D or surround sound.
So all depends on the quality of your headphones.
An optional soundcard will give you an even more neutral sound.
Thats all you need.
There is a ingame console line that seems to work good for me: snd_mixahead "0.
05" // synchronize the screen with audio.
If the value is set to low it causes audio clicks and pops You can experiment with this line, wich expands the stereo image.
First go to your ingame audio settings and check, what speaker configuration you have set.
( 2 Speakers; 4 Speakers; 5.
1 Speakers; Headphones) Depending on your Setup choose one of the lines: snd_headphone_pan_exponent "1" snd_stereo_pan_exponent "1" snd_surround_speaker_pan_exponent "1" (you will also find the lines in the CFG file) Just to make sure that your Windows sound settings are correct follow these steps open the Control Panel click on Sound Doubleclick on your default speaker and or headphone under "Advanced" choose 24 bit, 44.
100 hz (Studio Quality) however 16bit is fine too.
Higher sample rates can produce input lag and even sound worse.
Do the same for your microphone.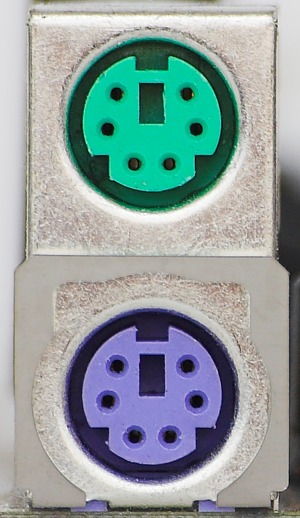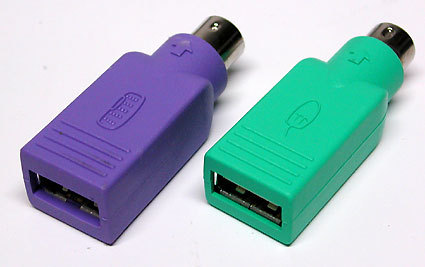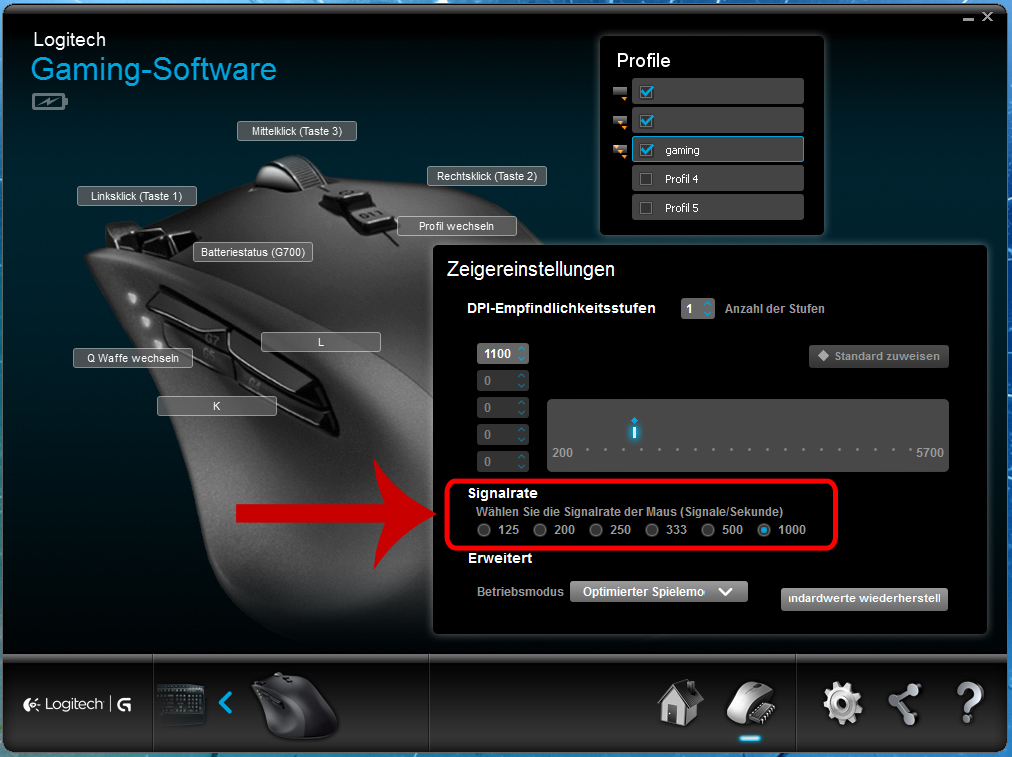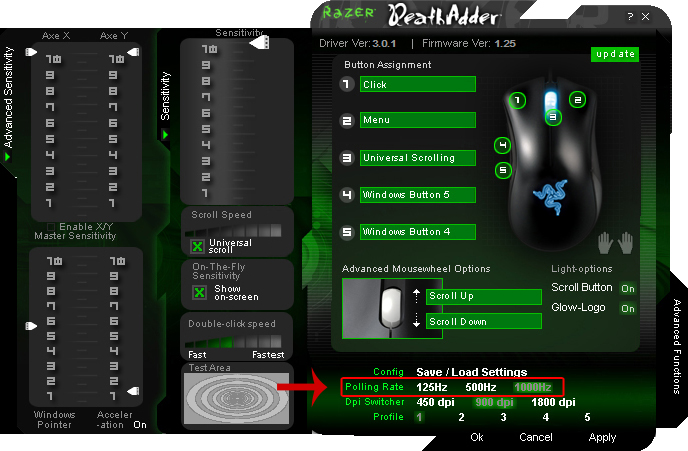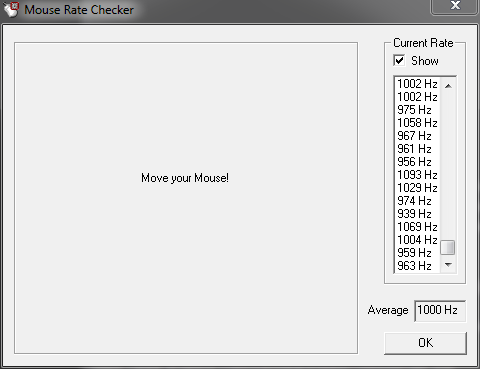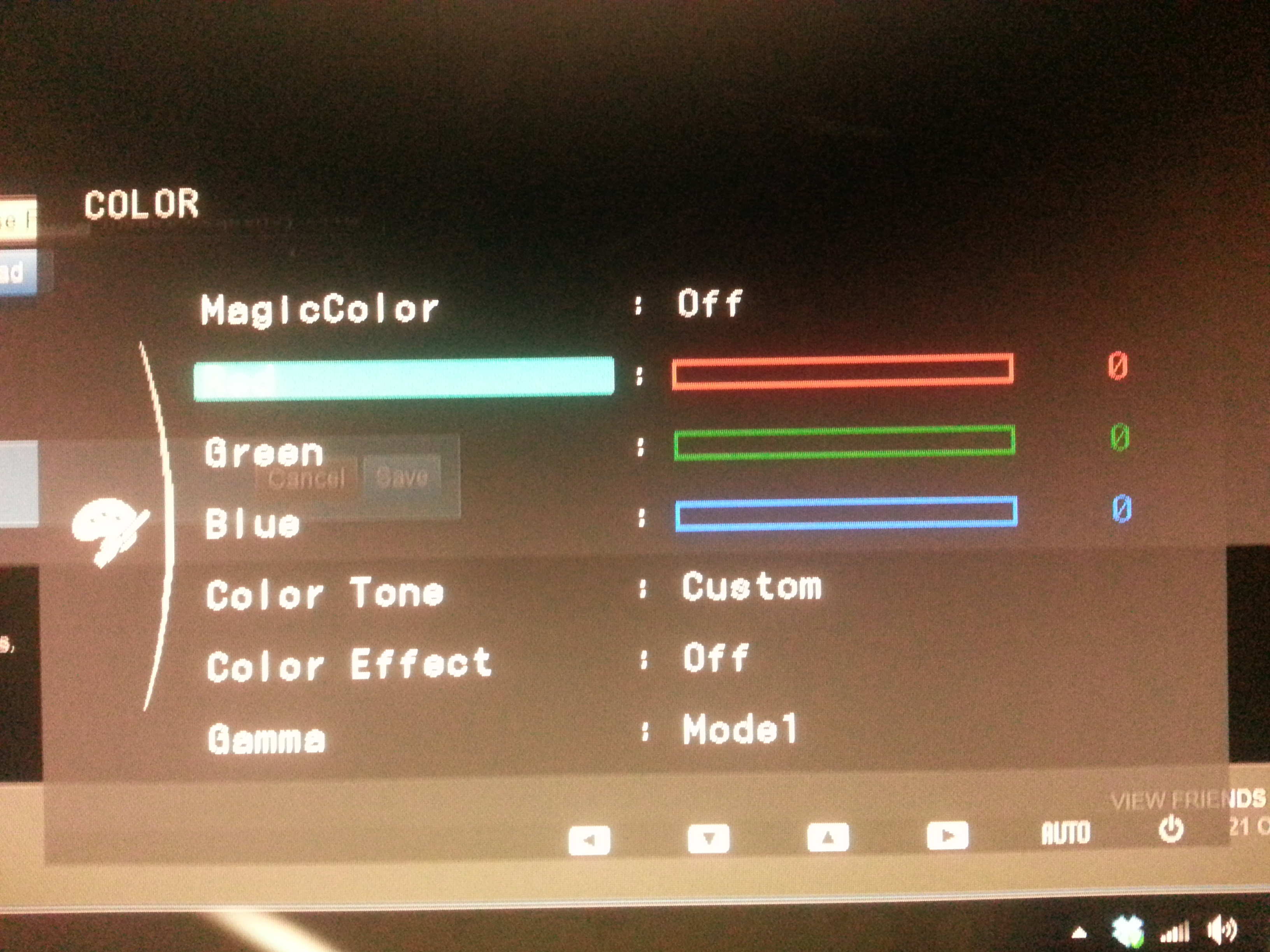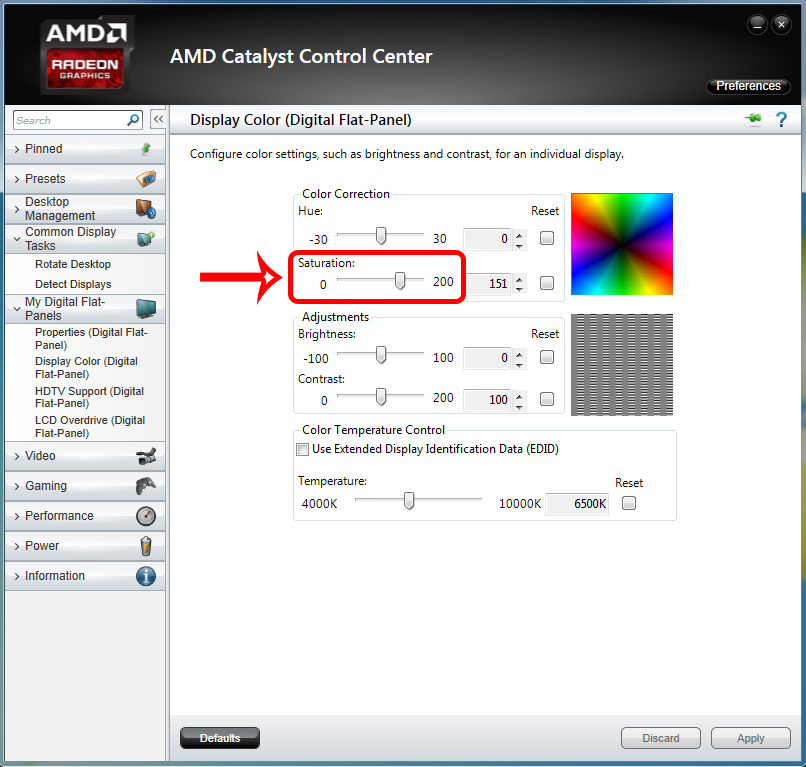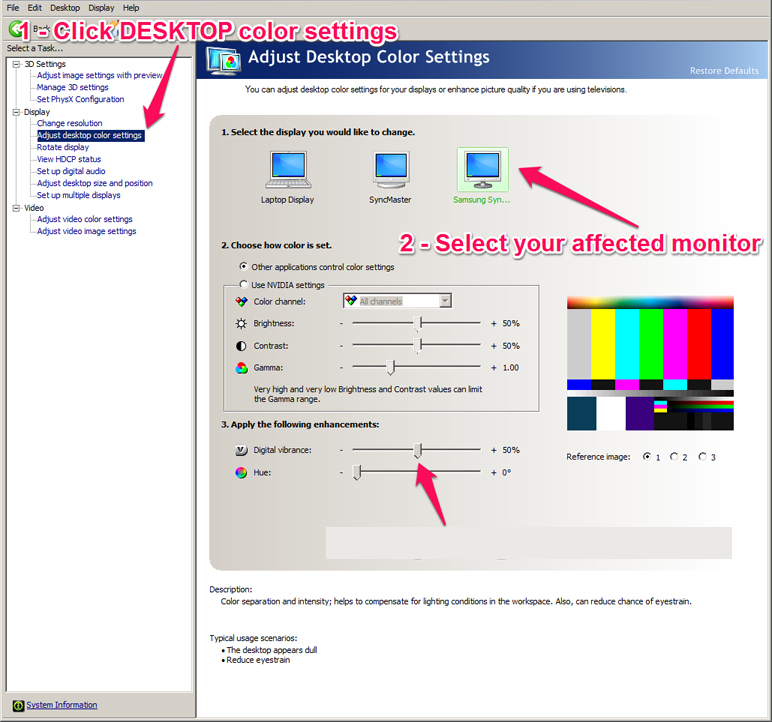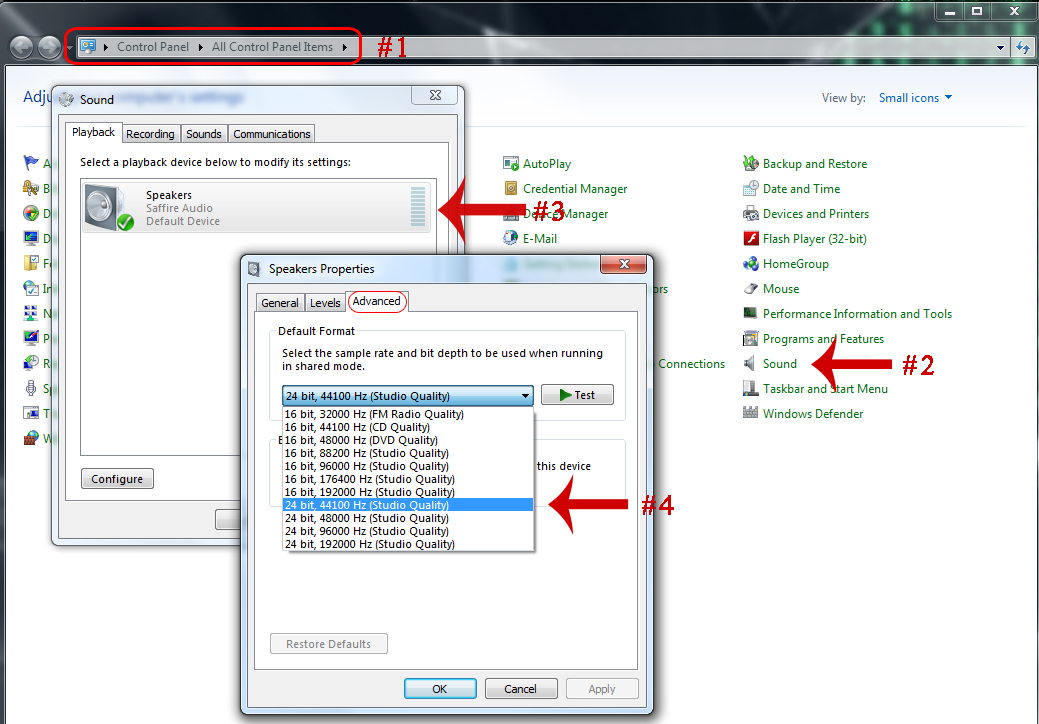 ---
Graphics Card Settings
Disable Windows Power Options First open the Control Panel - and click on Power Options open the advanced power settings under PCI Express turn off the power saving feature hit ok and close ATI GPU Driver Crimson These settings are optimized for performance.
And you can take them over as they are.
Leave Anti-Aliasing and Anisotropic Filtering to "Use Application Settings", as you can decide later using it or not.
Dont forget to disable automatic updates.
Radeon Pro is kind of useless with the new Crimson drivers while the flip queue size has been optimized (hardcoded) and inputlag reduced by default.
Radeon Pro With this tool you can furthermore optimize your AMD settings and I highty recommand to use it.
download and install: http://www.
radeonpro.
info/download/ ***When playing on a 120+ hz panel you should leave the "Display refresh rate" at 0 I just made a quick video on how to setup RadeonPro on my Youtube Channel: You have to start Radeon Pro before launching the game.
If you don't wanne listen to my voice you can follow the screenshots :-) once started add a new profile open your csgo.
exe.
located in.
.
.
steam\SteamApps\common\Counter-Strike Global Offensive\ Now the changes you make only take effect when CS:GO is launched.
under "Visual" tick Anti-Aliasing - Use application settings tick Anti-Aliasing Filter - set to CFAA (Edge-detect) tick Anisotropic Filtering - set to application controlled tick Vertical sync control - Always Off under "Advanced" tick Force Triple-Buffering (OpenGL) tick Antisotropic optimization untick Trilinear optimization untick Enable Surface Format Optimization tick Texture Filtering Quality - set to performance tick Mipmap Quality - set to High Performance tick Flip Queue Size - Set to 2 (this will decrease input laggs noticeably.
If you feel any shuttering increase the value) under "Tweaks" tick disable Aero tick Force Process High Priority These Radeon Pro settings may not work well for other games.
But as you can create a profile for each game there should be no problems at all.
NVIDIA GPU Driver Here are the driver settings for Nvidia GPUs NVIDIA Inspector Just like Radeon Pro there is a little tool for Nvidia cards that can tweak your input lag.
download here: http://www.
guru3d.
com/files_details/nvidia_inspector_download.
html I would like to refer to this Youtube link for more details.
.
.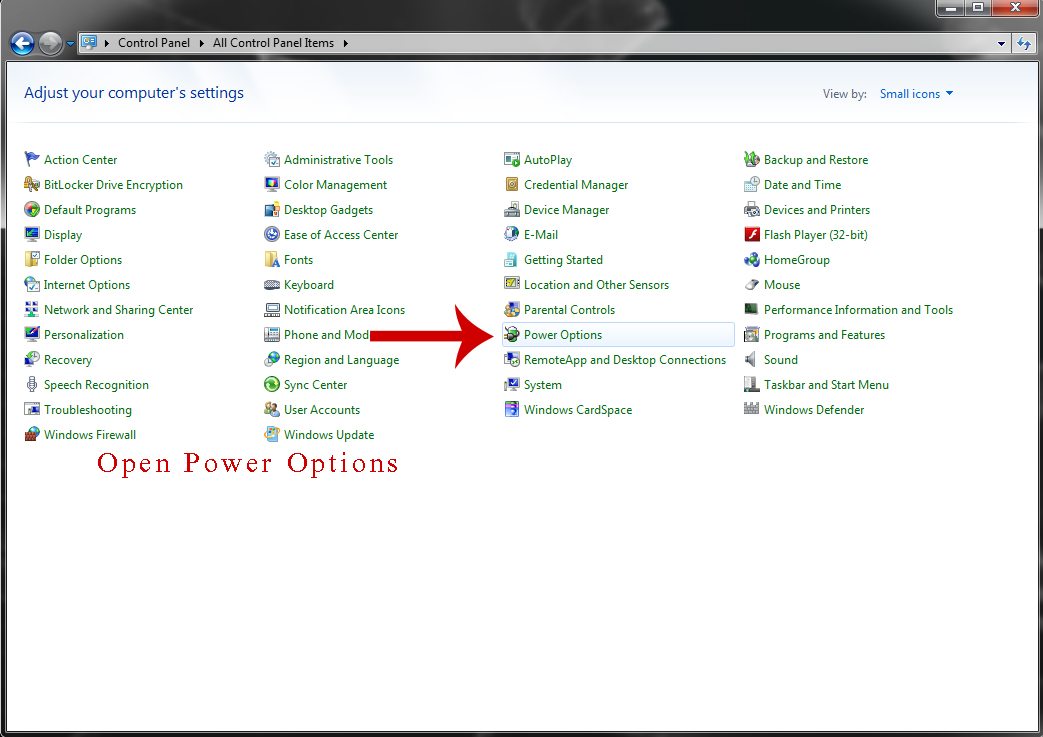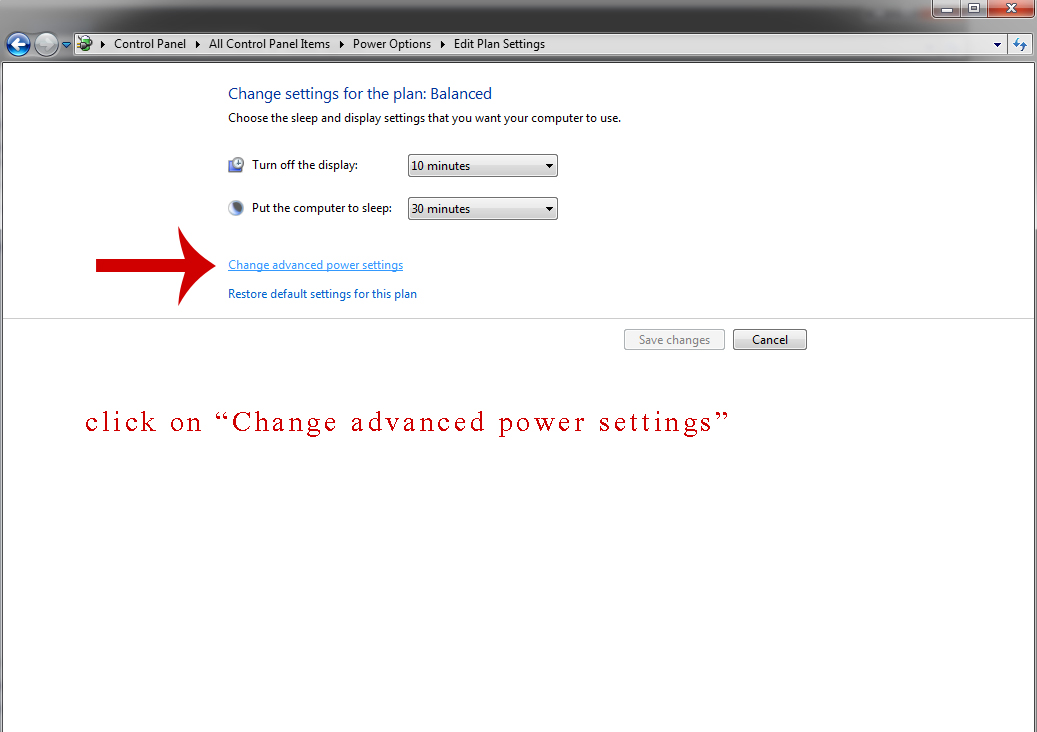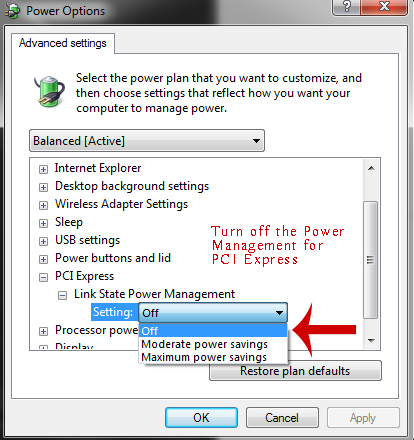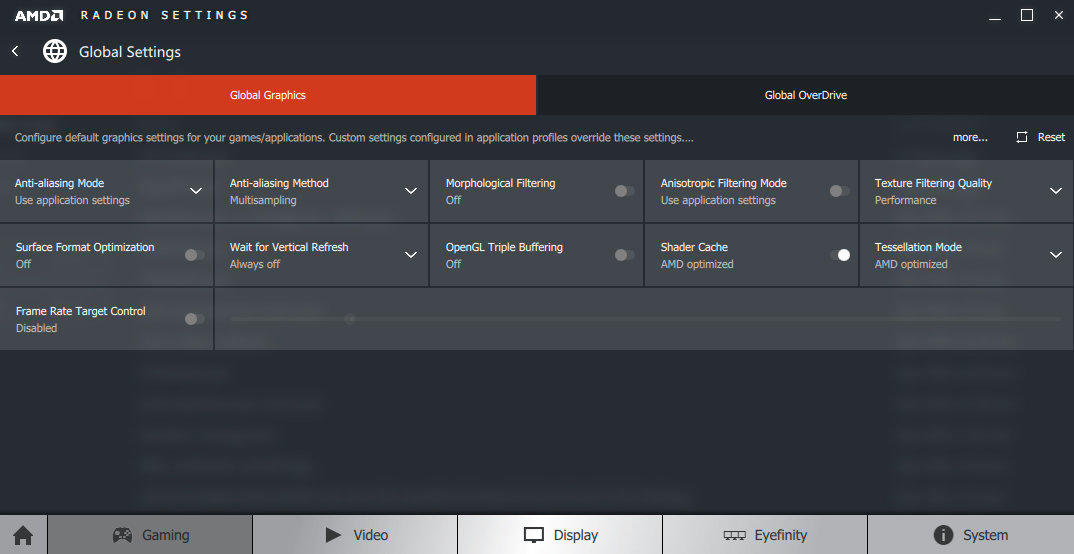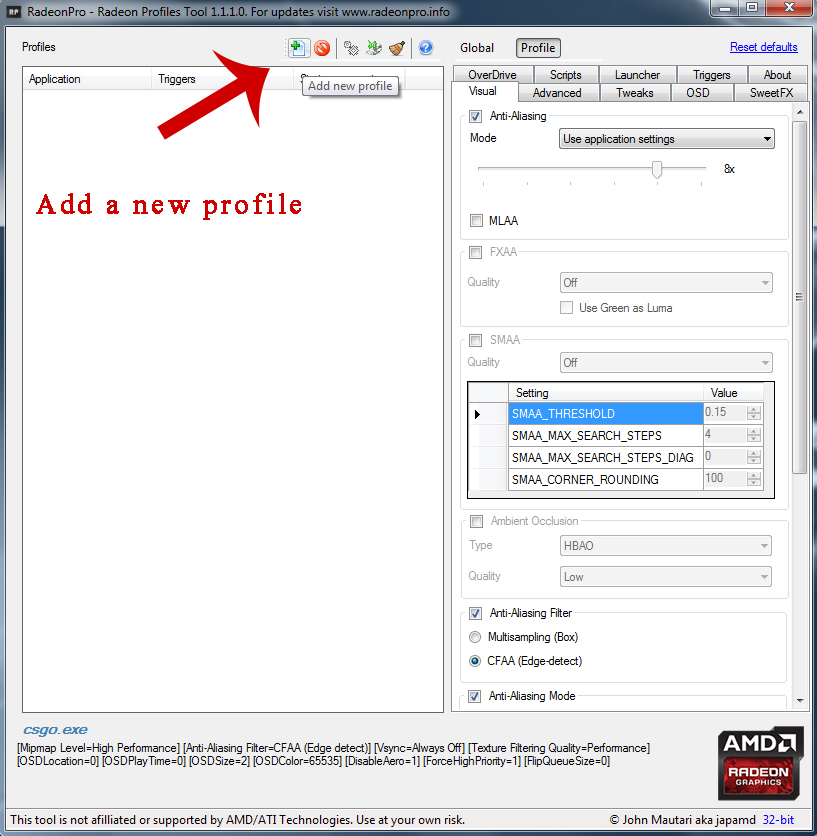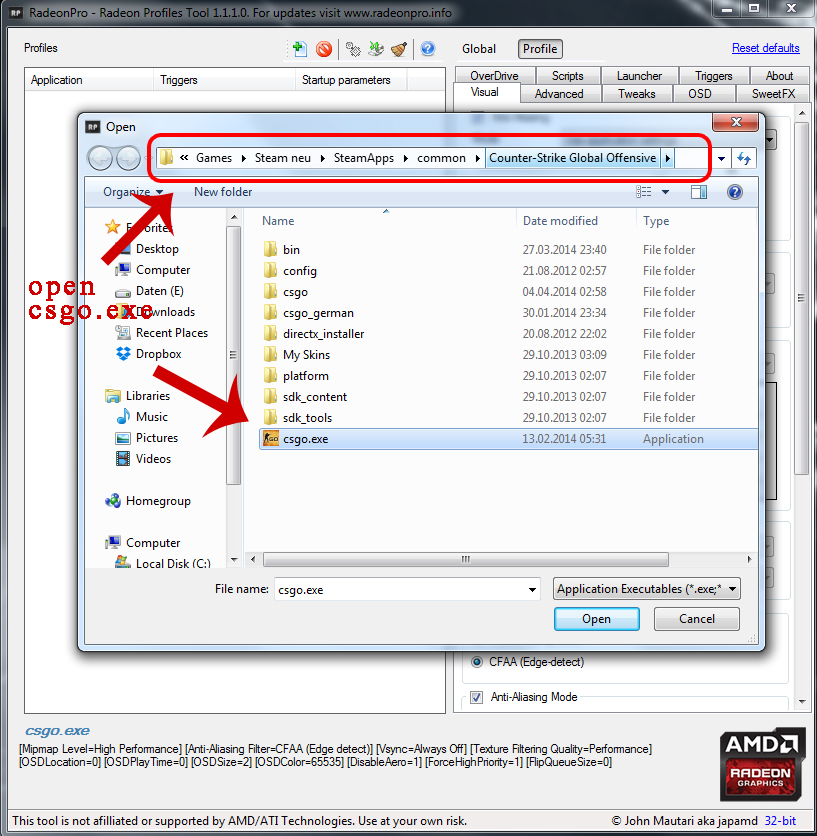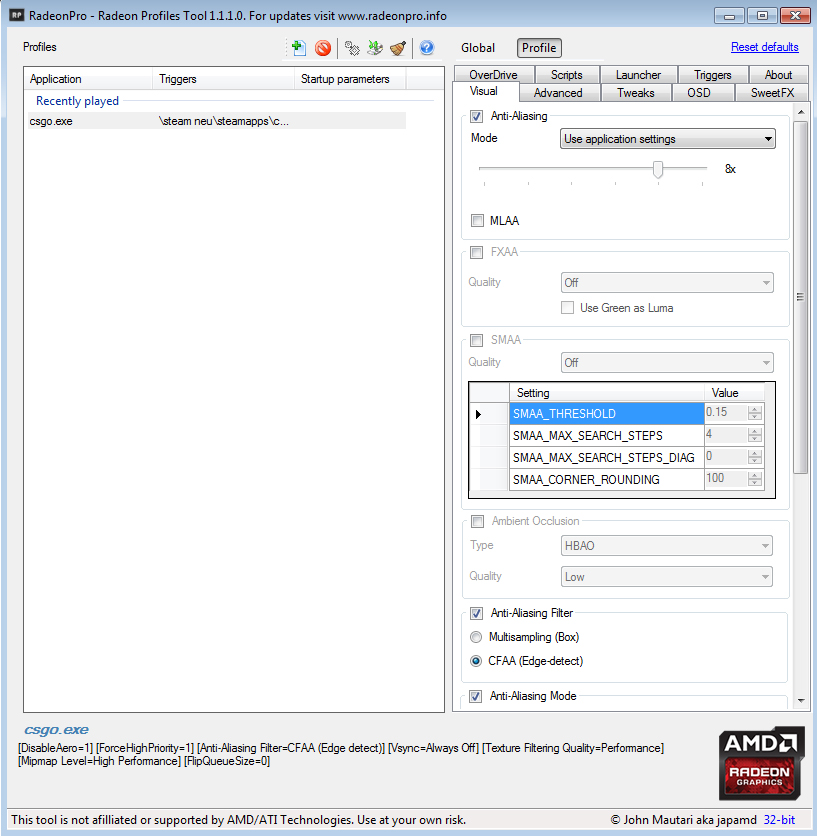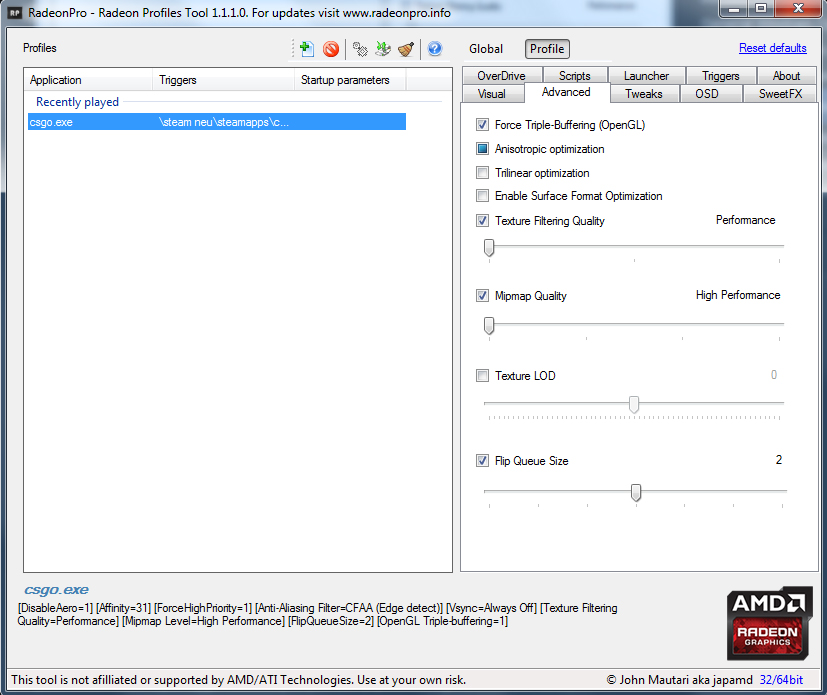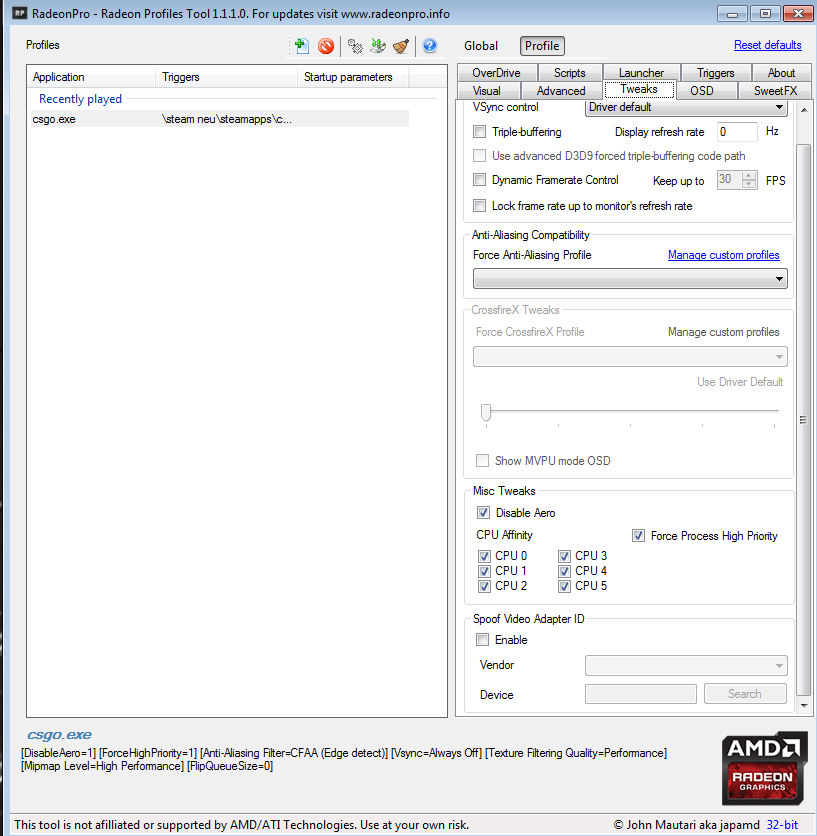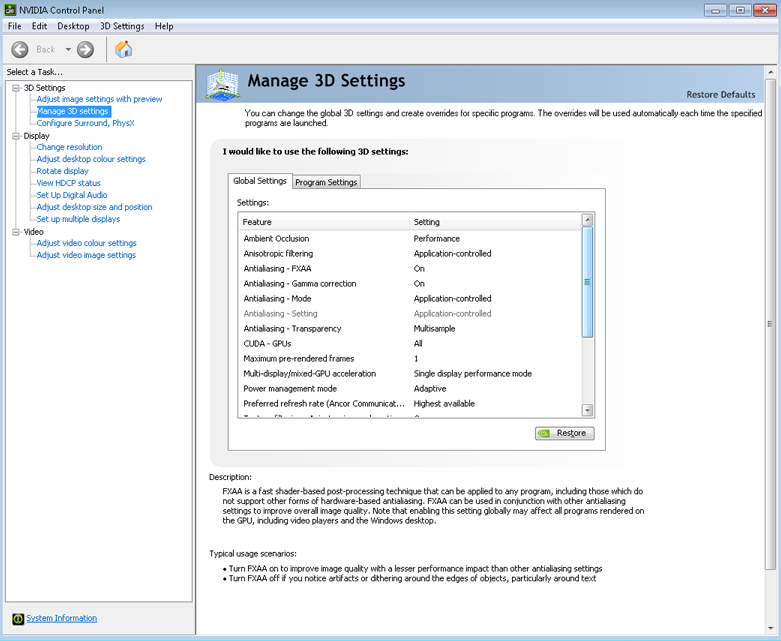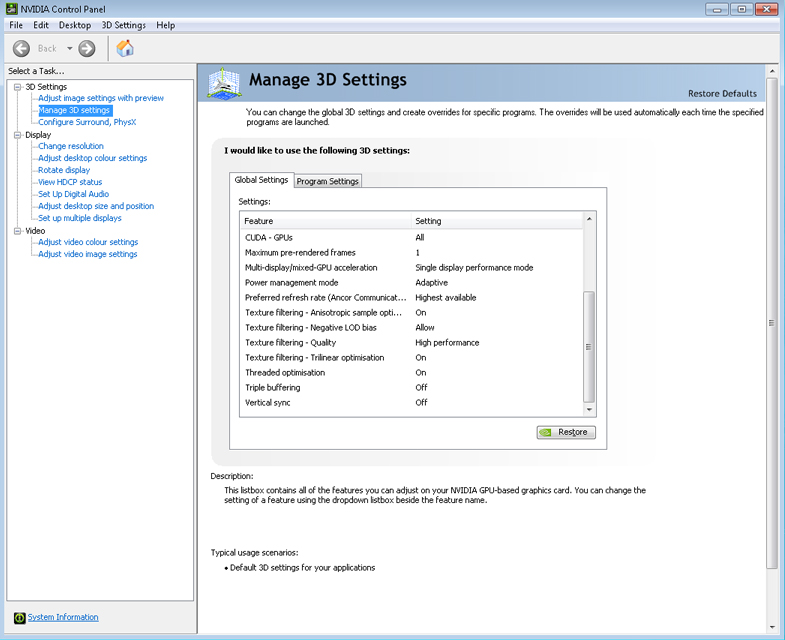 ---
CS:GO Launch Options
List Of Launch Options -console // enables the console -32bit // forces the engine to start in 32-bit mode.
Only useful on 64-bit Operating Systems.
-nod3d9ex // Disables some DX9 features (fps boost).
Looks like this doesn't work anymore.
Pls test on your system.
-threads x // replace the x with the number of cores your cpu has -high // gives the csgo.
exe high priority -novid // disables the intro at the startup -refresh xxx // set your monitors' refresh rate!! -noborder // remove border in windowed mode -tickrate 128 // this will set the offline server to 128 tick +mat_vignette_enable 0 // removes the shadow at the corner of the screen Atm I find these parameters to be very useful.
Try it for yourself! You have to paste them here: Go to your Steam Library - right click on "Counter Strike Global Offensive" - Properties click on "Set Launch Options.
.
.
" enter your start parameters in the text box (put a spacebar in between each parameter) For example my launch options would look like this: -32bit -high -threads 4 -refresh 144 -console -novid -tickrate 128 +mat_vignette_enable 0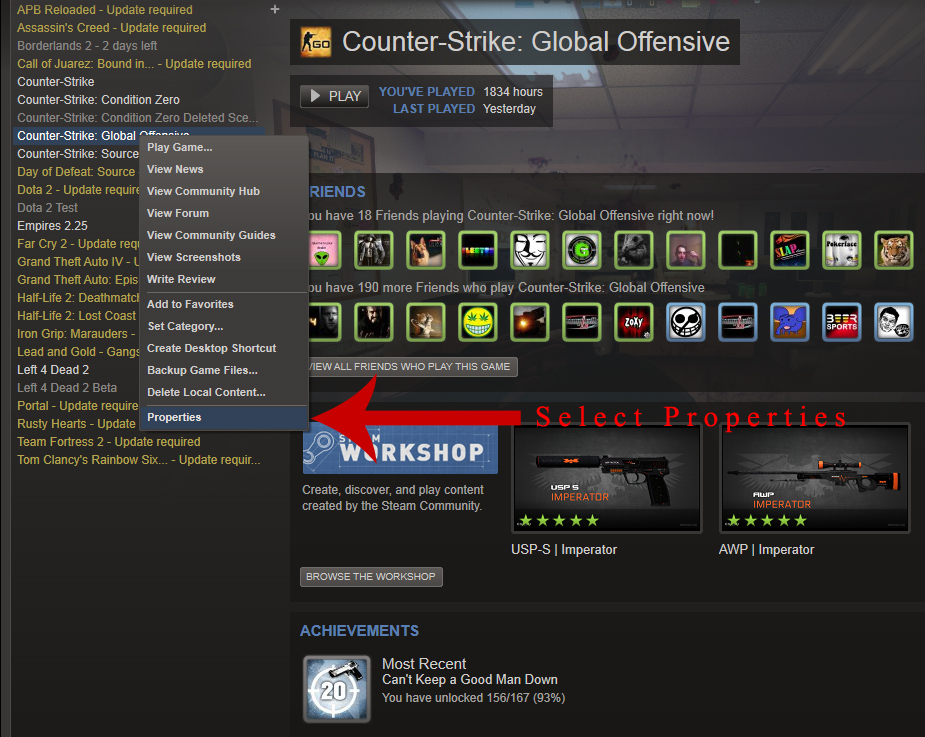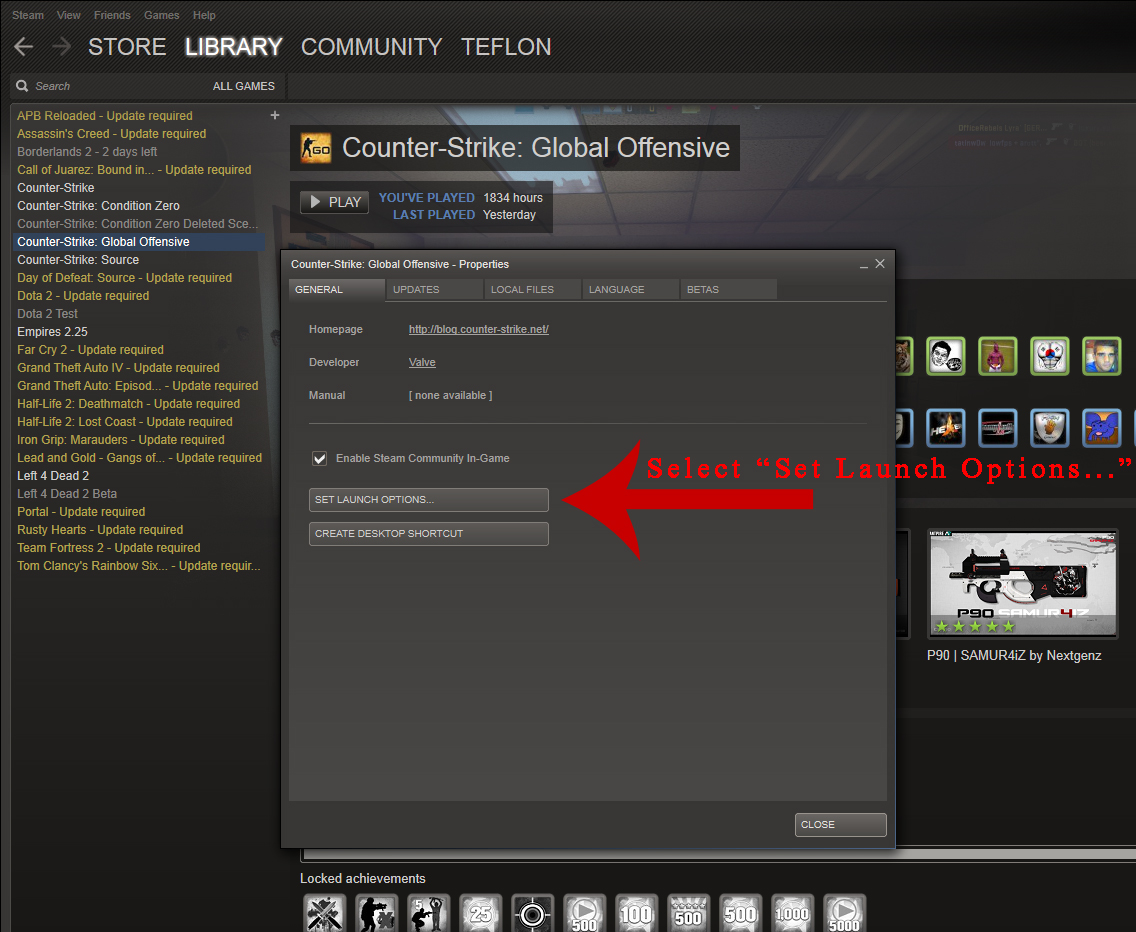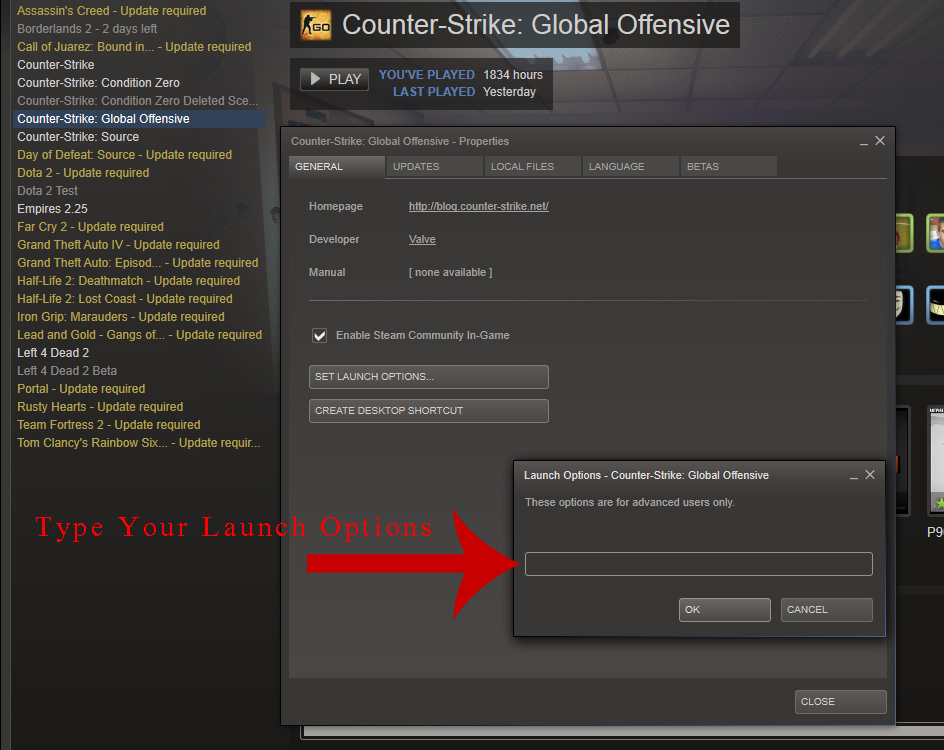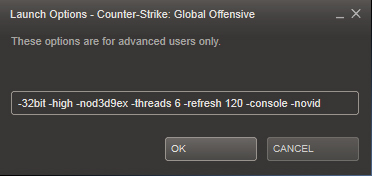 ---
CS:GO Ingame Graphic Options
Again, setting up the graphics depends on your personal taste and your hardware rig.
Even though for many "pro" player it's all about performance, I tend to go a compromise and try to find the lowest graphic settings without losing too much quality.
On top, lowering some advanced settings will give you actually an advantage in terms of optic.
When testing new settings always keep an eye on your FPS.
Therefor type net_graph 1 into the console.
Ingame Graphic Settings Open the game and go to the Options tab As you can see I play with a Full HD resolution (1920x1080).
Maybe your Computer or Laptop is not capable of running that setup.
For me I would lower the resolution when my FPS drop under 120.
Many pro player still like to play with a very low 4:3 resolution even when they get 300+ FPS ("Pixel Hunter").
Compare Resolution 16:9 widescreen (native) 4:3 ratio (keep the focus centered) 4:3 stretched to native screensize (greatly increases the pixelsize) its your decision.
.
.
.
next open the advanced settings: I disabled all the settings, that are "useless" to the gameplay itself or that would destract you from locating the enemy player.
Global Shadow Quality - Very Low Model/Texture Detail - Low (sometimes I use Medium or High) Effect Detail - Low Shader Detail - Low Multicore Rendering - Enabled Multisampling Anti-Aliasing Mode - 8x MSAA (reduces model and edge flickering) Texture Filtering Mode - Bilinear FXAA Anti-Aliasing - Disabled Wait for Vertical Sync - Disabled Motion Blur - Disabled FPS_MAX ??? Now the question if you should limit your fps or not.
.
.
Limiting your fps to a constant value is useful when you play on 60hz monitor and experience screen tearing - find a constant limit that is a multiple of your refresh rate like 60/120/180.
.
Some monitors will give you a better result when adding 1 or 2 to the multiple (61/121.
.
) Limiting your fps also means that your PC is not running at full load all the time.
So it runs cooler and more quiet.
The downside of limiting is the "loss" of performance, which leads to latency.
Playing on a +120hz monitor, I would suggest to uncap your frames.
"fps_max 0"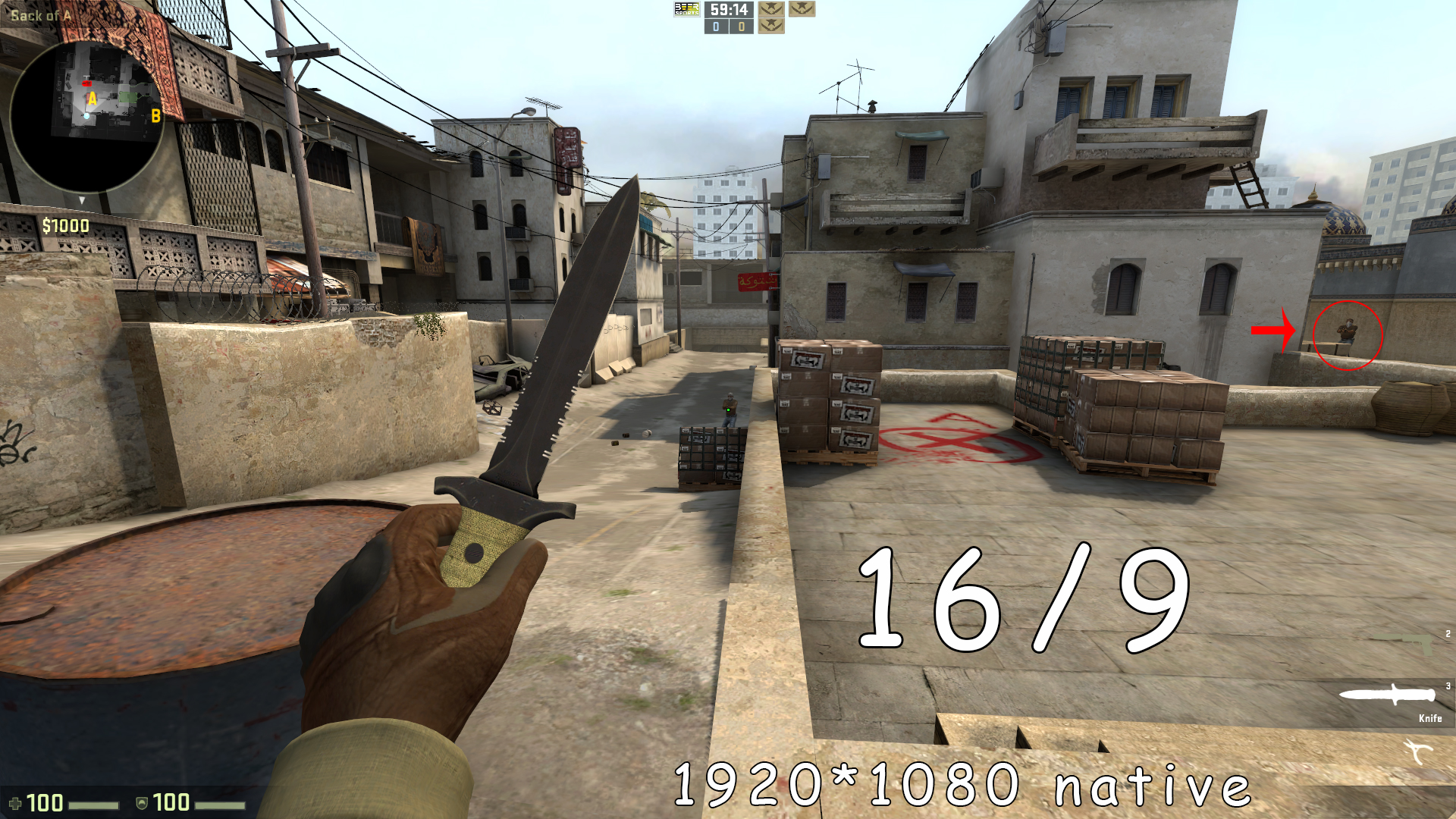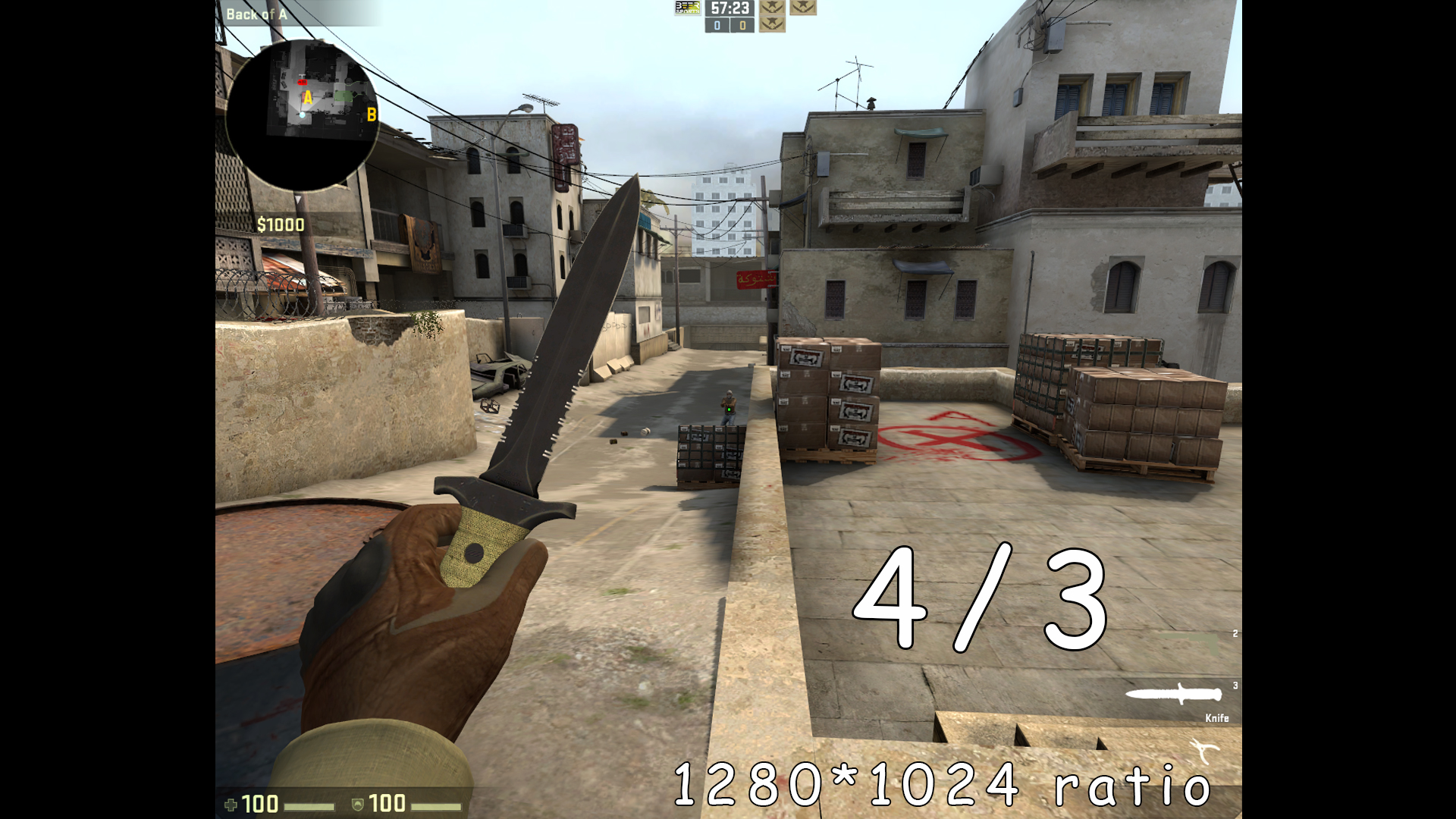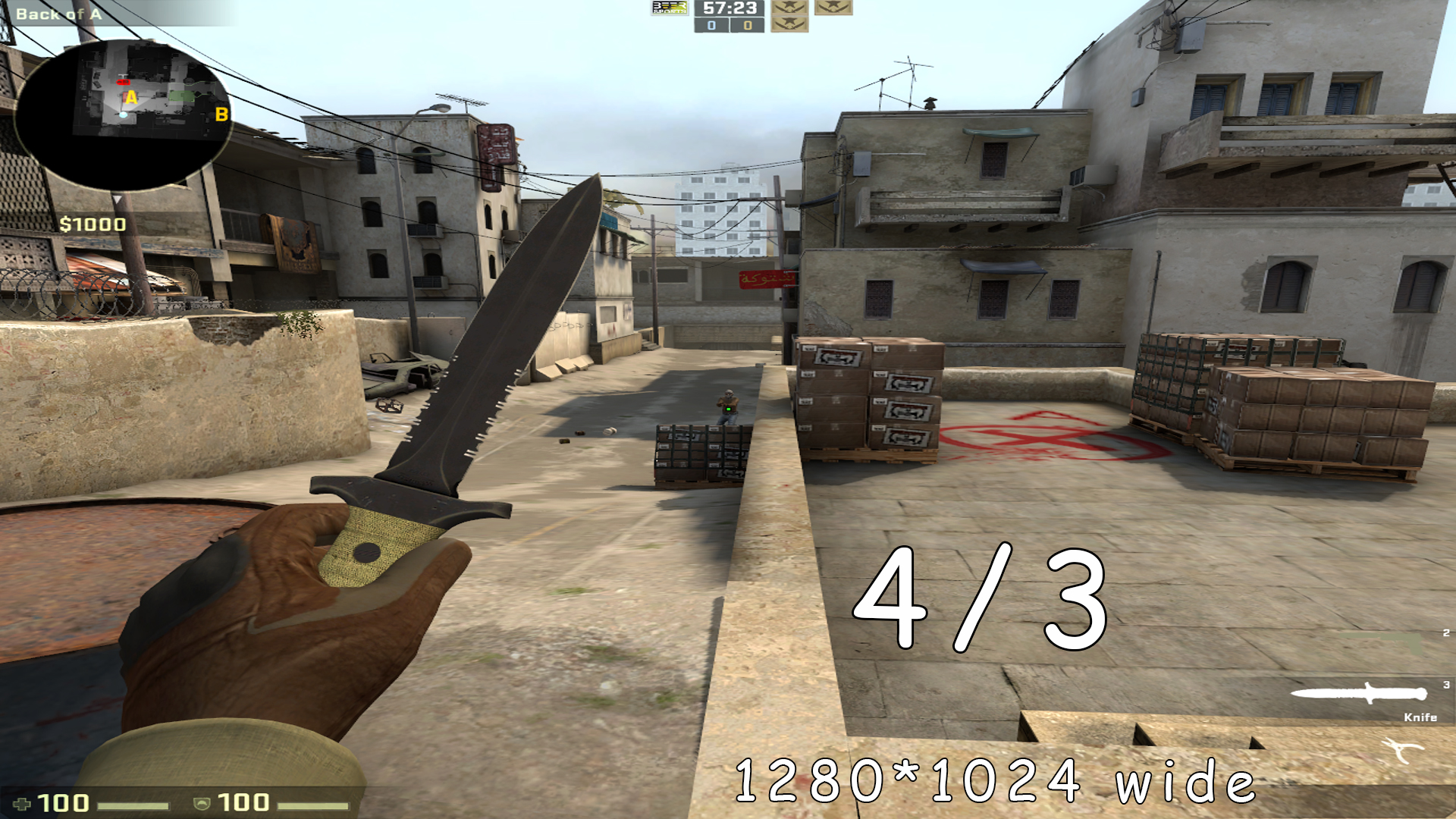 ---
CS:GO Custom Config
How To Create your own custom config file with all the parameters you like.
Put all together with Notepad and save it as .
.
.
.
cfg file-type (.
cfg).
You can download below the "Ultimate_CFG_by_Teflon.
cfg" as an example.
https://www.
dropbox.
com/s/sslx4k2enohyotr/Ultimate_CFG_by_Teflon.
cfg Save or copy the file to the following folder: ***\Steam\SteamApps\common\Counter-Strike Global Offensive\csgo\cfg\ Start CS:GO and open the console.
Type exec (which is the command) and the name of your custom cfg file you just added to the cfg folder.
**Every time you restart the game, you have to load the config again!** The command line for my file would look like this: exec Ultimate_CFG_by_Teflon.
cfg List Of Parameters Weapon position (changes the position of your Weapon to get a better view) viewmodel_fov "62.
5" viewmodel_offset_x "2" viewmodel_offset_y "2" viewmodel_offset_z "-2" ___________________________________________________ Weapon "movement" (behavior of your weapon, reduce gun and scope shifting) cl_bobamt_lat "0.
1" cl_bobamt_vert "0.
1" cl_bobcycle "2" // "0.
98" is enforced by ESEA/ESL cl_viewmodel_shift_left_amt "0.
5" // Reduce gun shifting when crouching cl_viewmodel_shift_right_amt "0.
5" // Reduce gun shifting when crouching cl_bob_lower_amt "0" ___________________________________________________ Audio // this is for stereo only! I don't have any experience with +5.
1 surround and can't recommend settings windows_speaker_config "2" snd_mixahead "0.
05" // audio delay.
increase the value if you get audio clicks and pops volume "0.
2" snd_musicvolume "0" snd_headphone_pan_exponent "1" snd_stereo_pan_radial_weight "0" snd_front_stereo_position "45" snd_rear_stereo_position "135" voice_scale "1" // receive volume voice chat ___________________________________________________ Miscellaneous cl_autohelp "0" //disable ingame popups cl_showhelp "0" cl_autowepswitch "0" // disable auto switch to picked up weapon cl_showloadout "1" // always show the inventory cl_forcepreload "1" // preloads the map before joining cl_dm_buyrandomweapons "0" // disables radom weapons in Death Match hud_showtargetid "1" // shows the id of the player you are aiming r_drawtracers_firstperson "0" // disable tracers in your point of view.
Enemy tracers are still visible cl_radar_scale "0.
4" // increases the radar scale to get a better overview of the map mm_dedicated_search_maxping "150" // max ping for matchmaking games hud_scaling 0.
7 // reduces the HUD scale ____________________________________________________ Mouse m_rawinput "1" m_mouseaccel1 "0" m_mouseaccel2 "0" m_customaccel "0" sensitivity "1" // set your personal value for the ingame mouse speed! ____________________________________________________ Buy Scripts (example of buy scripts.
Customize for yourself) bind "KP_INS" "buy vesthelm; buy vest; buy defuser;" bind "KP_END" "buy fiveseven; buy tec9;" bind "KP_DOWNARROW" "buy nova;" bind "KP_PGDN" "buy p250;" bind "KP_LEFTARROW" "buy m4a1; buy ak47;" bind "KP_5" "buy famas; buy galilar;famas;" bind "KP_RIGHTARROW" "buy sg556; buy aug;" bind "KP_HOME" "buy mp7;" bind "KP_UPARROW" "buy awp;" bind "KP_PGUP" "buy ssg08;" bind "KP_DEL" "buy hegrenade;" bind "KP_Enter" "buy flashbang;" bind "KP_PLUS" "buy smokegrenade;" bind "kp_MINUS" "buy incgrenade; buy molotov;" ___________________________________________________ Rates and Interpolation (standard net settings) fps_max "130" // see the description above net_graph "1" // overview of your server connection and fps infos // 64 and 128 Tick cl_cmdrate "128" cl_updaterate "128" cl_interp "0" cl_interp_ratio "1" // If you experience choke or loss try to set cl_interp_ratio to "2" rate "80000" //lowering this value can reduce choke * A rate of "80000" is the standard setting.
If you have a fast internet connection you may get a better ping if you set the rate to "128000".
But most of the servers will limit your bandwidth anyway.
If you get any choke, you can try to lower the rate.
You can set these Netsettings also for 64 tick servers, as cmdrate and updaterate will be forced to 64 when you join the server.
_____________________________________________ Practice Commands Here are some useful console commands when you wanne practice nades, spray pattern, team tactics, wall bangs.
.
.
.
You can either start an offline server or create your own online server.
sv_cheats "1" // Enables cheats on the server sv_infinite_ammo "2" // infinite ammo with reloading.
Set to "1" to get infinite ammo without reloading mp_startmoney "16000" sv_showimpacts 1 // shows a visual impact of your shots.
nice for practice wall bangs mp_buytime "10000" // set the buytime mp_buy_anywhere "1" // you can buys anywhere in the map mp_autoteambalance "0" //disables the auto team balance mp_decals "1000" mp_freezetime "0" // disables the freeze time at the beginning of a round mp_friendlyfire "1" // enables friendly fire mp_limitteams "0" // diasbles the limit of player to join a team mp_roundtime "0" // mp_roundtime_defuse "30" // set the round time on defuse maps (de) in minutes mp_roundtime_hostage "30" // set the round time on hostage maps (cs) in minutes mp_maxrounds "0" // set the number of rounds mp_autokick "0" // disables being kicked while afk mp_tkpunish "0" sv_enablevoice "1" // enables voice chat for the server mp_allowspectators "1" mp_winlimit "0" // disables a winlimit mp_warmup_end // ends the warmup mp_respawn_on_death_ct "1" // instant respawn after death for CTs mp_respawn_on_death_t "1" // instant respawn after death for Ts ammo_grenade_limit_total "6" ammo_grenade_limit_default "6" mp_restartgame "1" bind mouse3 noclip // this will bind the noclip command the to mouse 3 The following command will bind all the available grenades to the alias "nades".
It means that you only have to type nades in the console and it will drop all for you automatically: alias "nades" "give weapon_flashbang; give weapon_hegrenade; give weapon_smokegrenade; give weapon_incgrenade; give weapon_molotov; give weapon_decoy; give weapon_flashbang; give weapon_hegrenade; give weapon_smokegrenade; give weapon_incgrenade; give weapon_molotov; give weapon_decoy" The following command will bind some weapons to the alias "weapons".
You only have to type weapons in the console and it will drop all the weapons that are binded: alias "weapons" "give weapon_ak47; give weapon_m4a1; give weapon_Negev; give weapon_deagle; give weapon_awp" (Of cause you can customize the alias and binds for yourself)

---
CS:GO Crosshair
**UPDATE** just in case you didn't notice.
.
.
The last update (from 13.
2.
2014) brought some new features to the crosshair.
The dynamic movement control of the crosshair has been enhanced.
Here is the original upda
---