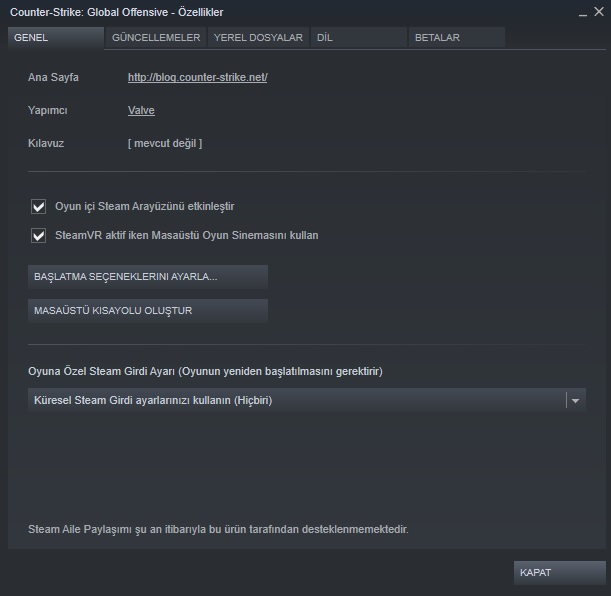 ---
Başlatma Seçenekleri
TR: Kütüphanemiz de CS:GO'ya sağ tıklayıp "Özellikler" e tıklıyoruz ve başlatma seçeneklerine giriyoruz.
ENG: In our library, right-click CS: GO and click "Properties" and enter the startup options.
-freq TR: Eğer 60hz'den yüksek kare hızına sahip bir monitörünüz varsa bu komutu kesinlikle kullanmalısınız.
Örneğin; 144hz bir monitör kullanıyorsanız başlatma seçeneklerine "-freq 144" yazmanız gerekiyor.
Ancak 60hz bir monitör kullanıyorsanız bu komutu kullanmak zorunda değilsiniz.
Bu komutu kullanırken -freq yerine –refresh veya –refreshrate komutlarını da kullanabilirsiniz.
ENG: If you have a monitor with a frame rate higher than 60Hz, you should definitely use this command.
For example; If you are using a 144hz monitor, you must type "-freq 144" into the startup options.
However, you do not have to use this command if you are using a 60hz monitor.
You can also use the –refresh or –refresh rate commands instead of -freq when using this command.
-high TR: Bu komut ciddi bir şekilde performansı yükseltiyor.
Bu komutu kullandığınızda oyun açıldığı zaman bilgisayar sisteminiz CS: GO'ya üst seviye öncelik tanıyor.
Böylece oyunun performansında çok ciddi bir artış oluyor.
ENG: This command is significantly improving performance.
When you use this command, your computer system gives CS: GO a top priority when the game is opened.
Thus, the performance of the game is a very serious increase.
-novid TR: Bu komut oyun başlangıcındaki videoların direkt geçilmesini ve hiç oynatılmamasını sağlıyor.
ENG: Automatically skips the video when the game is beginning -nod3d9ex1 ve -d3d9ex TR: Eğer performansı yüksek bir bilgisayarınız var ise -nod3d9ex1 kodunu kullanın eğer bilgisayarınızın performansı düşük ise -d3d9ex kullanın.
Diğer şekilde kullanırsanız FPS düşüşü yaşarsınız.
ENG: Use -d3d9ex if your computer's performance is low, use the -nod3d9ex1 code if you have a high-performance computer.
If you use the other way, you will experience a FPS drop.
-threads "x" TR: İşlemcinizin çekirdeklerini tam kullanmaya yarayan kod.
İşlemciniz kaç çekirdekli ise "x" yerine yazın.
ENG: Uses your processor with full power.
If you have how many cores, type "x" instead.
-nojoy TR: Kol kontrol ayarlarını kaldırır, biraz da olsa FPS yükselebilir.
ENG: Removes the controller setting.
FPS may increase slightly.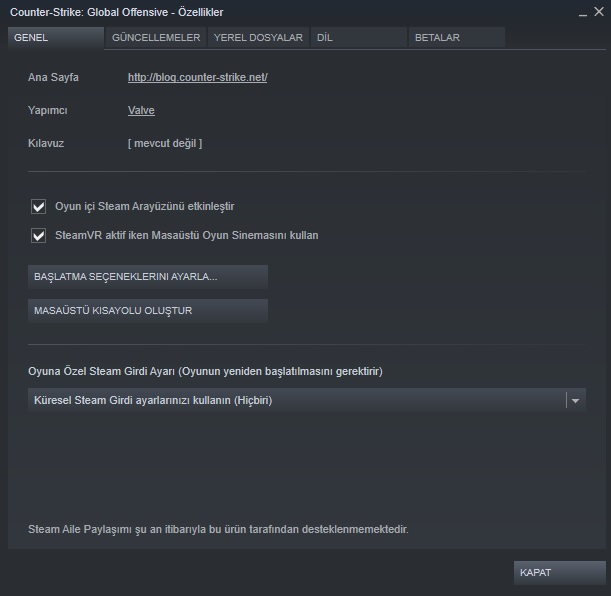 ---
Oyun İçi Ayarlar
Görüntü Ayarları TR: 4:3 1024x768 oynamamın sebebi adamların 4:3 de vücutları ve kafalarının büyük gözükmesi.
ENG: The reason I play 4:3 1024x768, bigger head and body Gelişmiş Görüntü Ayarları TR: Ayarlar size kötü görünmüş olabilir ama adamları daha rahat vurmak için bu ayarları yapabilirsiniz.
ENG: The settings may seem bad to you, but you can make these settings to see the guys more comfortable.
Ses Ayarları TR: On saniye uyarısı oyun kurtarabiliyor! bombanın patlamasına 10 saniye kaldığın da gerici bir müzik başlıyor ve ona göre oynayabiliyorsunuz.
ENG: Ten seconds alert can save the game! 10 seconds before the explosion of the bomb in a reactionary music begins and you can play it.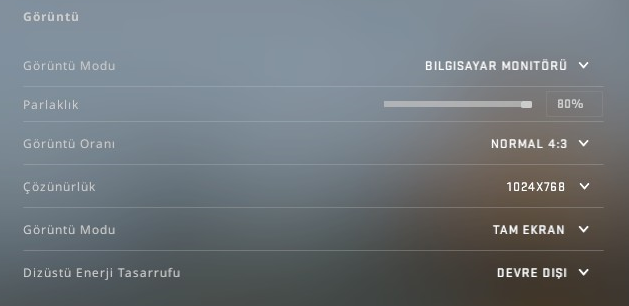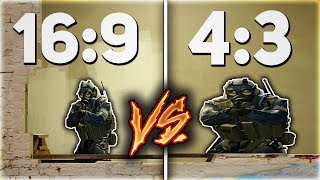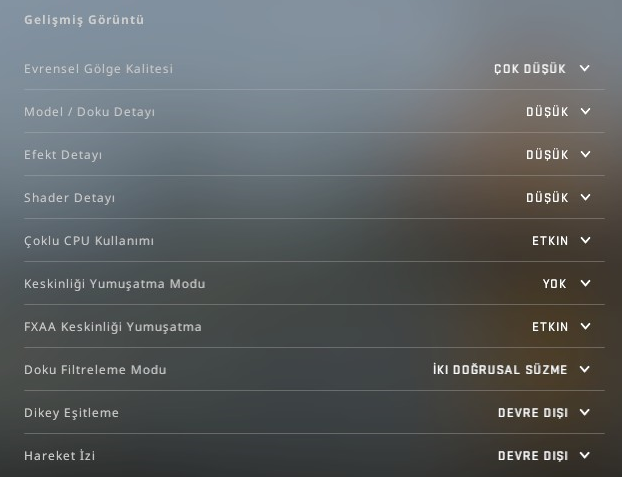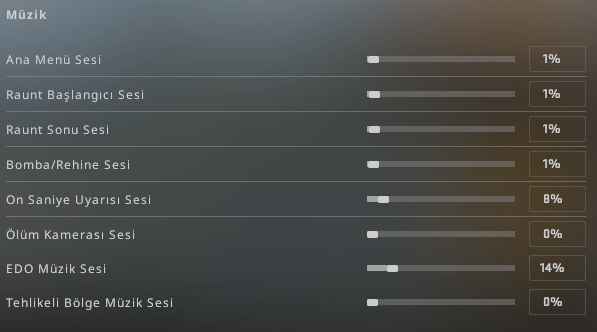 ---
Kodlar (CFG)
bind shift "+speed; r_cleardecals" TR: Oyunda "shift"e bastıkça mermi izlerini ve kan lekelerini temizler ve temiz bir oyun sağlar.
ENG: As you press "shift" in the game, it clears bullet marks and blood stains and provides a clean game.
net_graph 1; net_graphproportionalfont 0; net_graphpos 3 TR: FPS, ms, loss gibi değerlerin olduğu göstergeyi açar ve sol alt tarafa alır.
ENG: FPS, MS, Loss, such as the display opens and takes the bottom left side.
cl_radar_always_centered 0 ve cl_radar_scale 0.
4 TR: Radarı ortalar ve daha rahat bir kontrol sağlar.
ENG: It centers the radar and provides a more comfortable control.
bind c "use weapon_c4; drop" TR: "c" ye basınca C4'ü atar.
Başka bir tuşa atayabilirsiniz.
ENG: Press "c" to drop C4.
You can assign another key.
+cl_show_team_equipment TR: Duvar arkası takım arkadaşlarınızı görmeye yarar.
ENG: To see your teammates behind the wall.
fps_max 0 TR: En yüksek FPS almak için bu kodu girmeniz gerekmektedir.
FPS sınırlamayı kapatır.
ENG: To get the highest FPS you need to enter this code.
FPS closes the restriction.
mat_monitorgamma 1.
6 TR: Parlaklığı arttırır ve karanlıkta ki kişileri daha rahat görürsünüz.
ENG: increases the brightness and you can see more comfortable in the dark mm_dedicated_search_maxping 65 TR: Düşük gecikmeli sunuculara bağlanmanızı sağlar.
Oyun ararken sarı işaret çıksa da aramaya devam edin bulacaktır.
ENG: Connects to low-latency servers.
I have seen the lowest ping in Turkey 45.
Enter your ping values according to your country voice_scale TR: Oyunda ki arkadaşlarınızın mikrofon seslerini ayarlamaya yarar.
Arkadaşlarınızın mikrofonuna göre "0" ila "1" arası bir değer girin.
ENG: In the game to adjust your friends' microphone sounds.
Enter a value from "0" to "1" according to your friends' microphone.
cl_hud_playercount_showcount 1 TR: Yukarıda resimleri değil de kaç kişi kaldığını gösterir.
ENG: It shows how many people are left.
not the pictures.
bindtoggle h gameinstructor_enable TR: "h" tuşuna bastığınız da oyun yardımını açar, bombayı kolayca ninja çözebilirsiniz.
ENG: Pressing "H" also opens the game help, you can easily solve the bomb.
bind "j" "toggle volume 0.
1 1 TR: "j" tuşuna basınca volume 1 ile volume 0.
1 arası gider.
Ölünce işinize yarayabilir.
ENG: Pressing "j" changes volume 1 to volume 0.
1.
It can be useful when you die.

---
Atölye Haritaları
Crosshair Ayarlama - Crosshair Generator https://steamcommunity.
com/sharedfiles/filedetails/?id=725804517 Recoil (Spray) Çalışma Haritası - Spray Training Map https://steamcommunity.
com/sharedfiles/filedetails/?id=419404847 Viewmodel, Hud https://steamcommunity.
com/sharedfiles/filedetails/?id=1325659427 Bot Pratik - bot Practice https://steamcommunity.
com/sharedfiles/filedetails/?id=1104441138 AIM Geliştirme - AIM Training https://steamcommunity.
com/sharedfiles/filedetails/?id=1365781615
---
Hızlı ALT+TAB | Fast ALT+TAB
---