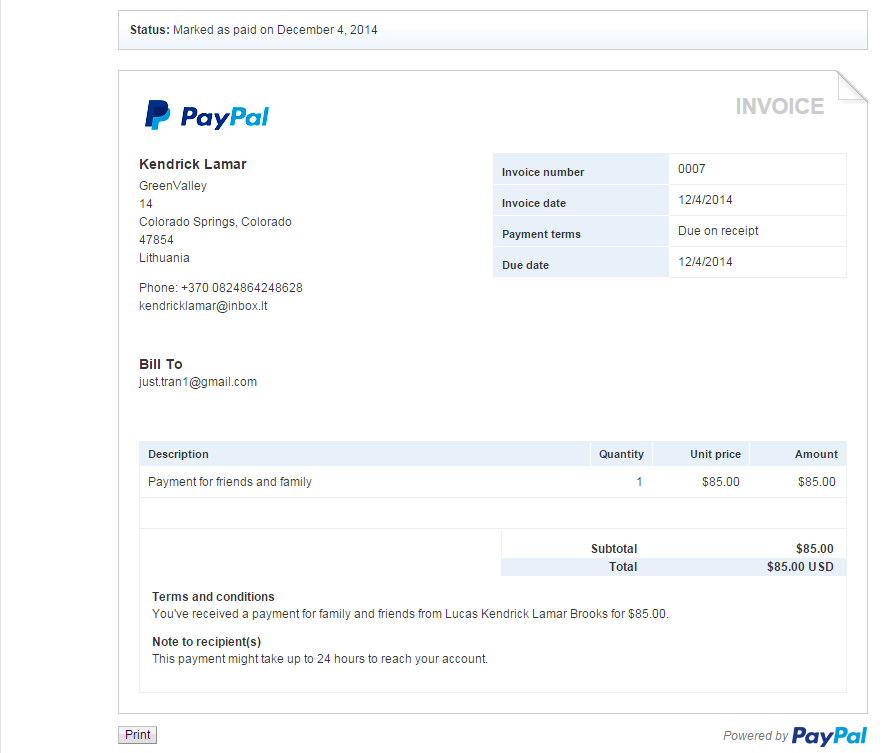 ---
Scam Types.
There are too many species of scamming Let me introduce all of them.
PayPal Scams.
Phishing Scam.
Item fast swapping scam.
Steam wallet scam.
Software scams.
Impersonating scams.

---
Paypal Scams.
There are two ways of paypal scamming.
These ways are *invoice* trick and *chargeback* trick.
Be aware and try to avoid them.
Let me introduce invoice tricks.
Here is screen.
it's like a paypal bill.
You will NEVER get money.
How to avoid paypal invoice tricks? Most of them are going first.
Trying to get seller's e-mail and sending that bills.
Be careful! if someone is agree to be first so easy, it's maybe scam: paypal invoice scam! There is another PayPal scam try.
It's chargebacks.
Usually buyer won't send money as family/gifts and he will chargeback money easy.
I can give advice about it : Use skrill (moneybookers), or direct bank transfer to avoid chargebacks.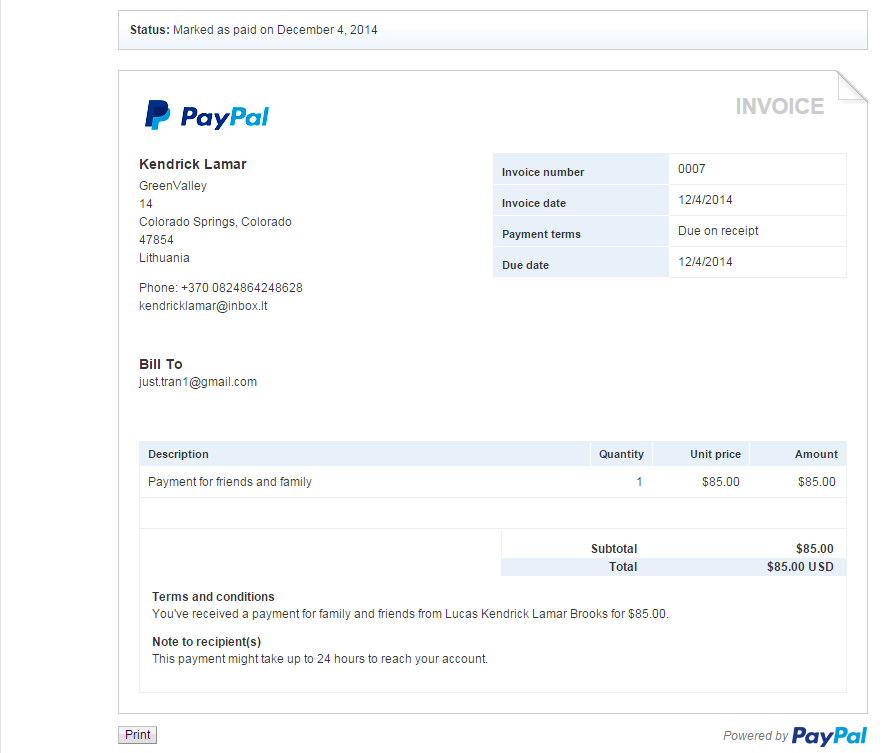 ---
Phishing scam.
This way is more popular than rest of, but too easy to avoid.
For example: Just posted trade offer on CSGOlounge and just getting spam invites.
Most of them are spam bots.
Try to don't add anyone who has private profile or 0-1 Level profile.
This will increase your security.
Some screens about it: Maybe they post links on your profile comment sections.
Just try to not click any links except familiar links.
[EDIT] There is new scam try about faking CSGOjackpot.
Just never get on unfamiliar links.
Try to check every symbol it contains.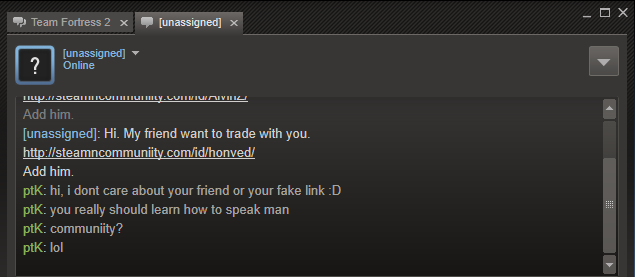 ---
Item swapping attempt.
Sometimes people will try to swap out items at the end of a trade.
For example they could swap out a skin with a quality of factory new with a battle scared version with less value.
Always check the chat for item swaps and hover your mouse over the items to check if they are the ones agreed on.
Take your time when trading.
Also there is CSGOlounge trades about having FN item and in inventory it's BS,WW or FT Some screens: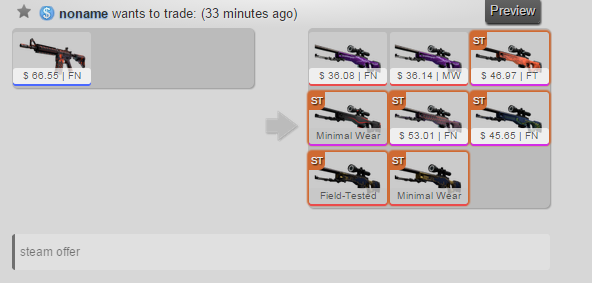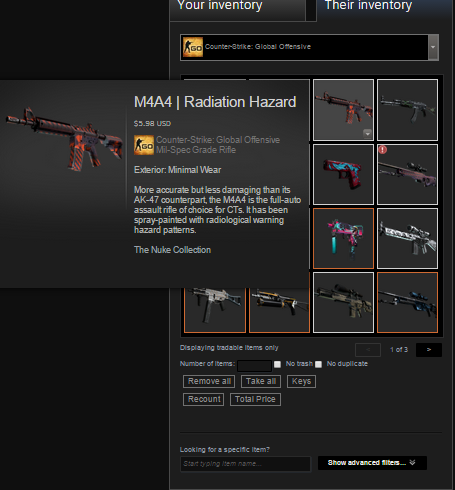 ---
Steam wallet scam.
- This scam is most common.
that's because it's most scam attempt to create.
- Scammer needs only to send trade offer.
- For usually cases trade offer contains text about you will get XXX amount of money for this item.
- REMEMBER IT'S IMPOSSIBLE TO SEND MONEY OVER STEAM.
- only the way is to buy from steam market There is a some screens: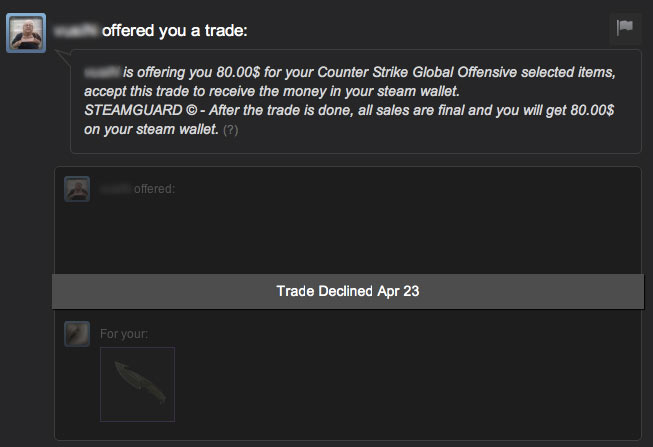 ---
Item buying/selling scams.
- And here is the most used scam attempt.
There is some advices to avoid getting scammed in-online.
- Never trust low-profile guys.
For example: 10Level guys whose one's just started scamming and have everything fake.
- Always check buyer's steamrep before dealing with him.
There should be unconfirmed report.
Be sure always dealing with legit guy.
- But it's always risky dealing in-internet.
Never trust middlemans.
They can be easily faked and impersonated.
And i'm going to explain how to find scammer.
Usually most scammers profile are about 10-25.
Most scammers own fake +reps.
be sure to check them.
Most scammers are offering 100%-120% in market price.
Most scammers will convince you to show REP thread.
Most scammers have taken info boxes from another well-known dealers.
Most scammers don't even have account 1years old or 2 years.
Most scammers invenotry are clean.
They are taking scammed items on smurf.
Ask them to show valid proofs.
-try to get enough information about buyer before giving him item.

---
Some advices for avoiding scam.
-Enable steam guard security -Enable e-mail confirmation -Take strong password -Use strong anti-virus -Avoid using links for trustless people -Avoid online dealing -Take strong password for e-mail -Own mobile phone security on e-mail
---
In Conclusion.
that's all.
I hope guys this guide will help a lot, and you will avoid scam attempt with this one.
It's my first guide so waiting for feedbacks in comments.
I don't own any copyright for provided photos.
And since it's first one some info taken from other guides similar like it.
TRY TO NOT GET SCAMMED.
BE AWARE cheers- N!M.
If feeling generous you can use this trade link and donate skins.
Every help will be appreciated.
Trade Offer Link
---