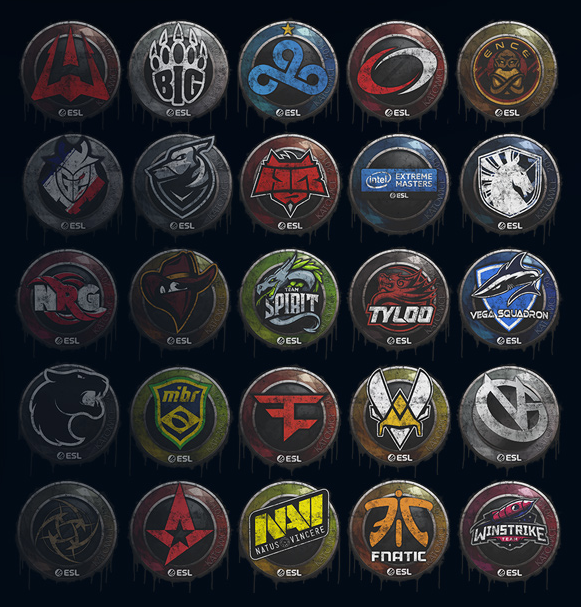 ---
Introduction
Ok so for those of you that are new to this I will do my best to explain how the system works.
The IEM Katowice 2019 Major will be using a slightly modified version of the well known Swiss System.
Basically, each team will play in BO1's (Best of Ones) until they are on the verge of moving on or being eliminated.
Once teams make it to either a 2-0 / 2-1 / 2-2 / 1-2 / 2-2 / 0-2 standing, they will then have to play in BO3's (Best of Three) to either advance or be eliminated.
In addition, this major will also have us picking teams for the Prelims.
Basically, its the exact same thing as what was stated above, but for the teams that are yet to secure their spot in the major.
Once the prelims and group stage are over, the matches will be played in a normal bracket, meaning quarterfinals, semifinals and the finals.
In the old pick'em challenge, you would pick the winner of each individual match (which is what you do in the bracket stage of this tournament) but for the group stage, you pick seven teams you think will go through, one team that will go undefeated and one team that will be knocked out without winning a single game (just a side note there will be 2 teams that are undefeated and 2 teams that are completely wiped out).

---
Our Participants
With the winter player break recently ending, and a somewhat surprising start to the new year, the major will be a great kickoff for Counter-Strike in 2019.
Like always, we see a few new faces around but lets start off with some of the big hitters: First We Have Our 8 Legendary Teams: -Astralis -Team Liquid -NAVI -MIBR -Complexity -BIG -HellRaisers -Faze Clan Next Up We Have Our 6 Returning Challengers: -NIP -Fnatic -G2 -Vega Squadron -Cloud 9 -Tyloo And Lastly We Have Our 10 The Minor Challengers: -ENCE -NRG -Avangar -Renegades -Vitality -Furia -Team Spirt -Grayhound Gaming -WinStrike -ViCi Gaming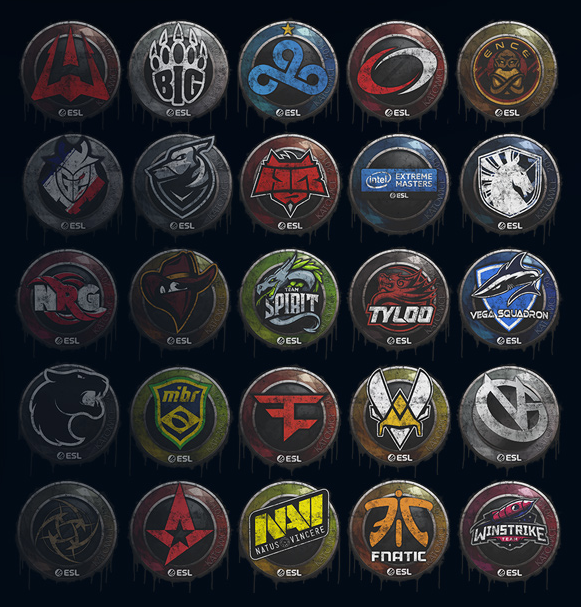 ---
Prelim Predictions
My Picks: 3-0 (Undefeated Team) - Avangar *** Please Read Reasoning 0-3 (Eliminated Without a Win) - ViCi 7 Remaining Teams That Will Advance: -Fnatic -NRG -C9 -Vitality -ENCE -NIP -G2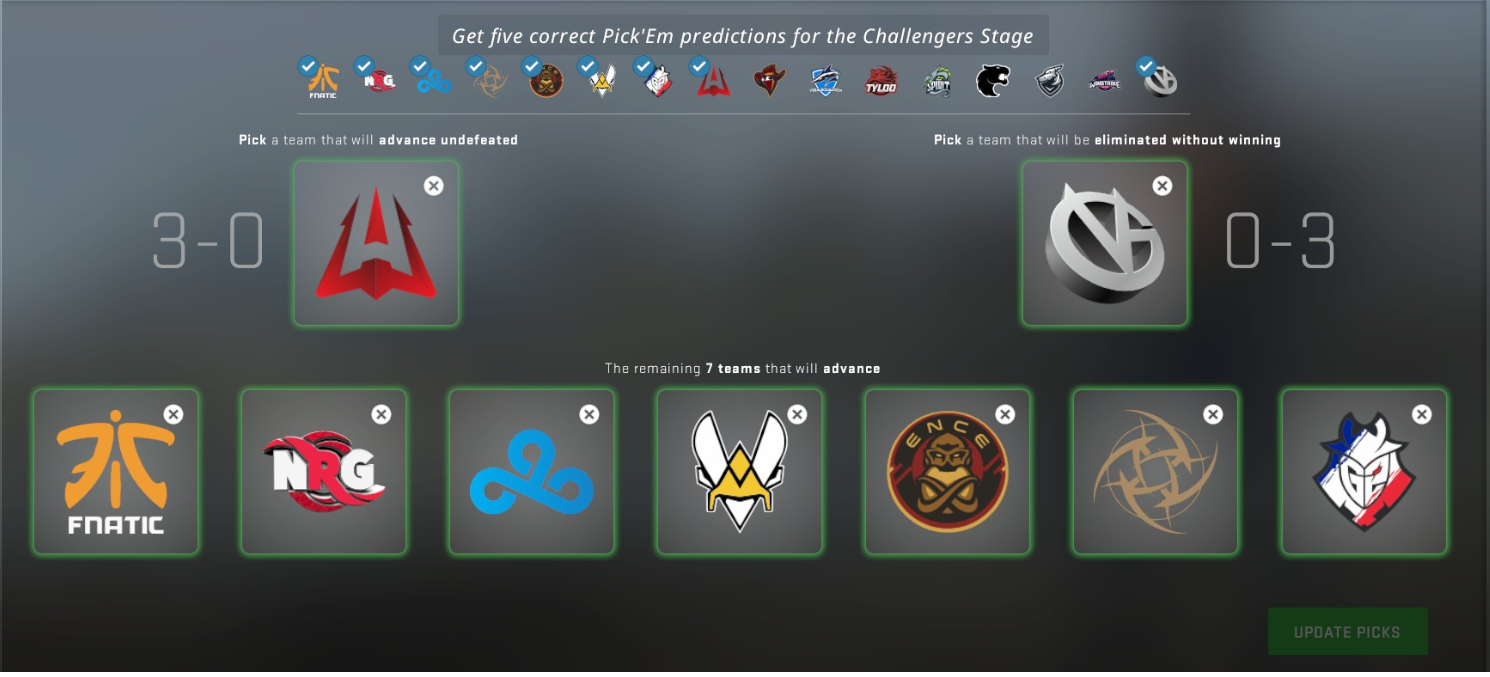 ---
Reasoning Behind The Picks
Now that I have shown my picks for the Prelim Stage, I thought it might be a good idea to discuss some of my reasoning on who I picked.
Avangar For 3-0: Ok so hear me out.
The team that I am going to pick for my 3-0, is not a team that I actually believe will go 3-0.
The reason being, that I do not want to waste points.
If I were to say pick a team like Fnatic or NRG to go 3-0, and they ended up going 3-1, I would receive no points for that pick.
Instead, I would rather pick them to simply advance so that I get the points as long as they go through.
So for 3-0, its best to just go with a wildcard pick.
A team that has the potential to deliver a crazy upset.
And for me, that pick is either, Avangar / Tyloo / Furia / Vega.
I suggest you go with your gut on this one, its never an easy pick to make and to be honest, since you don't earn higher points for getting it right, there is really no incentive to throw away a good team by using them for it.
(Also it is worth noting that I think Avangar has the easiest opening match up out of the teams that I suggested).
ViCi For 0-3: Just like trying to pick a 3-0 team, the 0-3 is in no way easy either.
The reason I picked ViCi is because they are, on paper, the weakest team in the prelims.
They have recently lost games against Vega, Flash, Renegades, Grayhound, Winstrike and a few other lesser known teams.
The only thing that they have riding for them, is that they upset North, twice, in the minor, allowing them to advance to this point, rather than North.
As always, this is never an obvious choice to make, but other teams that are in this stage have proven that they can beat ViCi, and ViCi hasn't really shown anything that they are capable of (other than the North games).
The 7 Teams To Advance: Fnatic: Fnatic is, in my opinion, one of the strongest teams in this stage of the major.
They had a decent showing at the IBP tournament in January, and managed to take maps off of Cloud 9, Complexity, and Team Liquid.
Overall I am fairly confident in their current lineup and I don't think this is a team that should be worried about getting through the first stage.
They have veteran players on board and should be able to battle their way through most of these teams.
NRG: NRG is another team that, In my opinion, should be able to breeze through this stage.
The lineup didn't drop a single map in the Americas Minor, taking down teams such as Furia, Envy, Bravado, Imperial, Singularity, and Intact.
This team would be the rival for strongest team in the stage, with as I said, Fnatic being the other.
Cloud 9: Another Major, another Cloud 9 lineup.
C9 has had quite an interesting start to the 2019 CS season.
At the IBP Masters, they showed strength against teams like Fnatic and Astralis but fell short overall.
However, shortly after IBP, the Eleague Invitational took place, and although C9 placed 2nd, they showed tremendous improvements.
They 2-0'd the Faze and BIG and then lost to Faze 2-1 in the Finals.
For such a new roster, it is quite amazing that they were able to accomplish this.
Vitality: Results, results, results.
Vitality has been on an absolute tear for the last few months.
The team has been taking down names such as HellRaisers, Optic, VP, AGO, North, and Valiance.
The raw firepower on this team makes it a scary one.
If one French Team is to make it into the legends stage this major, lets just say I don't think it will be G2.
ENCE So now we are starting to get into dangerous territory.
ENCE is my last stable pick for this stage.
They played well during the EU Minor, beating teams such as LDLC, Heroic, ex-Space Soldiers, Windigo, Valiance, and North.
During the ESEA MDL season, they also beat a lot of lesser known teams with the exception of beating AGO.
I think this is a risky pick but still more on the safe side.
NIP: NIP hasn't played a match since December 15th of last year.
It's hard to see where they sit in the mists of all these teams that have for the most part been quite active over the last month.
Looking into December, they took loss after loss with the only exception being a 15-15 tie against Faze.
However, even though they were losing all these games, they were playing much higher skilled opponents than what most of the teams in this stage usually face.
For example, they have been playing against C9, Faze, Astralis, MIBR, NAVI, etc.
.
.
And even though they lost these matches, they happened to all be decently close games.
I think if NIP had a good boot camp, they will be successful in this stage of the major.
G2: I'll be honest, this last spot was originally going to be Furia, but after the IEM Sydney Closed Qualifiers, I am rather impressed by G2.
They didn't do great, but they were able to beat Optic, 3DMAX and put up a scrappy fight against BIG.
I think Furia is a good team, and they are a pretty strong dark horse for this stage, but I also think that G2 has a strong advantage in experience alone.

---
Day One Predictions:
Here are all of my Day One Match Predictions (regardless of who I picked): *Note, there will be two sets of matches, so I will update my picks for the second set of games as they get announced* Renegades vs Avangar - Avangar Fnatic vs ViCi - Fnatic Tyloo vs Vitality - Vitality C9 vs Grayhound - C9 ENCE vs Spirit - ENCE G2 vs Vega - G2 Furia vs NIP - NIP Winstrike vs NRG - NRG
---