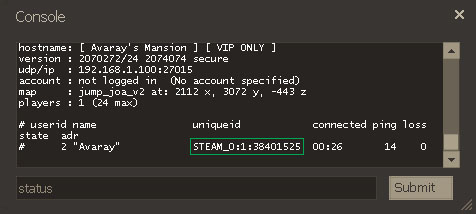 ---
What is SteamID?
The SteamID is identifier used to identify a Steam account.
Every Steam user has a unique SteamID, that cannot be changed.

---
Why should I have this knowledge?
There may be many situations when you'll need it.
SteamID is good way to search information about users (Google is really helpful).
On many internet Forums SteamID needs to be filled in the profile options.
Sometimes is needed for Unban application or for cheater report.

---
First method - in game console
This is an easiest way, when we are running a game.
Requirements Running a game from Valve, based on GoldSrc or Source Engine (example: Half-Life, Counter-Strike, Team Fortress).
Connection to any gameserver.
Activated console (click here if you dont know how to activate)Press ~ key on your keyboard (it's named Tilde).
It will open your console.
Then write "status" and press Enter.
This will show list of connected players with their SteamID's.
You can Copy/Paste informations from console with CTRL+C/CTRL+V keyboard shortcuts.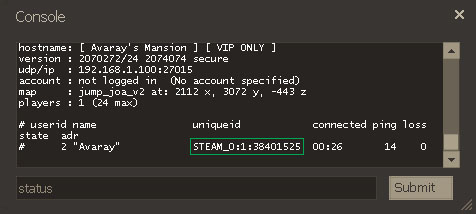 ---
Secondary method - SteamRep
http://steamrep.
com/ is the most known website with informations about Steam users.
You can search users by profile URL or by their custom profile address (alias).
SteamID will be shown here: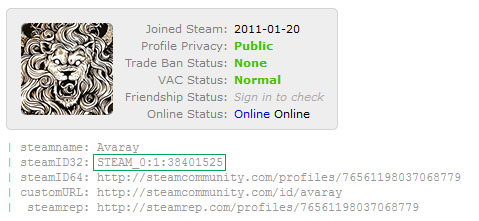 ---
Third method - special websites
https://steamid.
io http://steamidfinder.
com http://steamparser.
com http://steamid.
co You're searching in same way like on SteamRep.

---
How to get Steam profile address?
The easiest way is to use Steam browser.
To do it You must enable showing of the URL address in Steam options.
If You don't have it enabled: Enter into Steam options Next open Interface tab Check "Display Steam URL address bar when available" Press OKIf You have enabled showing URL already - open Your friends list.
Choose a person, open his menu and choose "View Steam Profile".
(You can click on His avatar too - it's faster way) Select and copy address (CTRL+C).
Now You can use it to find SteamID.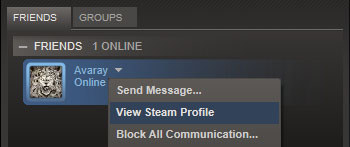 ---
Useful tutorials
http://steamcommunity.
com/sharedfiles/filedetails/?id=217543736
---