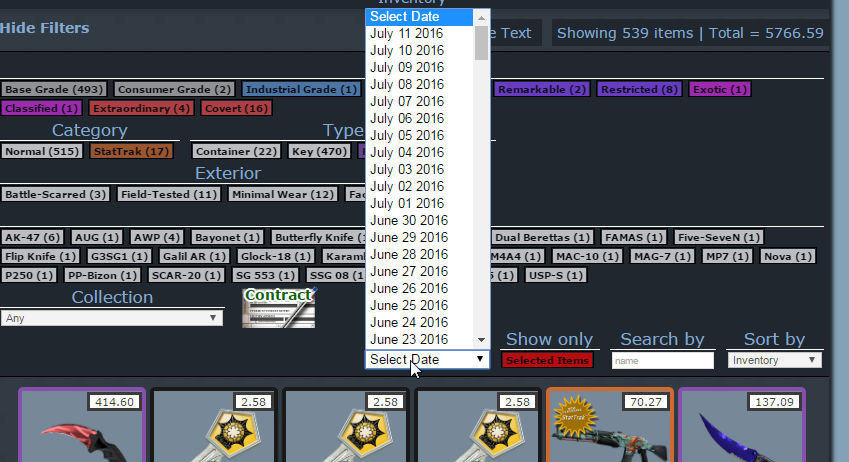 ---
CSGO.exchange history tool
If you use CSGO.
exchange you should try to check if you have this item in Inventory history and check item's history.
But there might be no history for your inventory or this item.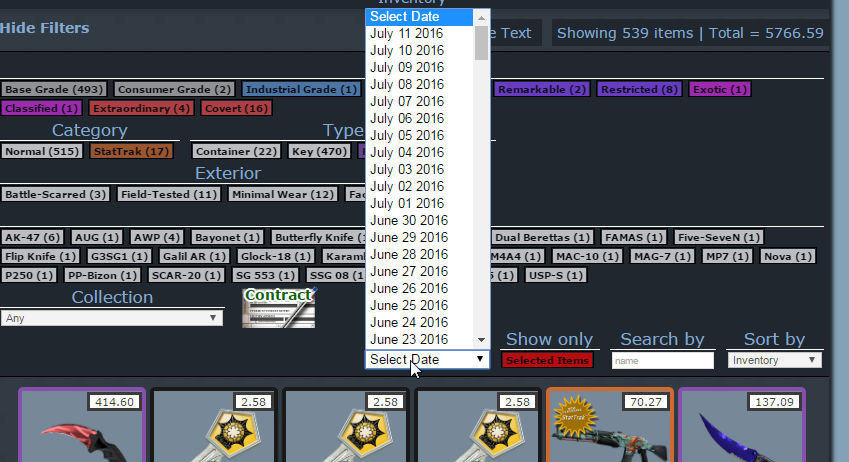 ---
IF ITEM WAS SOLD ON STEAM MARKET.
You need to find your item in market history: If you don't want to manualy check all market history pages, you can use this Chrome extension: Steam Market History Plus[chrome.
google.
com] Next use Ctrl+Shift+I [in chrome] to see code.
(you can also open it like this.
) If you'll right click on items name and press 'Inspect element', you'll find this: (You need that part with 'hover' id) Find this part and copy inspect link from here! YOU FOUND IT!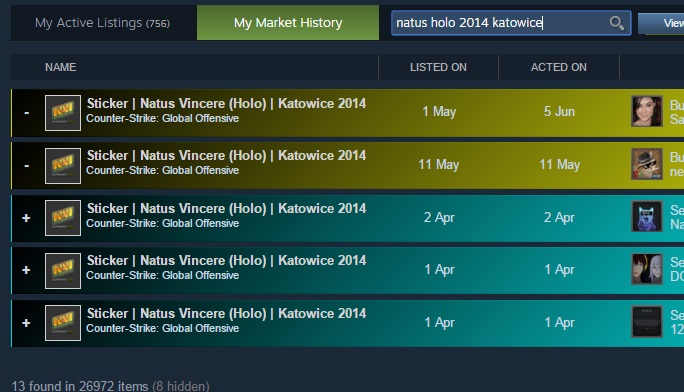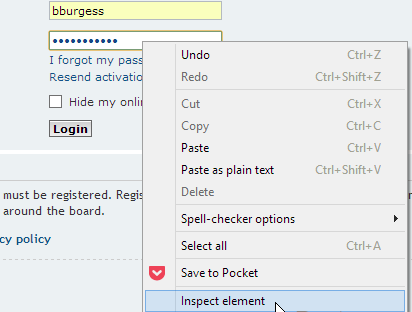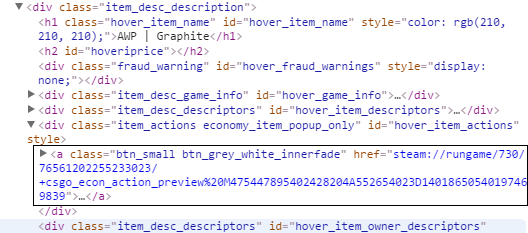 ---
IF ITEM WAS TRADED OR SCUMMED.
Open trade History: a) Open your inventory b) Click here c) You did it! This is where things can get tricky.
a) Use "Ctrl+Shift+I" [in chrome] to see code, or right-click + 'Inspect element'.
(Get trade #) b) Use "Ctrl+U" [in chrome] (Command+Option+U for Mac/iMac/OSX) to see full code.
c) Use "Ctrl+F" to search our items ID (Command+F in Mac/iMac/OSX) Consider this:You should be at the same account item was scummed from.
You need to find very last trade of that item.
trade(X)_givenitem(Y) is the same for every history page so you should "open source" at history page with needed trade.
(or you'll find wrong item-ID) We got item-ID, try to find your gun on csgo.
exchange Use this link: csgo.
exchange/item/[put_item-id_here]  "Item not found on database" Solution:   Search with "Ctrl+F" again using ID (Copy this "D" number [you don't need D, only numbers]) Now we can make Inspect Link.
You will need: Your steam id.
Item-ID (we found it at "2)") Last thing we found (it was with a D at start)You'll need SteamID64 of account item was scummed/traded from.
SteamID64 version always starts with "7".
You can use this site to find it: http://steamidfinder.
com/.
(google "find steam id") And finally copy all numbers we found to this template: steam://rungame/730/76561202255233023/+csgo_econ_action_preview%20S[Put_your_steam_id_here]A[Put_Item-ID_here]D[Last_step_"D-number"_here_pls]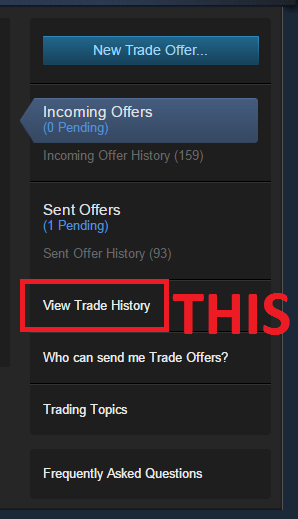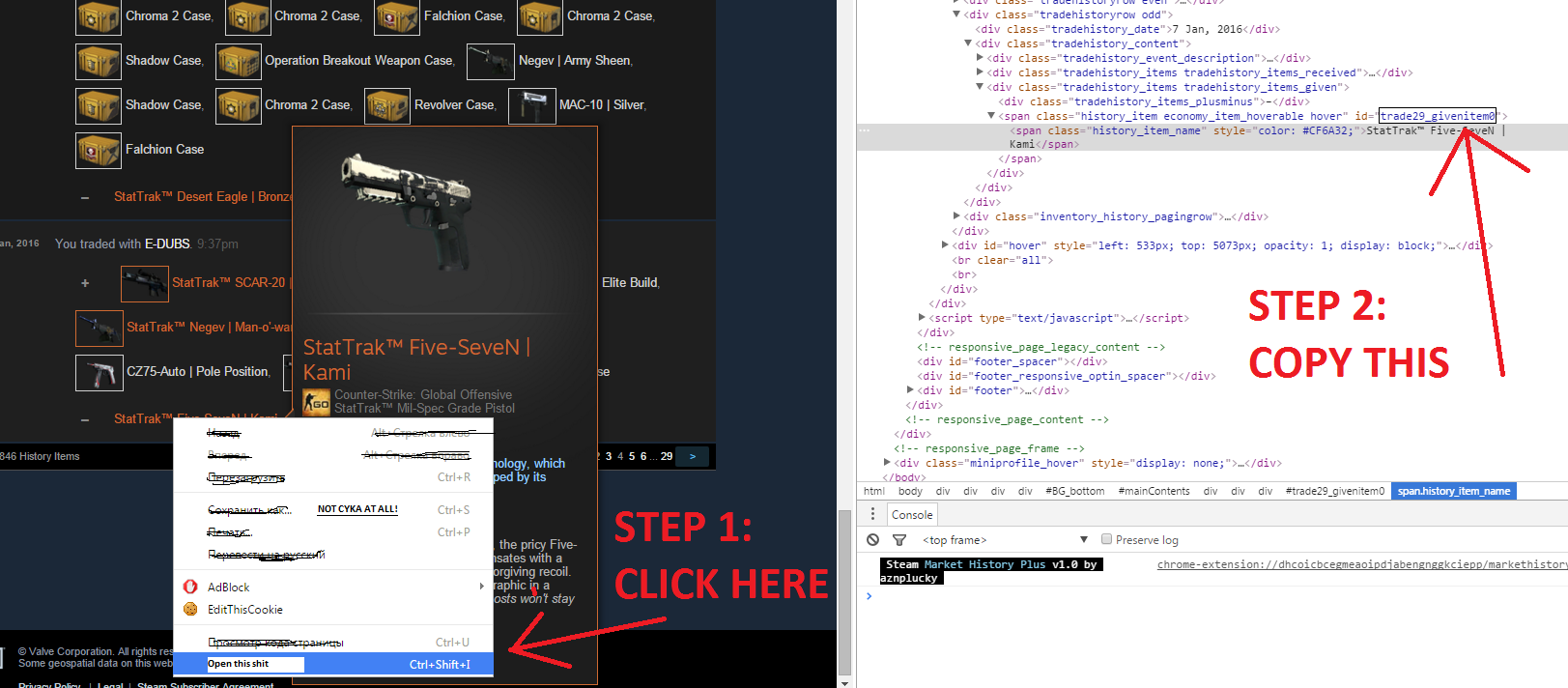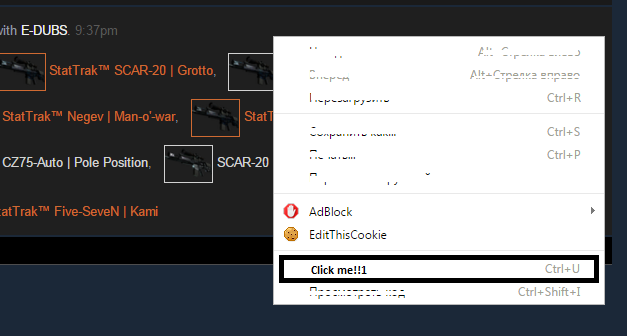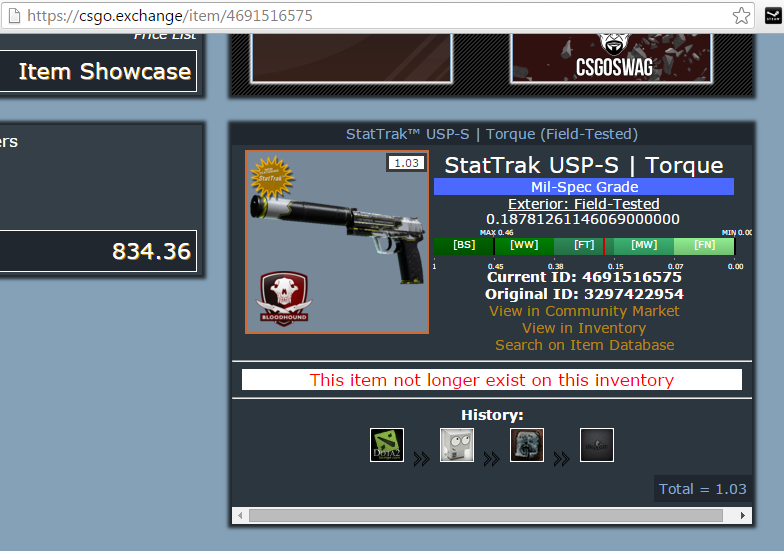 ---
What next?
Put that link, we made, here: http://metjm.
net/csgo/ (closed) Just put it in a browser to see your old friend in-game   Use this to get your float value: https://glws.
org/ (closed)   Also you can use csgo.
exchange to check float.
(Go to Calculator > Market float) Use float value to search for it's new owner and it's new Stickers (may be) You can use https://csgo.
steamanalyst.
com/item-db (Choose your weapon and enter float)   Or use csgo.
exchange/item/search[csgo.
exchange] (But you won't find it's new ID or it's new owner without "Access Pass") Also, if you found your skin by Float value, you can use it's new ID (to find it's full owners history) in this URL: https://csgo.
exchange/item/[Put_new_ID_here] Metjm error!Metjm uses CS:GO to make screenshots and if it shows you an error - link is invalid.
Most likely you made something wrong.
It might be wrong Item, steam account or just incorrectly combined link.

---
Last hope...
If you haven't found current owner last thing you can do is very hard and absolutely does not guarantee success.
First you have to find last known owner and ask him for his trade history.
1) If item have any owner history on it (except you) you can start with last one.
2) If there is no history on it - find profile you traded/sold your item to.
Trade history: Market history: Try to add him, ask for help and history for your item if you are lucky enough you will find next owner.
Then repeat until you find last owner or deadend.
If it's a trade bot there is nothing you can do.
Most likely no one will bother to check it's history.
There is a solid chance, that you won't find current owner like that, but don't be sad, atleast you can look at your old skin one more time and hope that it'll get into csgo.
exchange database someday.
Original post on /r/GlobalOffensiveTrade[redd.
it]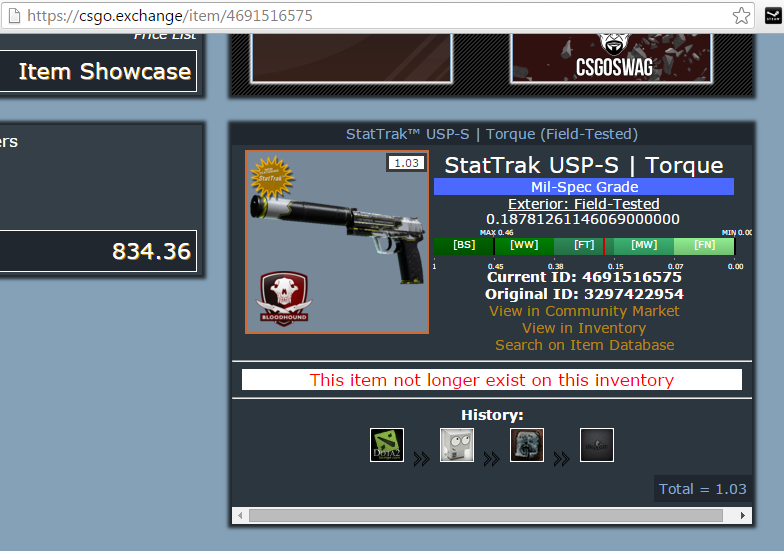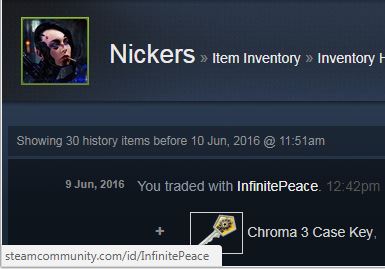 ---