How it's done! [For Beginners]
1.
Find a custom Font! First you will need to find a custom font.
I recommend you this website: http://fonts.
spddl.
de They offer you over 160 different fonts to choose from.
This website is not new and well known in the csgo community and I've been using it for myself since quite some time now.
2.
Choose the font you want to use!Download your chosen one by simply clicking on it.
I'm currently using Lobster 1.
4 but choosing a font comes down to personal preference.
3.
Installing the Font!Head over to this folder: flash (Location: \Steam\steamapps\common\Counter-Strike Global Offensive\csgo\resource\flash) Located in the folder "flash" you'll find a file called fontmapping.
cfg This file tells the game which font to use in the game.
I recommend you to back it up on your computer in case you ever want to go back to the default font.
After creating a backup of fontmapping.
cfg, unzip the new font you downloaded.
In the very last folder you will find these 2 files: ● fontlib_spddl (the new font) ● fontmapping.
cfg (this is the new config file which will tell the game to use the new font) Now simply drag and drop these 2 files into the flash folder of your game.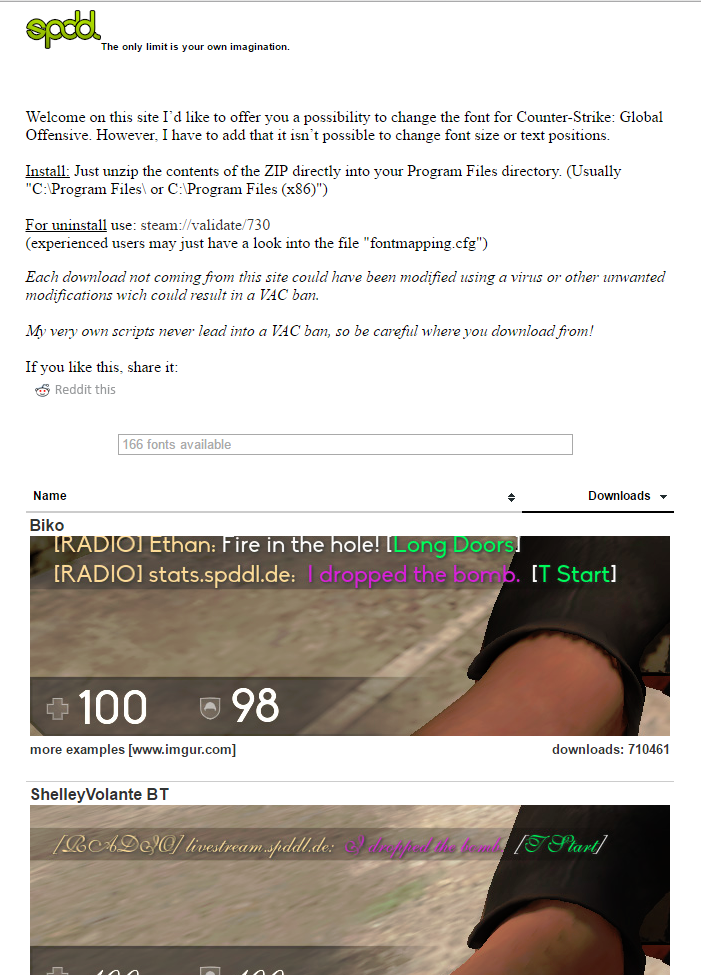 Thank You!
Thank you for reading my guide! Please don't forget to rate and favorite my guide if it helped you.
I would appreciate it a lot.
If you need help with anything, feel free to write me a comment here or on my profile! ➤ Join my Steam Group here!➤ Follow me on Steam here!Do you need help with CS:GO or Steam? Contact me! People who spam links, codes, +rep requests, etc.
will get permabanned from all my guides.