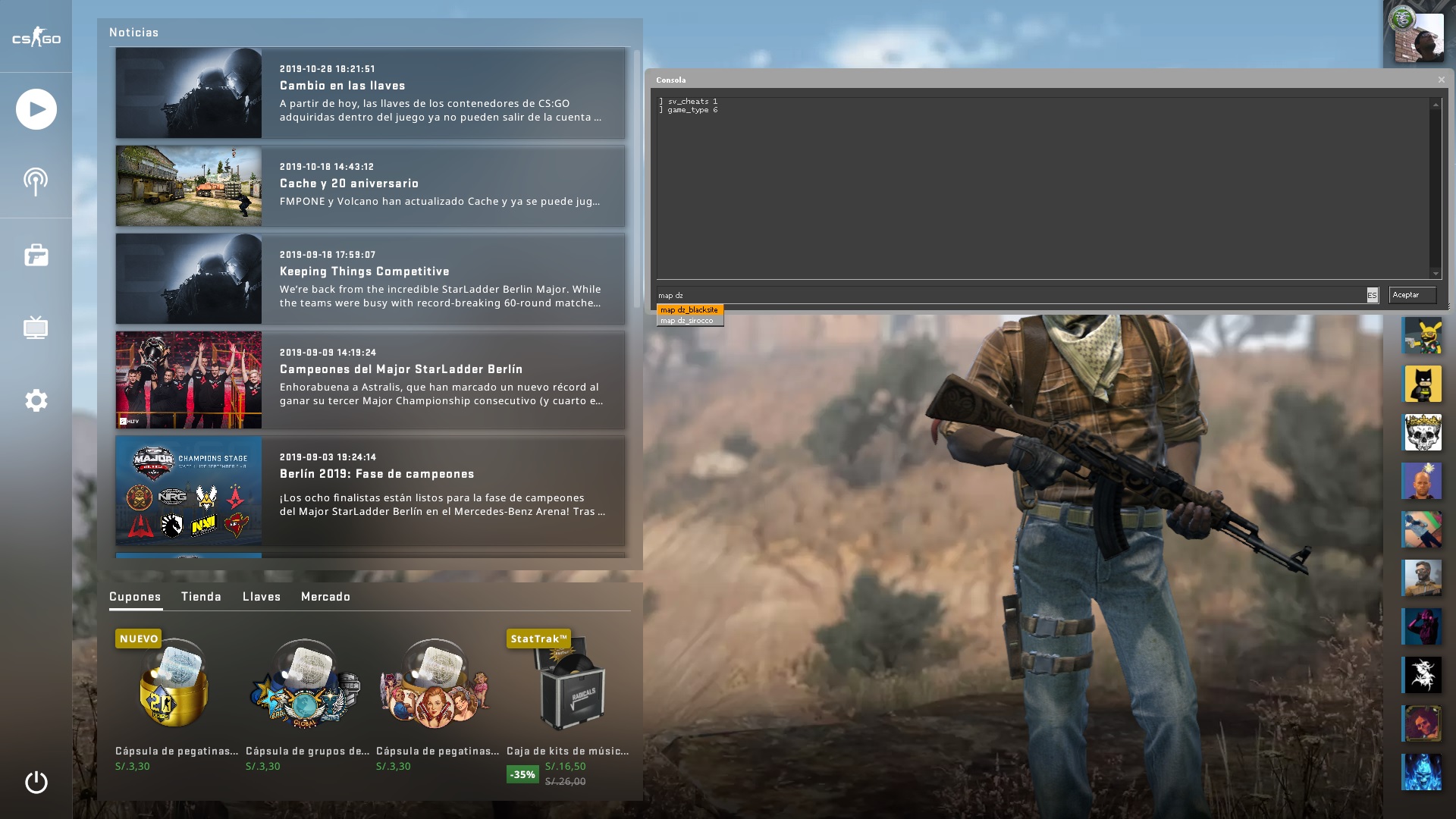 ---
Primeros pasos / First steps
SP: En primer lugar, estando dentro del juego, tenemos que tener la consola de desarrollador activada.
(Pero si no lo está, hay que ir a Ajustes y activarla).
Luego de esto, debemos abrirla (con la tecla que tengamos previamente asignada) para, acto seguido, poner los siguientes comandos: sv_cheats 1 - Activa las trampas para nuestro servidor dentro del juego.
game_type 6 - Esto le dice al juego que se ejecuta el modo de juego Danger Zone.
Después de esto, debemos teclear que mapa deseamos usar, ya sea Blacksite o Sirocco, con el siguiente comando: map dz_blacksite o dz_sirocco o dz_junglety EN: Firstly, being in the game, we need to have the developer's console activated.
(If not, go to Settings and activate it).
After that, we must open it (with the key previously assigned) for, followed immediately, put the following commands: sv_cheats 1 - Activates the cheats for our server inside the game.
game_type 6 - This tells the game that the Danger Zone game mode is running.
After that, we must key the map we wish to use, either Blacksite or Sirocco, with the next command: map dz_blacksite or dz_sirocco or dz_junglety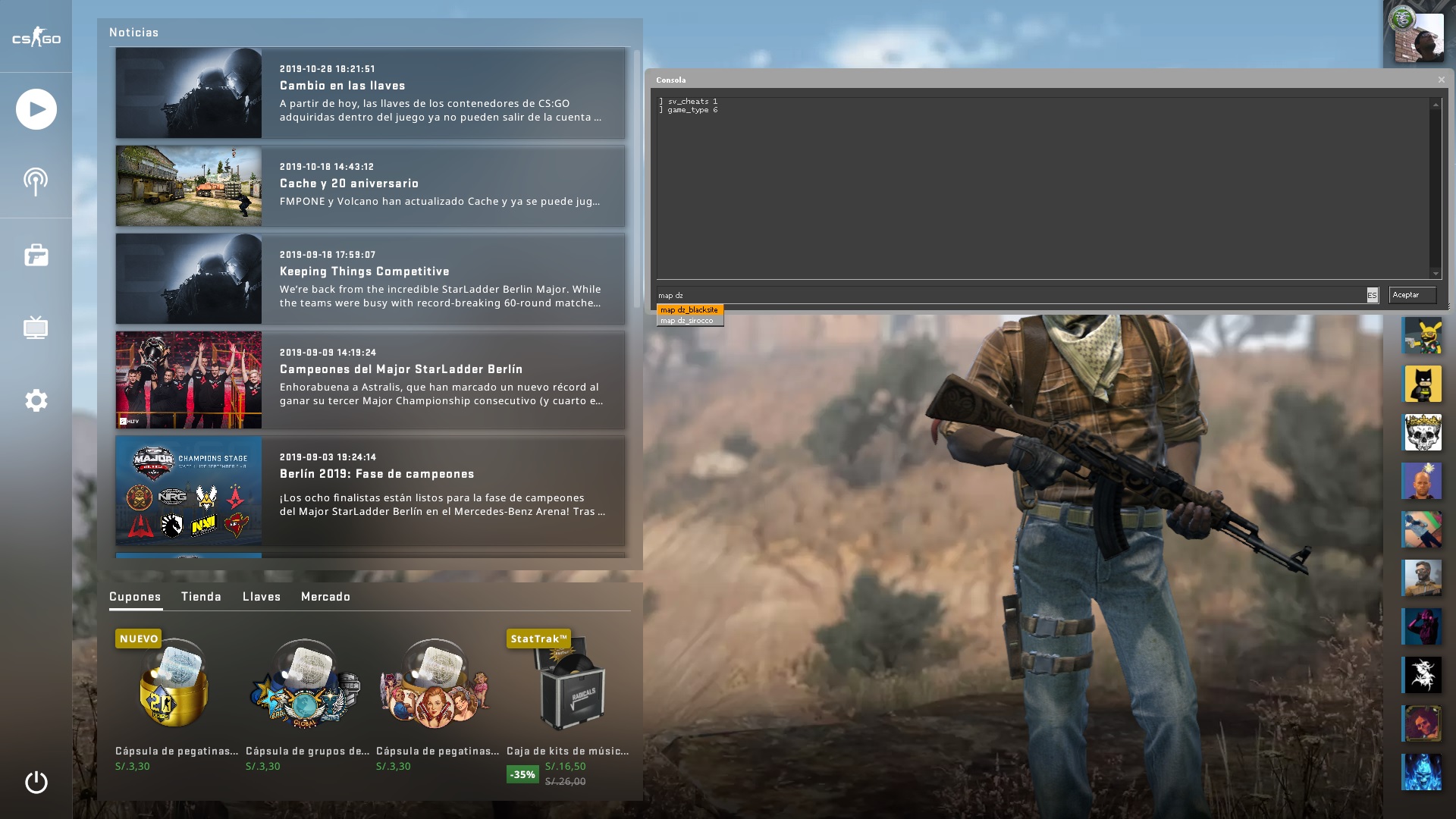 ---
En la partida / In the game
SP: Ya estando en el mapa, nos encontraremos en el calentamiento (de 2 minutos de duración).
EN: Already in the map, we are in the warmup (of 2 minutes long).
SP: Enseguida, debemos abrir nuevamente la consola e introducir los siguientes comandos: bot_add_t - Esto agregará enemigos para derrotar en el mapa.
(Este es necesario repetirlo las veces que uno deseé).
*Opcional*: bot_difficulty 0, 1, 2 - Esto es para cambiarle la dificultad (valga la redundancia) a los bots, ya que aparecen en dificultad Fácil.
PD: Podemos verificar que hay enemigos usando la tableta de Danger Zone, la cual marca los hexágonos donde están los enemigos de color amarillo.
EN: Right away, we must open again the console and enter the following commands: bot_add_t - This will add enemies to defeat in the map.
(This is necessary to repeat it as many times as you wish).
*Optional*: bot_difficulty 0, 1, 2 - This is to change the difficulty (forgive the redundancy) to the bots, since they appear in Easy difficulty.
PS: We can verify that there are enemies using the Danger Zone's tablet, which mars the hexagons where they are yellow.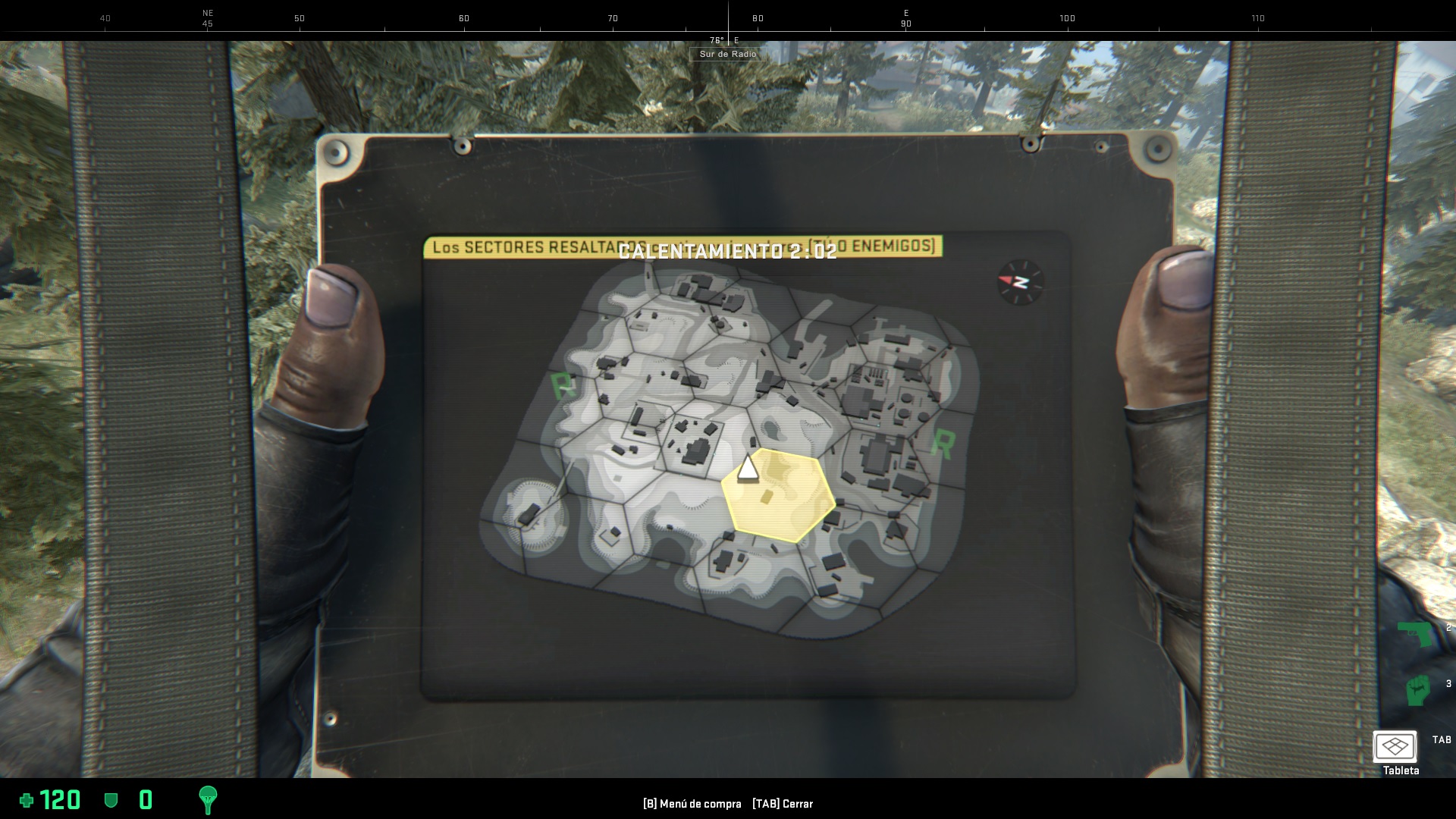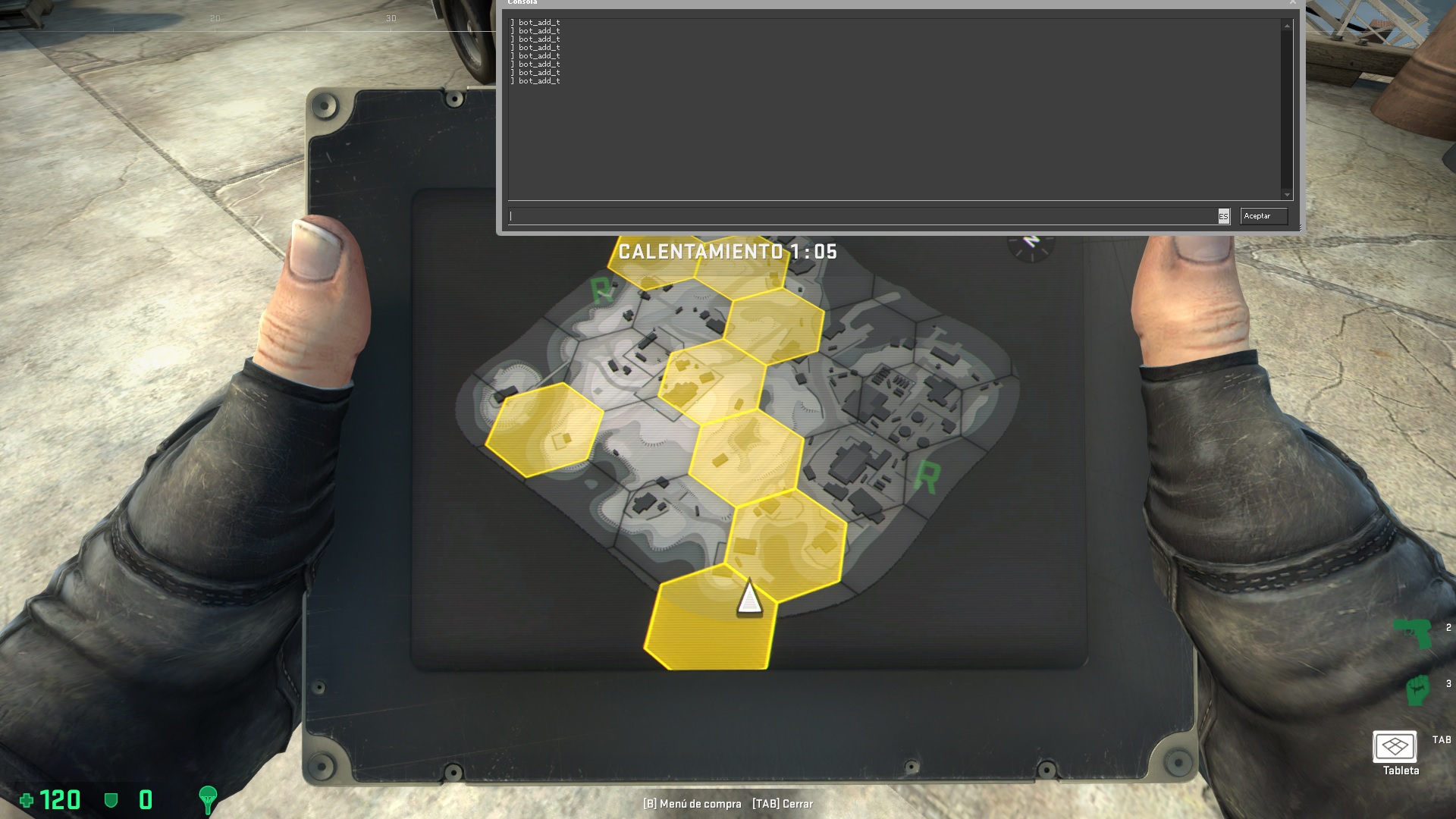 ---
A disfrutar! / Enjoy!
SP: Después de haber hecho bien todo esto, al terminar el calentamiento nos mostrara la pantalla donde elegimos dónde caer y escoger las ventajas.
EN: After having done all this well, at the end of the warmup it will show us the screen where we choose where to fall and choose the perks.
SP: Luego de esto, comenzará la partida de Danger Zone, así que, a disfrutar!.
EN: After all of this, will start the Danger Zone match, so, enjoy it!.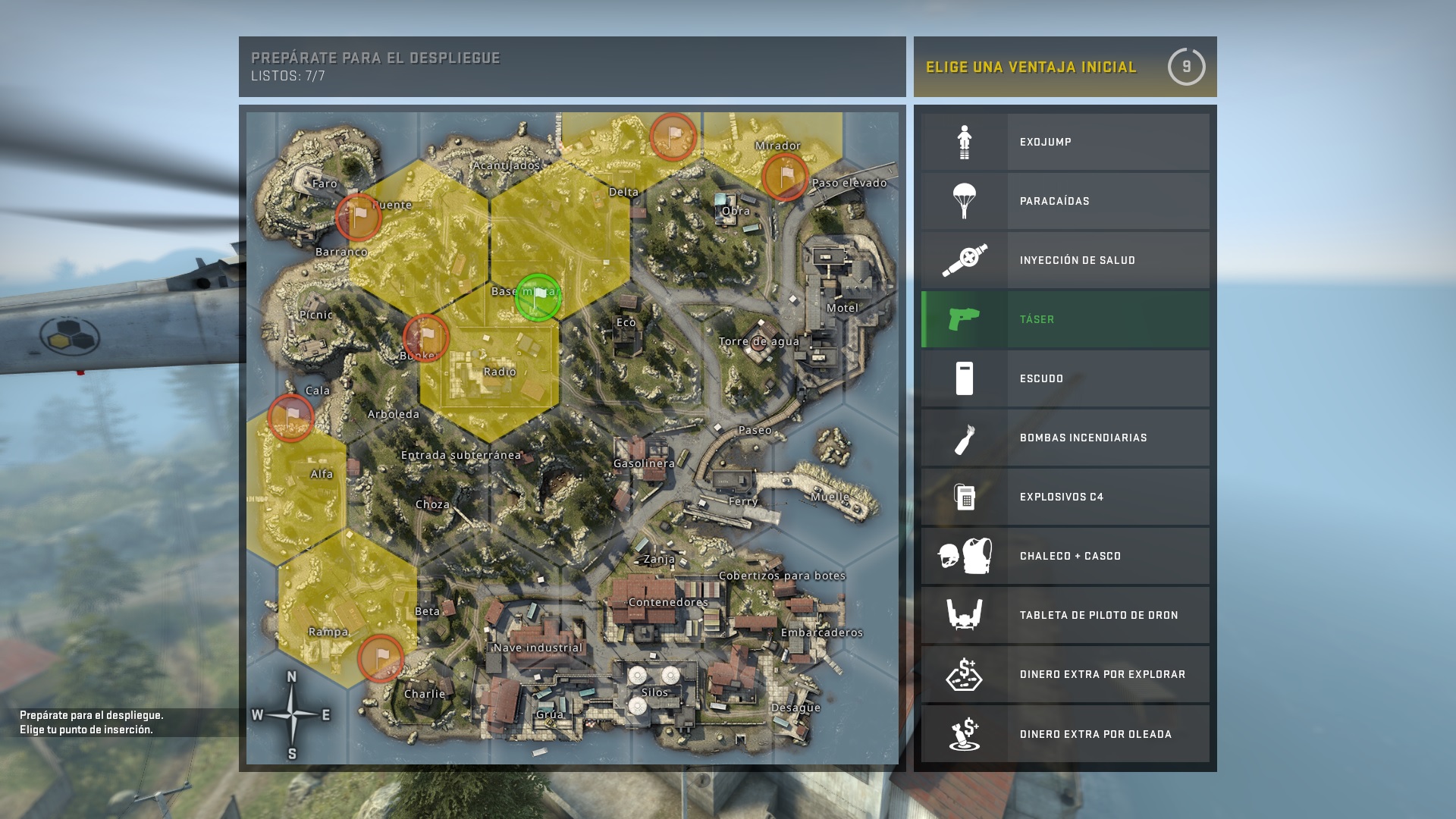 ---
Agradecimientos a... / Thanks to...
SP: Tutorial original hecho por: EN: Original tutorial made by: SP: Gracias a Dr Jolu por corregir ciertos aspectos de ortografia y las imagenes en cada seccion.
Gracias tambien a Nino por ayudarme con la traduccion al Ingles.

---