---
Buy Binds
During freeze time I don't waste time pressing B and flicking through the buy menu, I find I stick to the same gear and sometimes on an eco buy a P250 as such I've setup my keypad to handle my buy options.
I have made some binds that I use if I'm AWP or PECO (P250 Eco), other than that I use F1 to autobuy AK/M4.
First of all I use the top row of the numpad to buy the most important grenades.
bind "KP_PGUP" "buy smokegrenade;give weapon_smokegrenade;use weapon_smokegrenade;" bind "KP_UPARROW" "buy hegrenade;give weapon_hegrenade;use weapon_hegrenade;" bind "KP_HOME" "give weapon_flashbang;buy flashbang;use weapon_flashbang;" bind "KP_LEFTARROW" "buy awp;give weapon_awp;compliment;use weapon_awp;" bind "KP_END" "buy p250;give weapon_p250;use weapon_p250;" bind "KP_MINUS" "buy defuser;" bind "KP_INS" "buy vesthelm;" bind "KP_DEL" "buy vest;"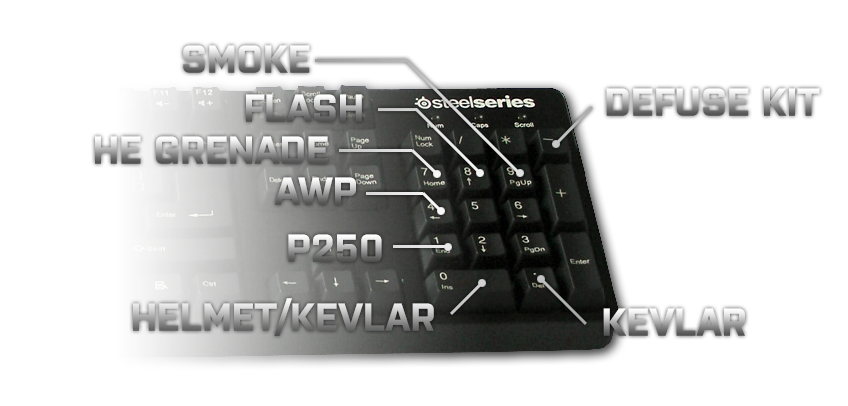 ---
Keyboard and Mouse
I use a SteelSeries 7G Keyboard.
I find it's great for typing, bit clunky but it does a good job.
You can see the specifications at http://steelseries.
com/products/keyboards/steelseries-7g bind "MOUSE3" "sv_cheats 1;noclip;" bind "MOUSE4" "+speed;" bind "SHIFT" "+duck;" Having the middle mouse button bound to noclip helps while building tactics and playing with smokes.
Everything else is set to default apart from walking and duck.
I have walk (+speed) set to MOUSE4 and duck (+duck) to SHIFT, this is an easier setup and my little finger doesn't move between SHIFT and CRTL.

---
Mouse
The mouse uses a basic 450dpi (no drivers).
I set Windows to 6/11 and smoothing is off.
bind "MOUSE1" "+attack" bind "MOUSE2" "+attack2" bind "MOUSE4" "echo -Voice-" bind "MOUSE5" "+speed" bind "MOUSE3" "incrementvar cl_crosshairsize 5 1000 500" bind "MWHEELUP" "sectorclear" bind "MWHEELDOWN" "enemyspot"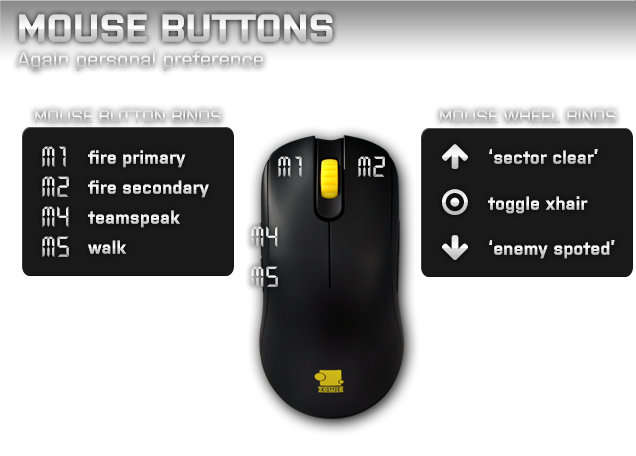 ---
Download Full Config
Download https://raw2.
github.
com/eknowles/CSGOConfig/master/autoexec.
cfg Place in your csgo/cfg folder.
In game type exec autoexec.
cfg into console.
If you don't have a console, enable it in options or put -console in launch options.

---