---
Abbey
1/26/2019
---
Agency
5/25/2017 Hostages positions are: "T SPAWN" before "CONFERENCE" Into "BACK ROOM" Into "STORAGE ROOM" "T MAIN" between "CATWALK" and "T STAIRS" 3/21/2018 DELETES: SIDE CHANGES: ENTRANCE -> SIDE ROOM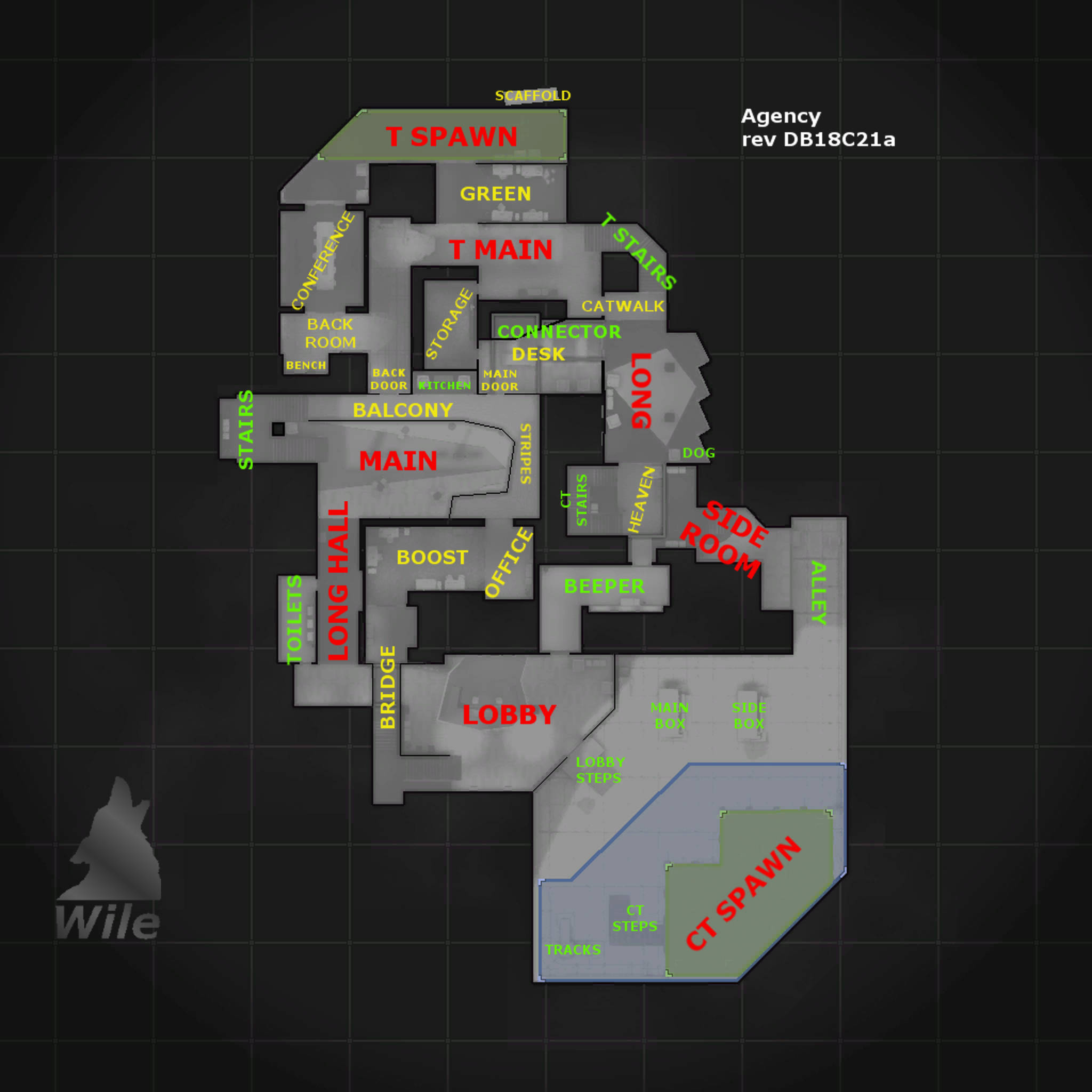 ---
Austria
05/25/2017 09/26/2017 New: A SHORT, B STAIRS, BACK STREET, FRONT STREET, BACK GUARD, GREEN Delete: YELLOW.
BIG HOUSE Chamge: HOUSE -> TUNNEL MAIN HALL -> MIDWAY LONG A -> A LONG RED -> RED WALL 10/12/2018 Delete: HELL, BACK STREET, SHOP Change: A SHORT -> SHORT DOWNSTAIRS -> UNDERPASS FRONT B -> YARD HEAVEN -> BALCONY B-STAIRS -> STAIRS FRONT STREET -> STREET MIDWAY -> MIDDLE T MAIN -> CHURCH BACK GUARD -> BACK DOOR Some nades advice: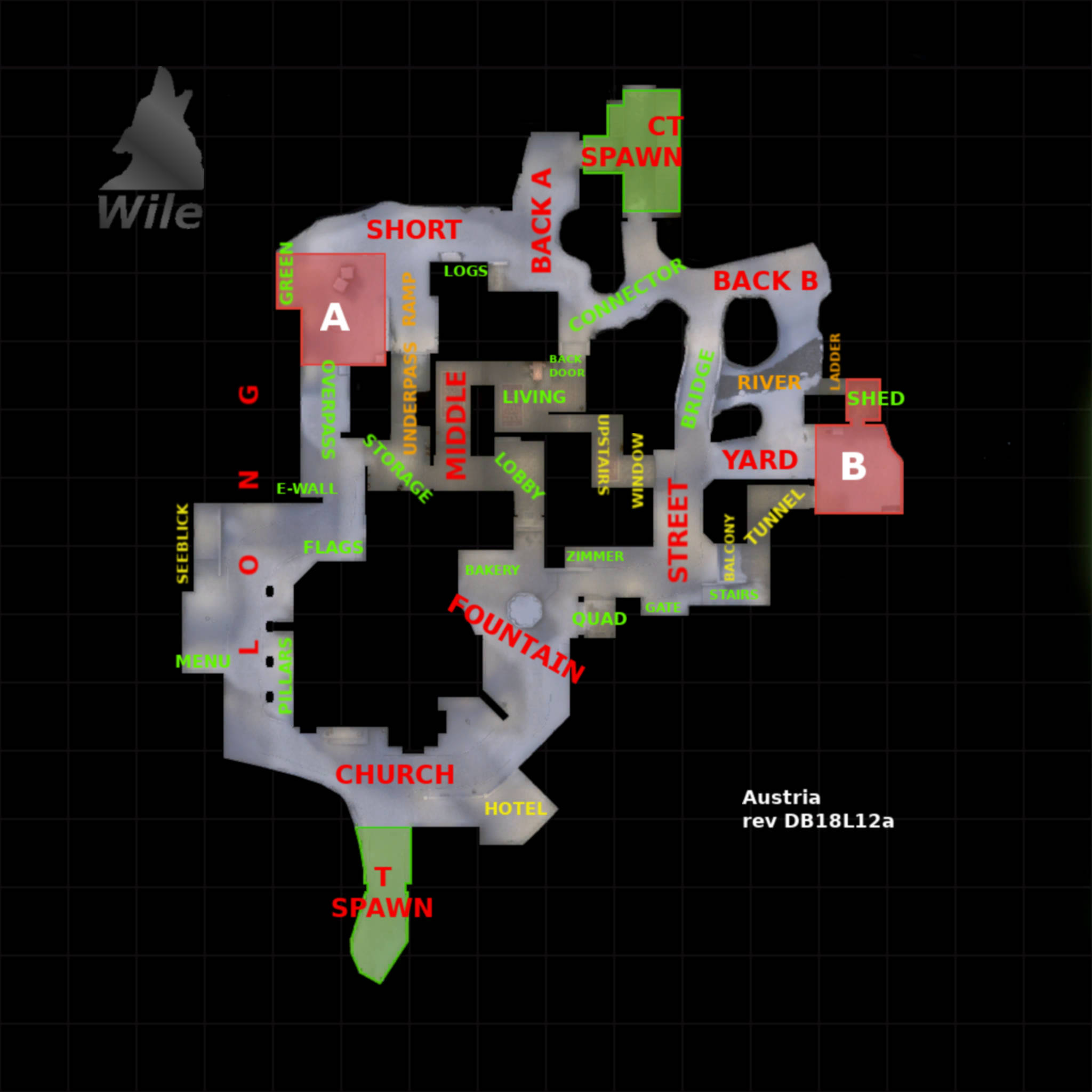 ---
Aztec
07/24/2017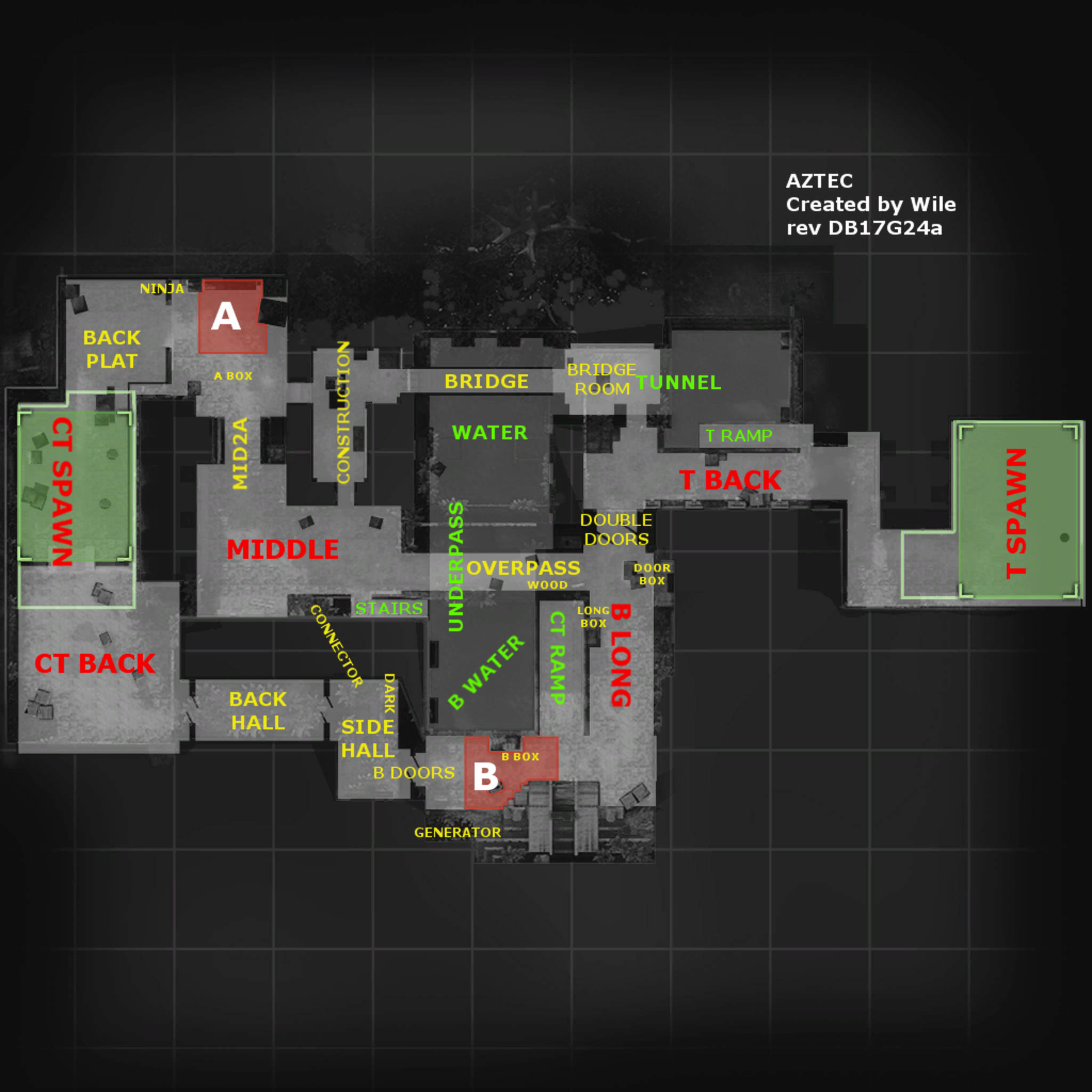 ---
Bank (Hydra version)
07/20/2017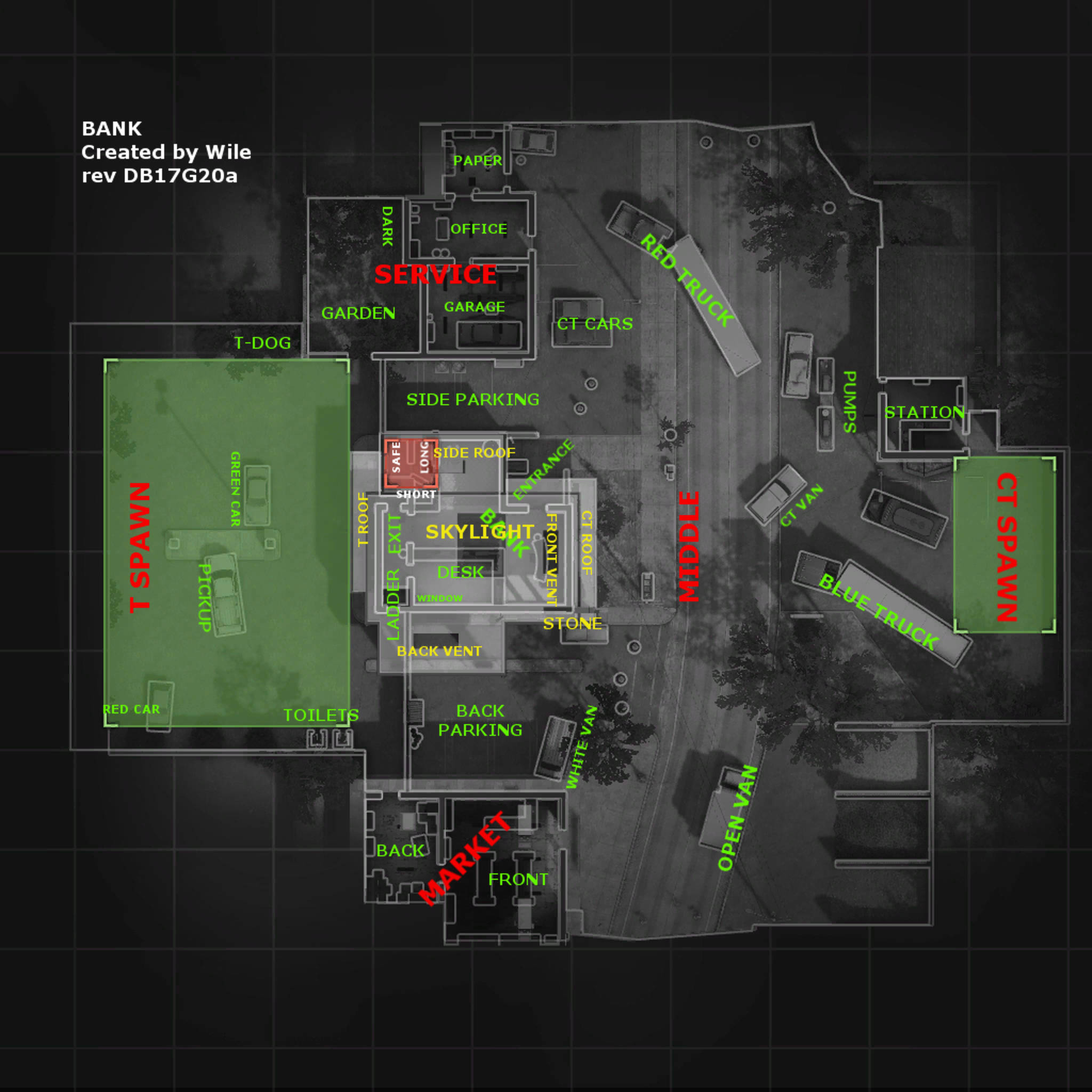 ---
Biome
10/10/2018 6/11/2018 New:WINDOW 14/11/2018 New: VENTS Change: CONNECTOR -> SHORT 11/27/2018 New: B-BOX Change: PIZZA -> PIZZAS 11/30/2018 New: NEST, MIDBOX Delete: SUICIDE Change: ELECTRIC -> CONNECTOR Some nades advice
---
Cache
06/16/2017 11/12/2018 Radar image updated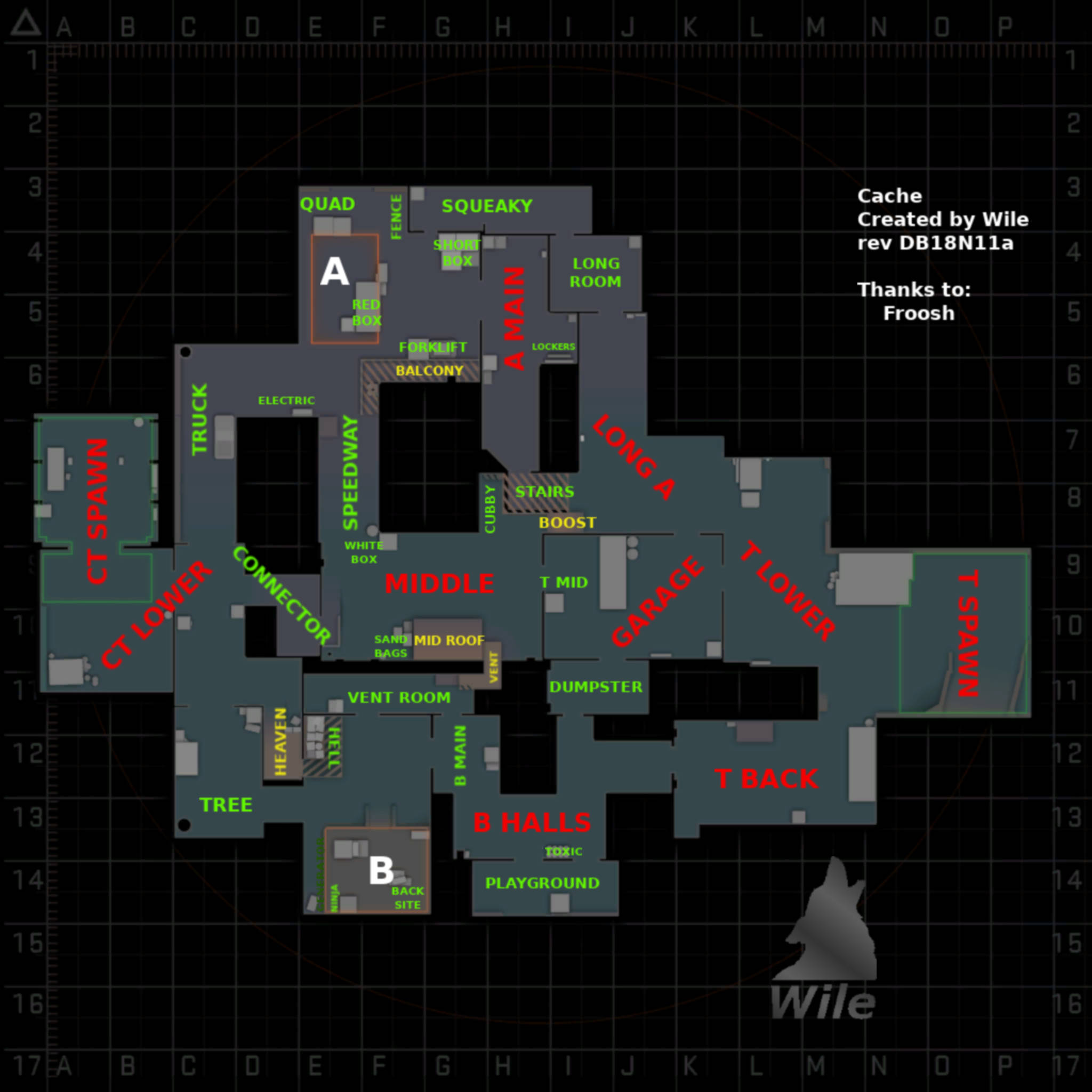 ---
Canals
09/02/2018 Heavy changes need a new history :D 3/29/2018 DELETES: INVISIBLE ADDS: UNDERDOG (joke "under doge" :-) 6/13/2018 DELETED: JAILBOX CHANGED: JAILS -> BACK B JAILS -> Moved to back side of BACK B
---
Cobblestone (Current)
11/19/2018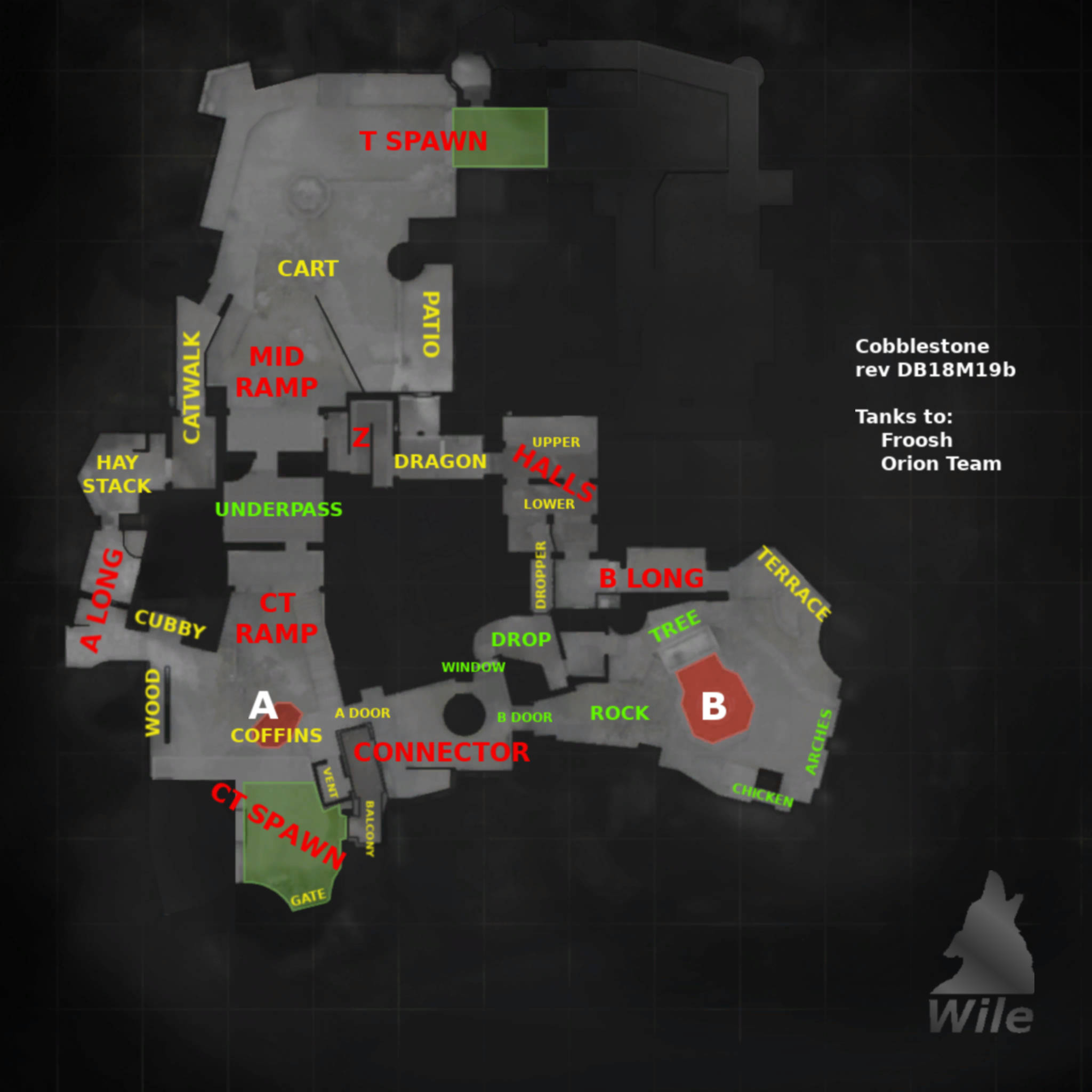 ---
Cobblestone (Classic)
05/25/2017 02/27/2018 New: SKYFALL CANNONS SAFE WINDOW UPPER (HALLS) LOWER (HALLS) Change: WINE -> BARRELS MID PLAT -> PATIO STAIRS -> DANGER Delete: HUT TRASH CAN B MAIN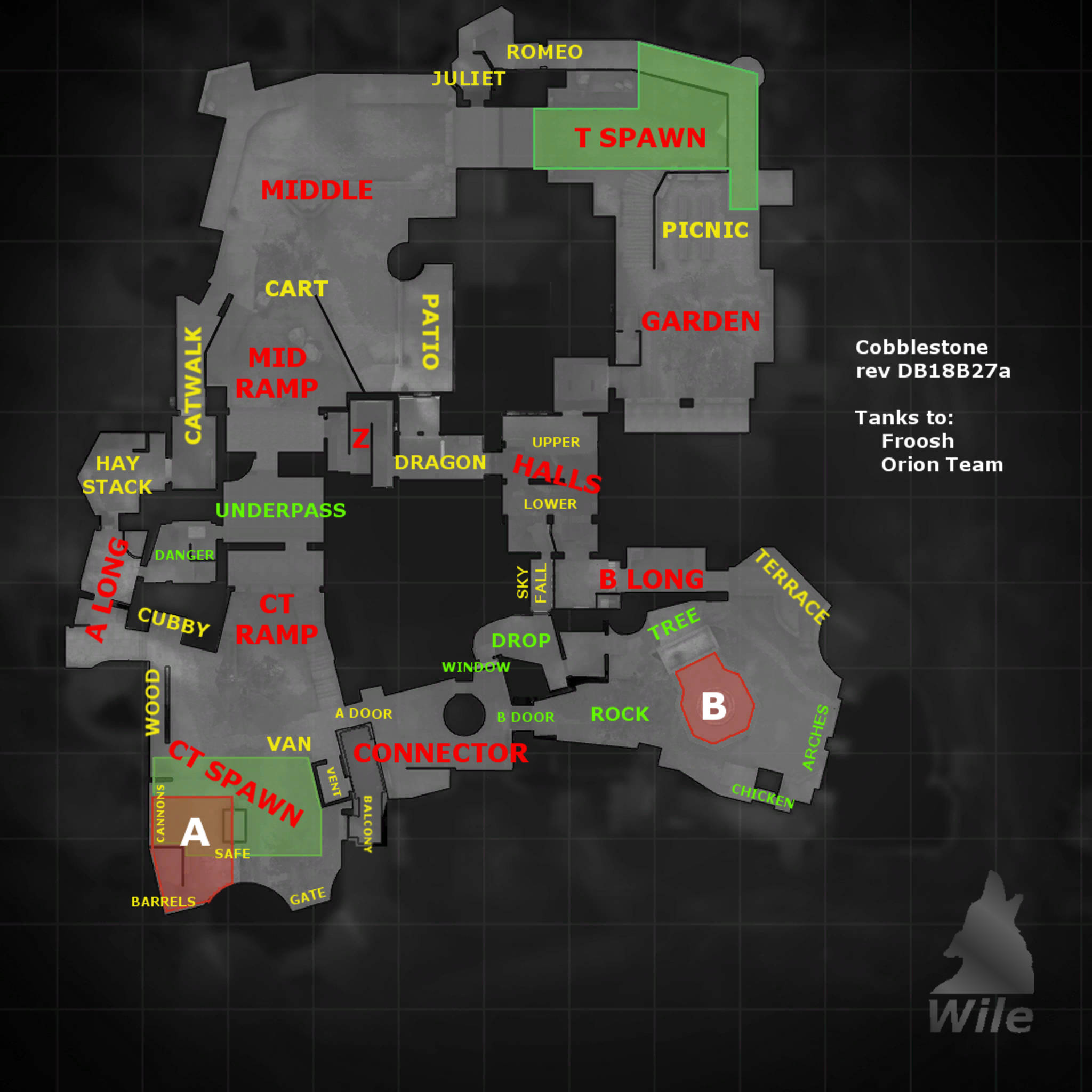 ---
Dust
08/02/2017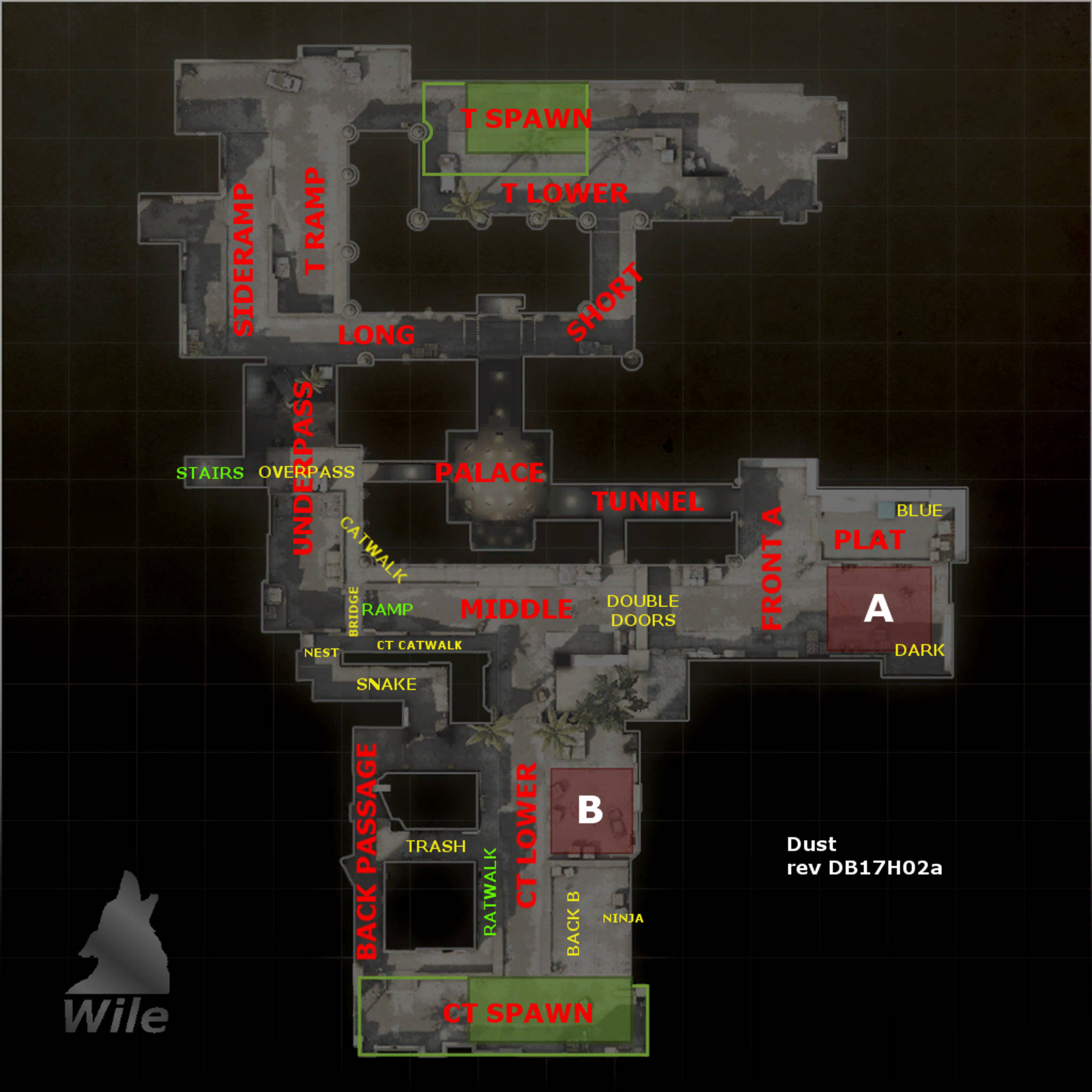 ---
Dust II (Current)
10/19/2017 1/13/17 Trying to improve readability (any advice is welcome) Changes B PLAT -> TITANIC BACK PLAT -> POOL CAR -> B CAR News T CAR 2/16/2018 Back to original colors style :) Some nades advice: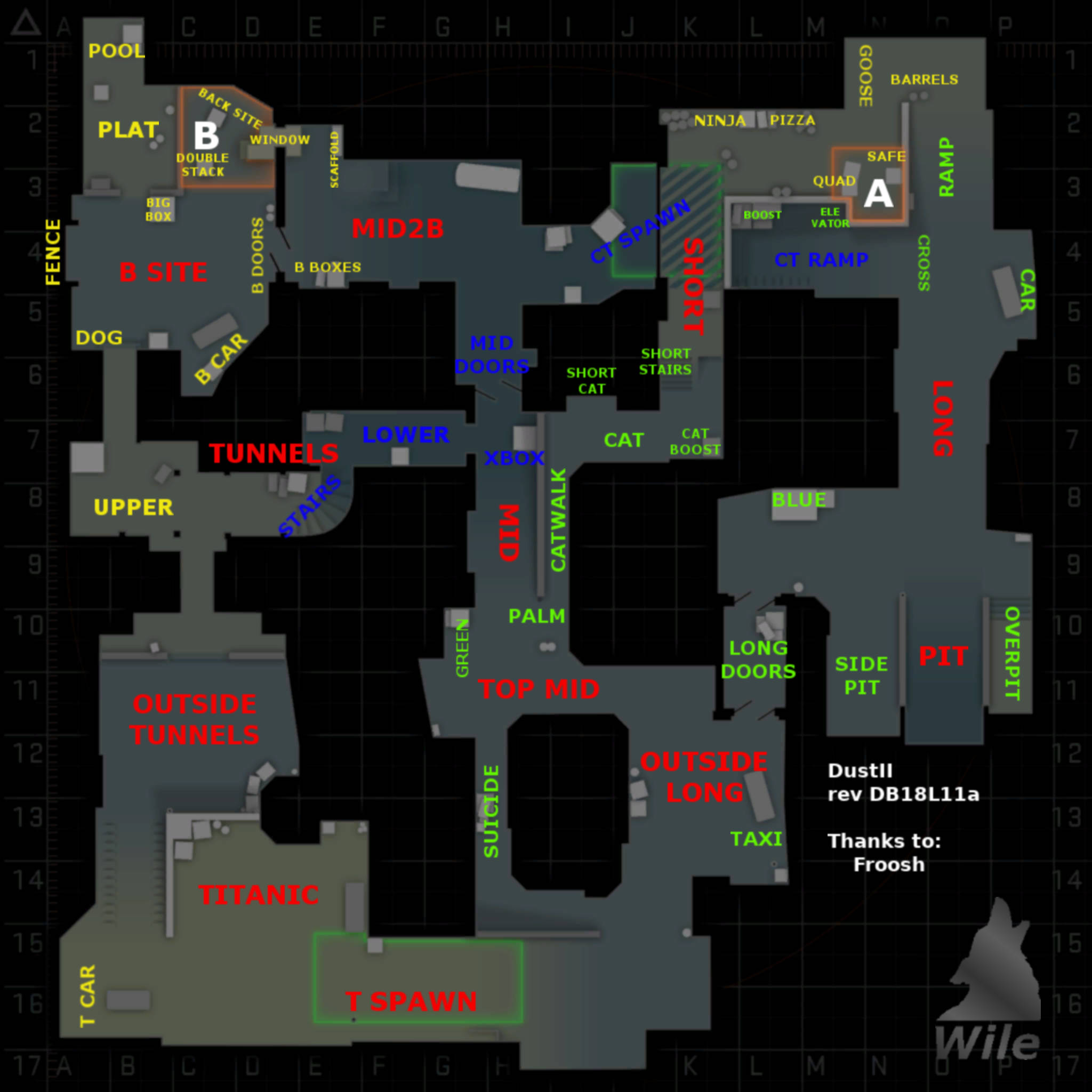 ---
Dust II (Classic)
05/19/2017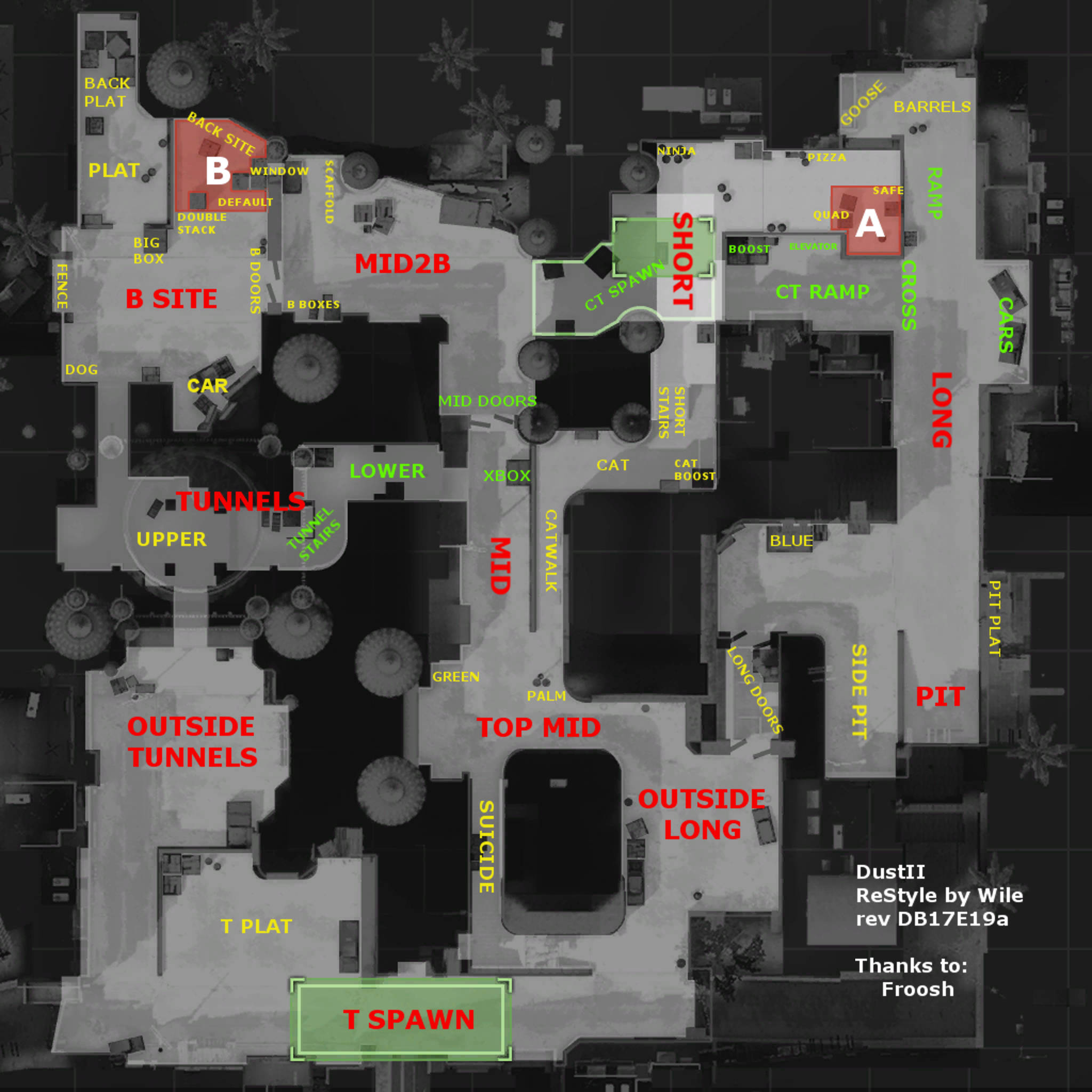 ---
Inferno
05/19/2017 Notes: CHURCH aka CONSTRUCTION aka RUINS 11/29/2017 NEW POOL (under coffins on B site) CHANGES some names bigger T APARTMENTS -> SECOND APTS HOUSING -> KITCHEN CT ROOF -> color green to yellow, it's up BOOST -> color green to yellow, it's up 1stBOX and 2ndBOX -> 1st and 2nd ORANGES (old maps layout) DELETED KITCHEN -> all LIBRARY (now KITCHEN is ex-HOUSING) 3/22/2018 DELETED SHORT HALL Some nades advice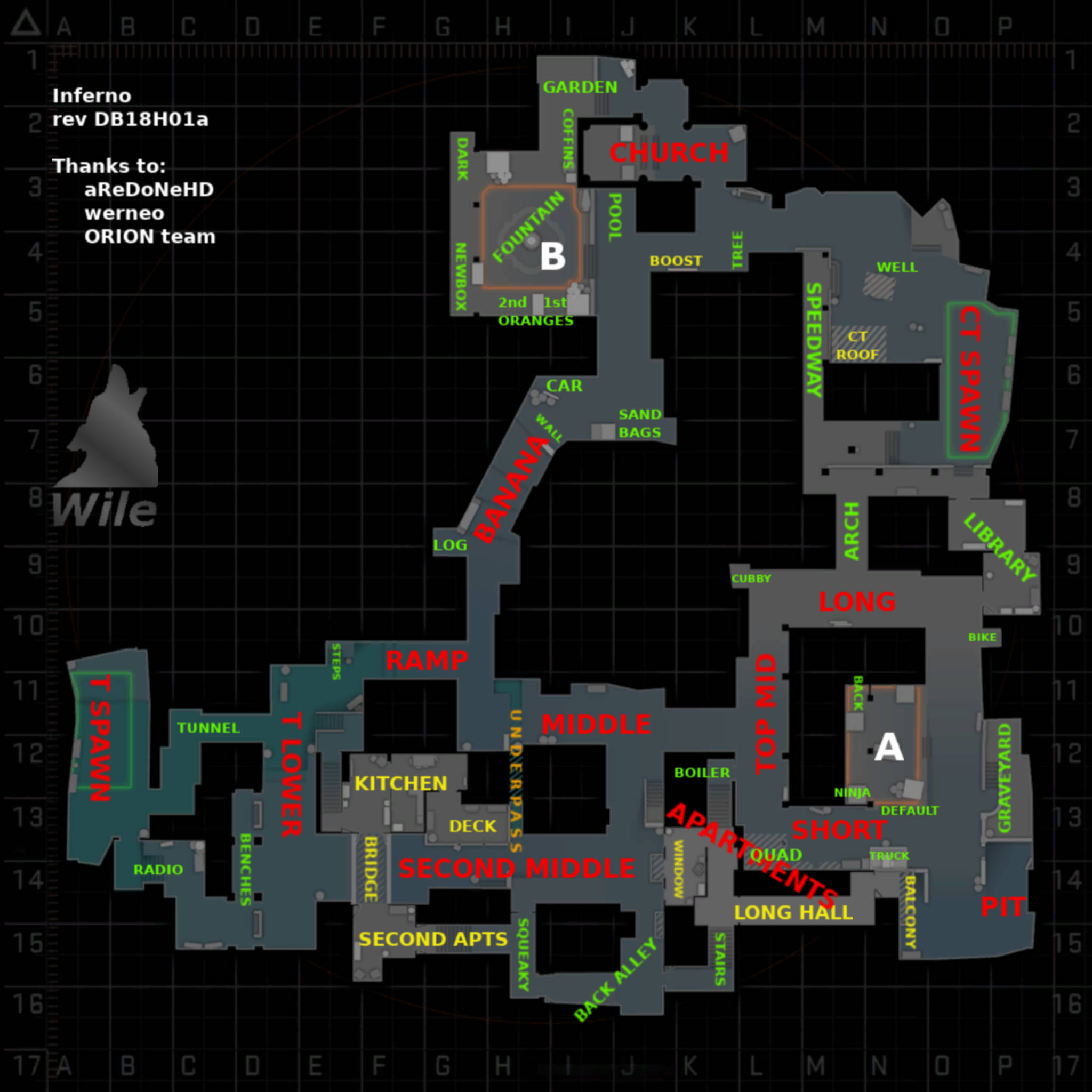 ---
Italy
Hostages positions are: Into the "MID CELLAR" room Into the "LOWER CELLAR" room Under the "T WINDOWS" Into the "UPSTAIRS" room 06/29/2017 08/18/2017 SNAKE APPS -> APARTMENTS (APS, easier to tell and more usual term in CS:GO) WARDROBE -> SHEETS (Due to the big sheets on the floor, easier term) LOGS WINDOW -> SPLATTER (Due to the blood spots, I never like the previous name)
---
Mirage
05/19/2017 08/30/2017 HOUSE -> TV 12/21/2017 MARKET (New, The B site structure) HELL (Deleted, is Under BALCONY now) PIPE -> WATER HEAVEN -> BALCONY STAIRS -> DOWNSTAIRS 8/1/2018 LADDER ROOM -> LADDER VENT (Deleted) DOG (New, the ninja spot on A)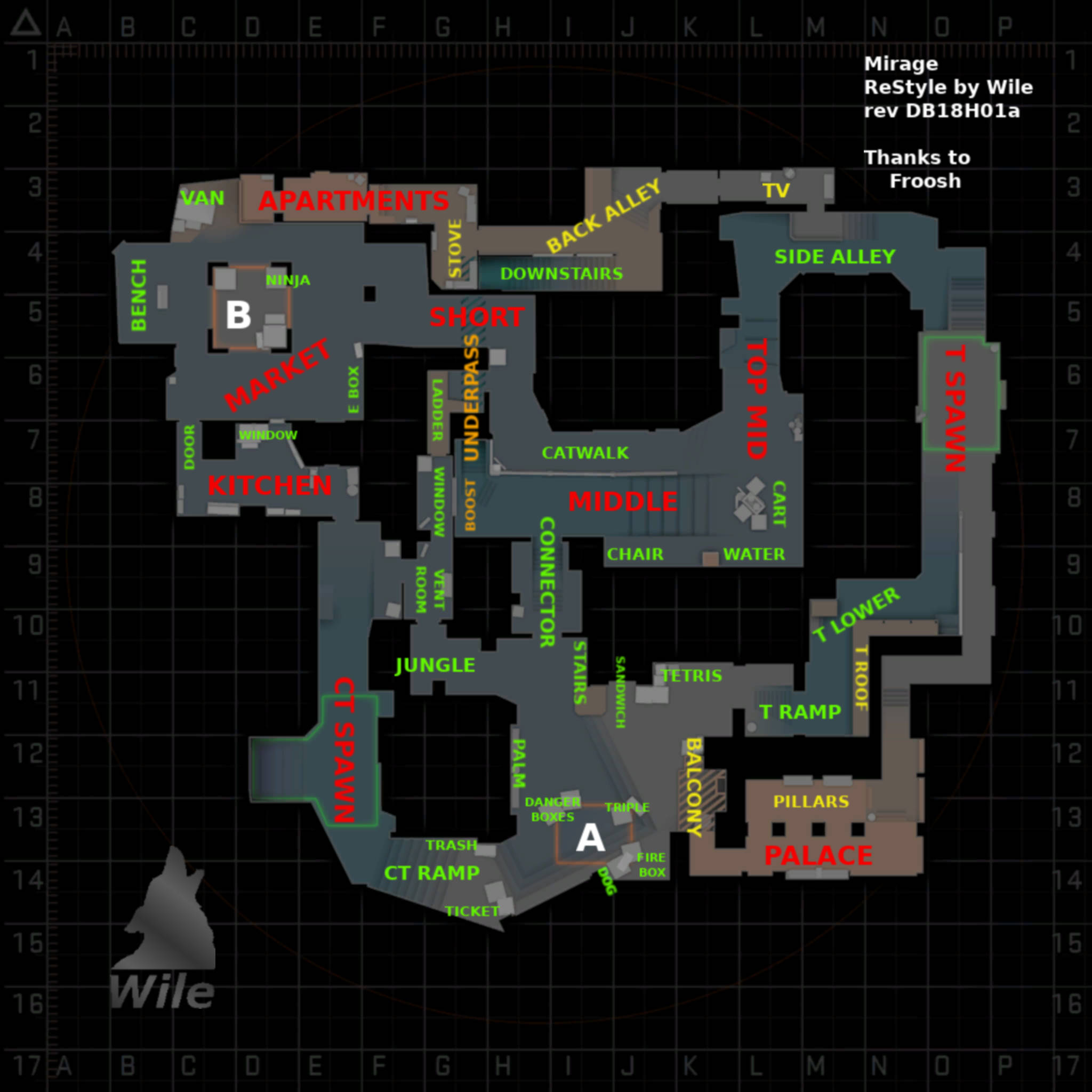 ---
Nuke
06/27/2017 02/12/2018 CATWALK removed other minor changes 9/10/2018 TOXIC removed radar images updated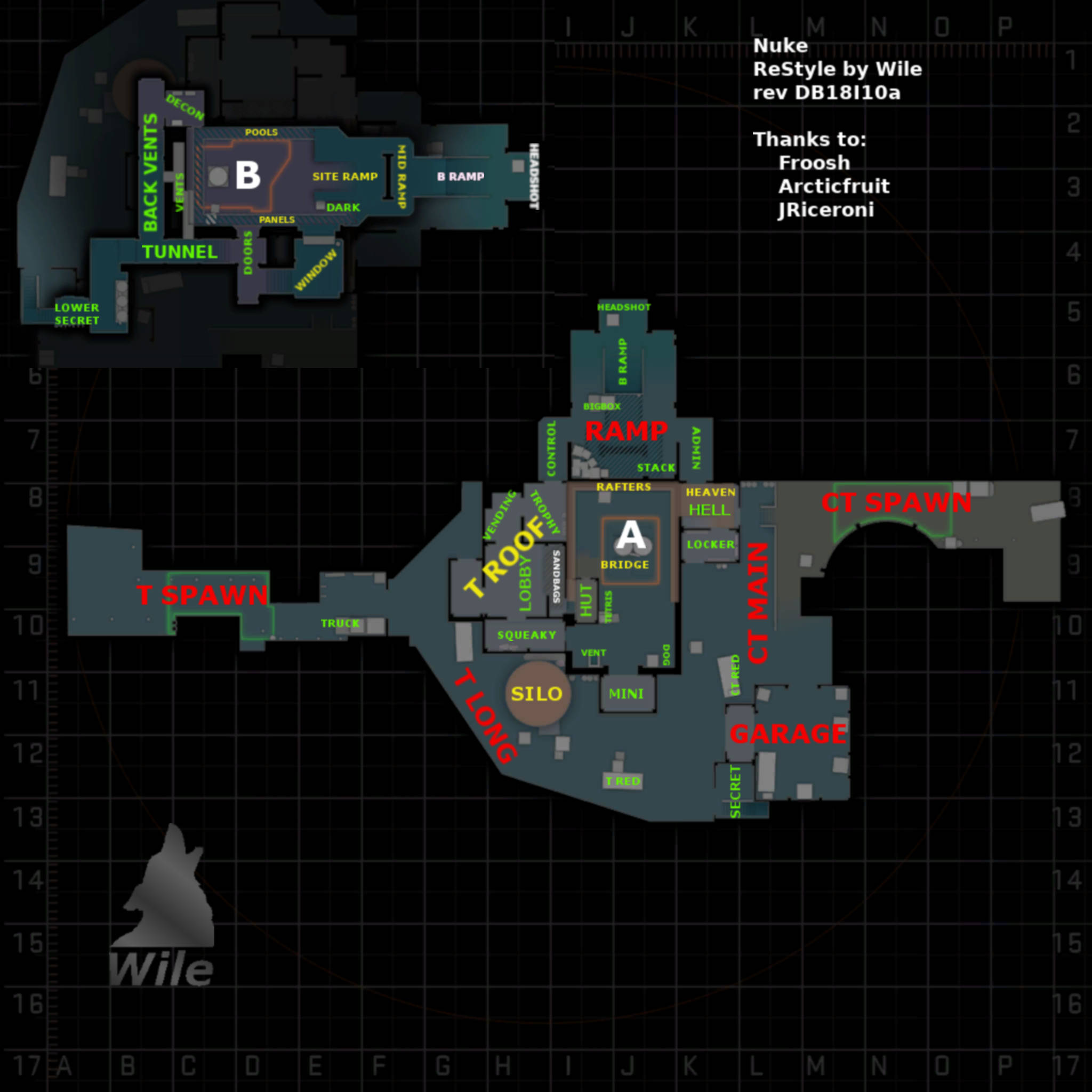 ---
Office
08/21/2017 08/24/2017 CONNECTOR <-> (deleted) MID <-> MIDDLE (extended, now include ex CONNECTOR area) ELEVATOR <-> CONNECTOR (more used by community) STORAGE <-> PAPER (more used by community)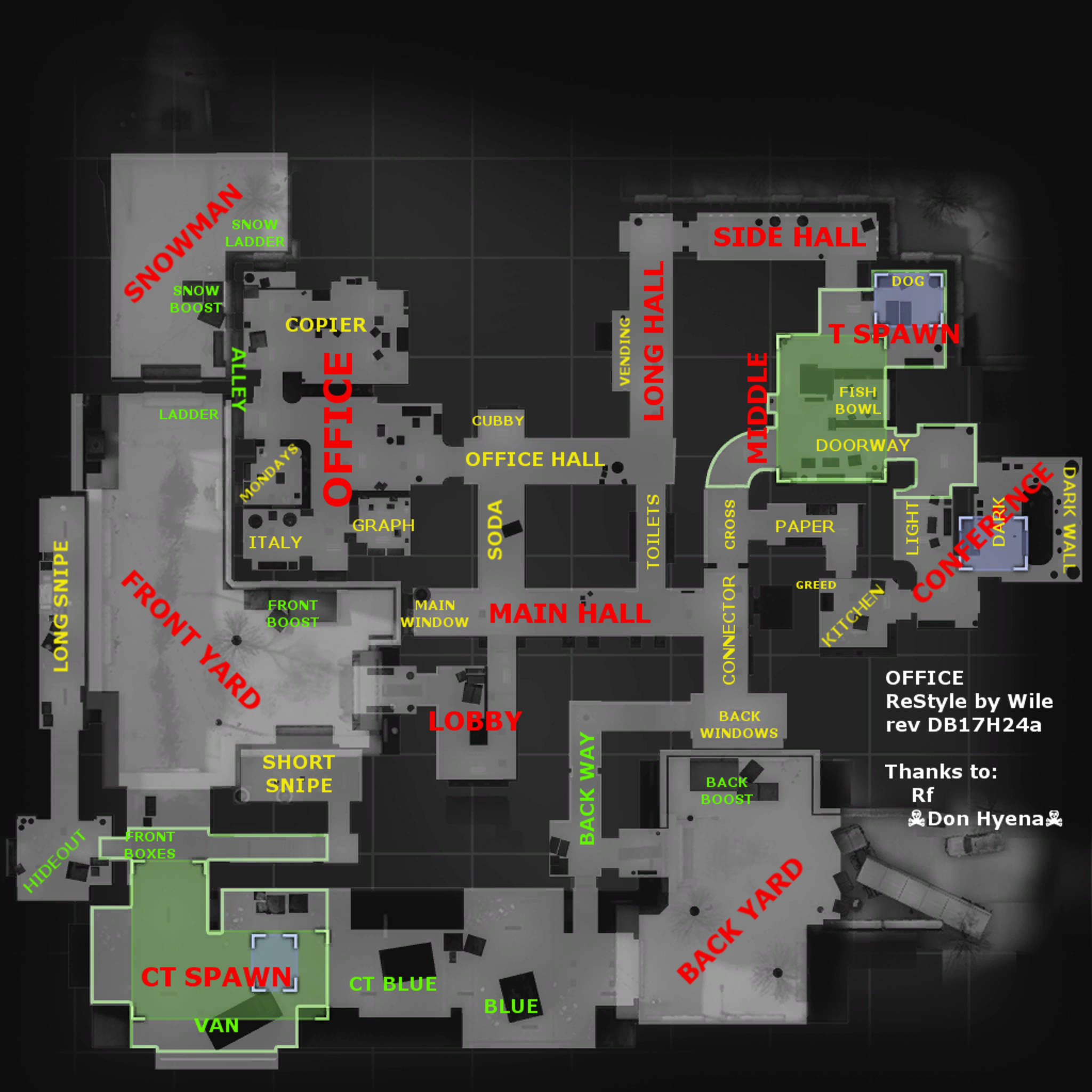 ---
Overpass
05/22/2017 11/29/2017 New: MONSTER - the pipe between TRAIN and CANAL LADDER -> just to break upper from lower :D Changes: Now the four parts of B site are main zones (RED) A MAIN -> MAIN MONSTER -> PILLAR (was an error) 3/1/2018 Change: TOOLS -> SAFE CONSTRUCTION -> B SHORT SHORT -> A SHORT RESTROOM -> TOILETS BOXES -> DEFAULT Delete: LONG TOILET, SHORT TOILET New: DUMPSTER 12/12/2018 Radar image updated New: CLUB Delete: LADDER Some smokes hints: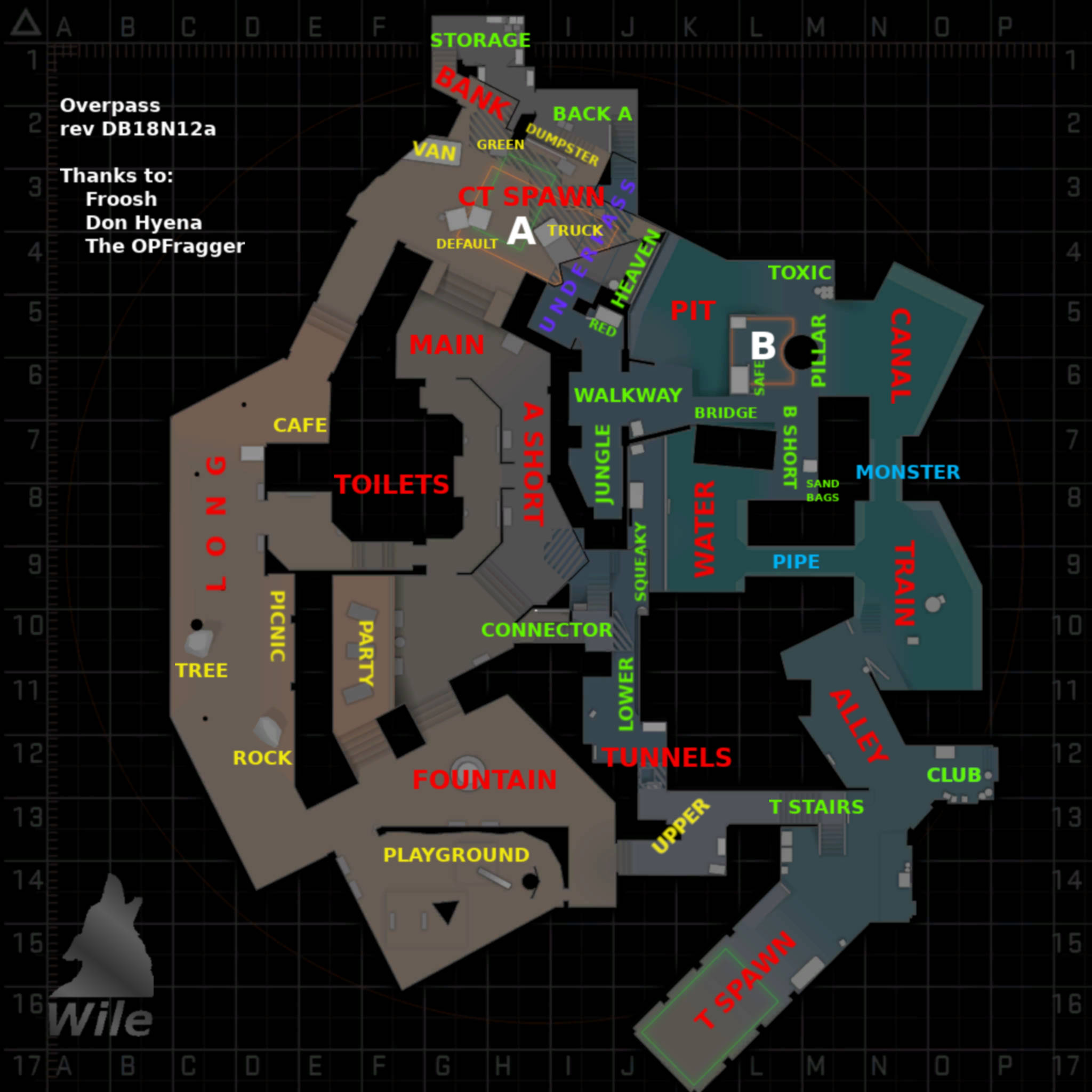 ---
Rialto (WingMan)
11/17/2017 3/1/2018 Changed the references from left-right to north-south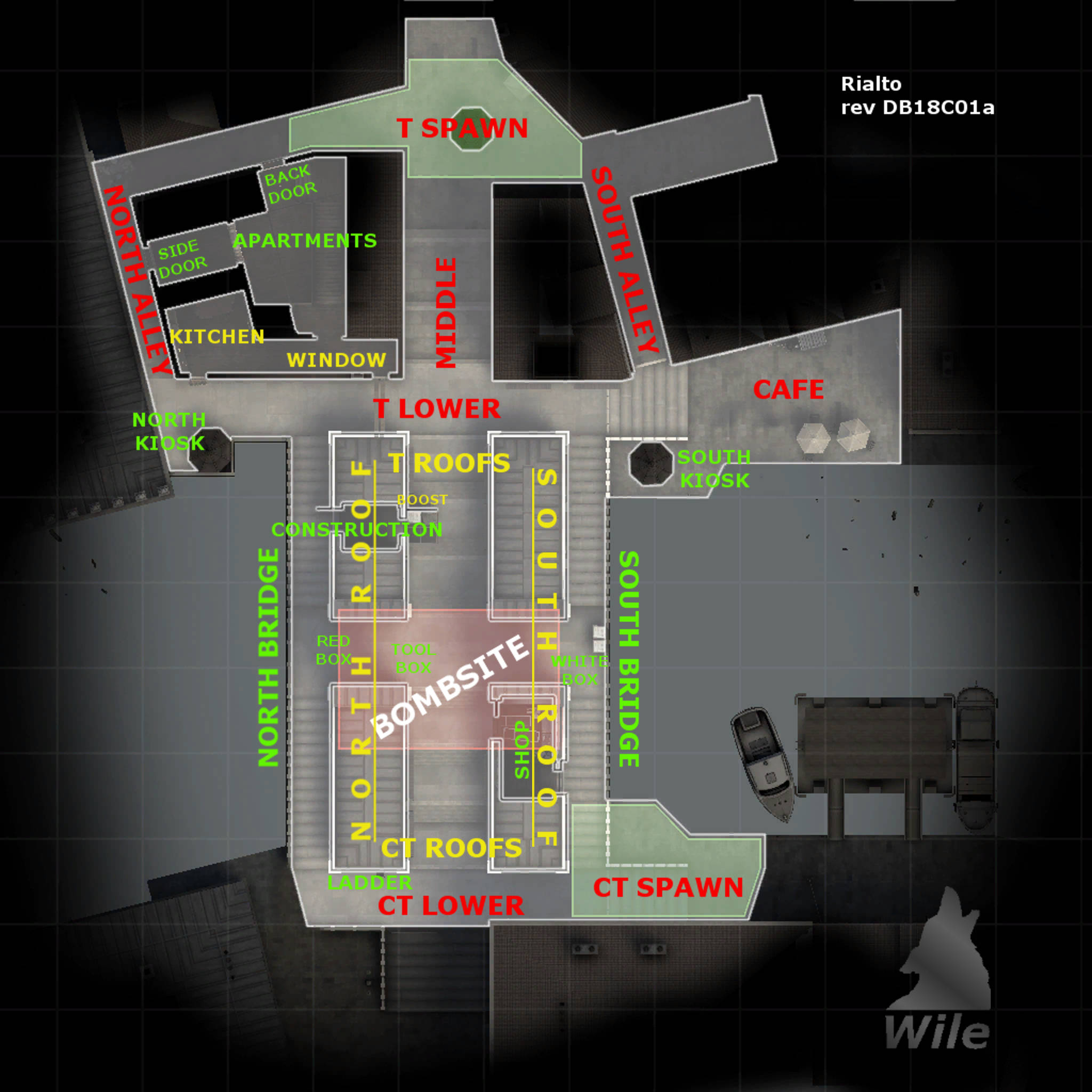 ---
Shipped
Please help me to name the callouts of this map.
It's rare to play this one so names are new.
06/07/2017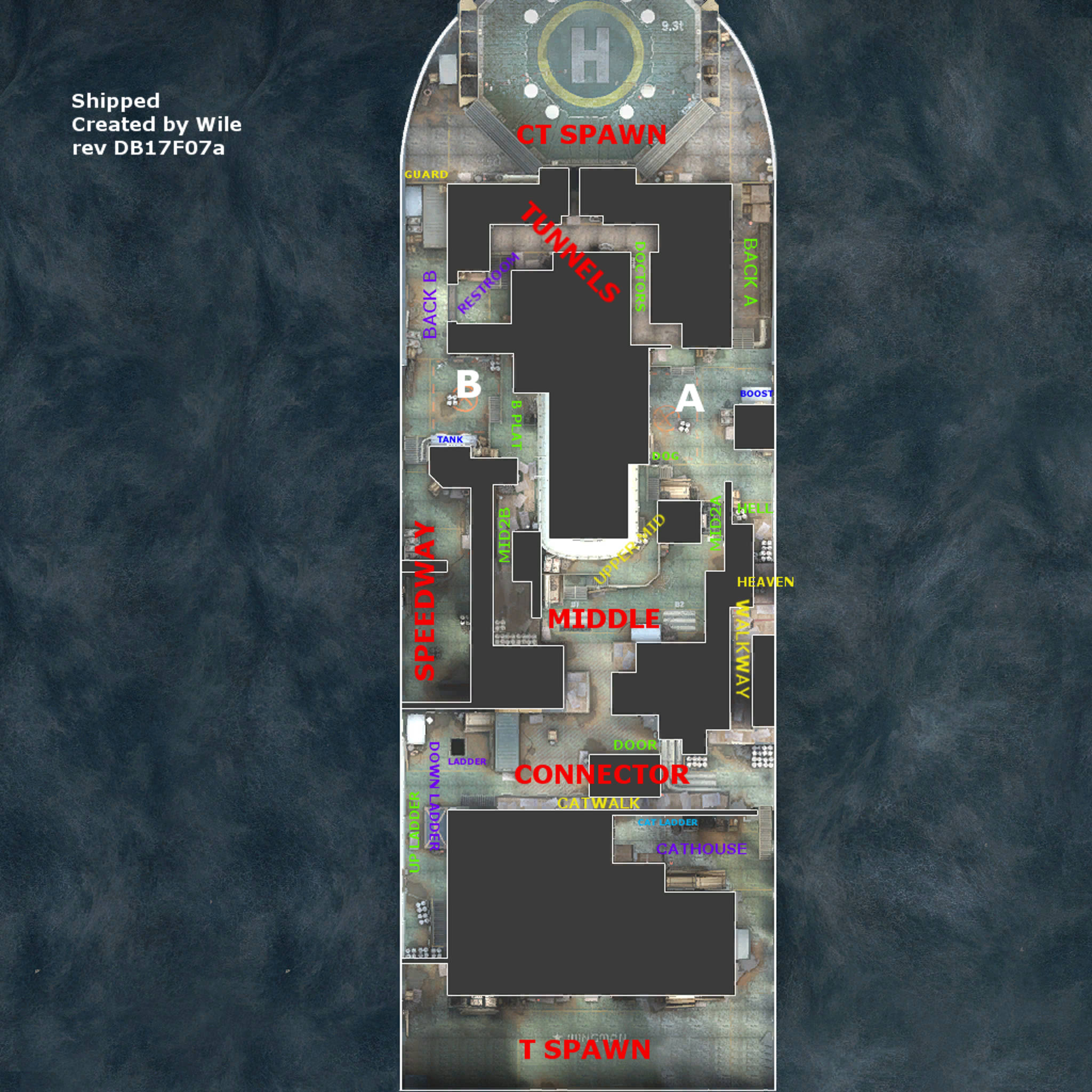 ---
ShortDust (Wingman)
11/17/2017 4/30/2018 RIGHT BOX -> T-BOX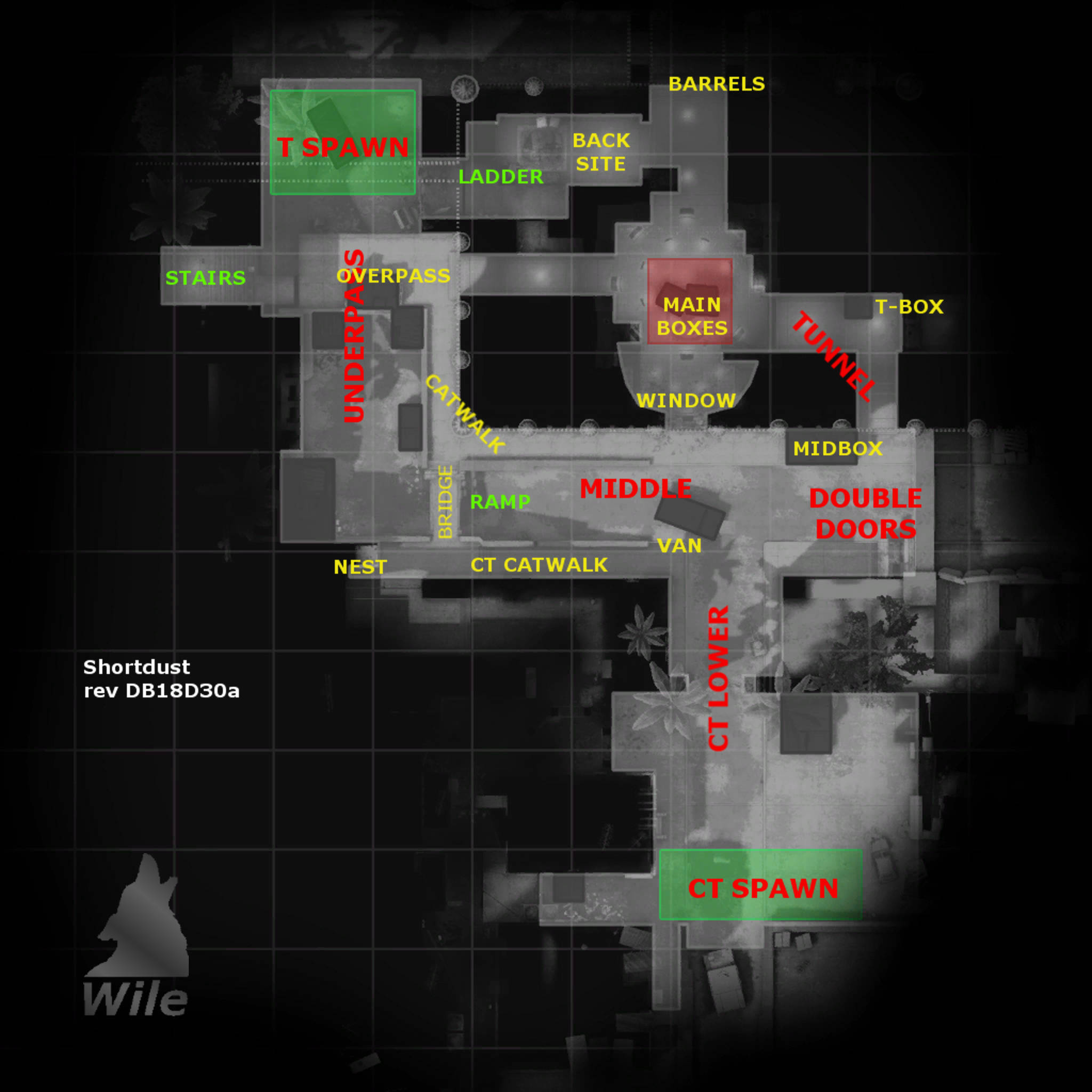 ---
St. Marc (Hydra version)
The Hydra varsion has some windows closed by wood panels and a different configuration of the shed between 'OFFICE' and the 'YELLOW BAR'.
New ladder lead to a front new balcony over the T market.
Please leave a comment for map improving.
05/31/2017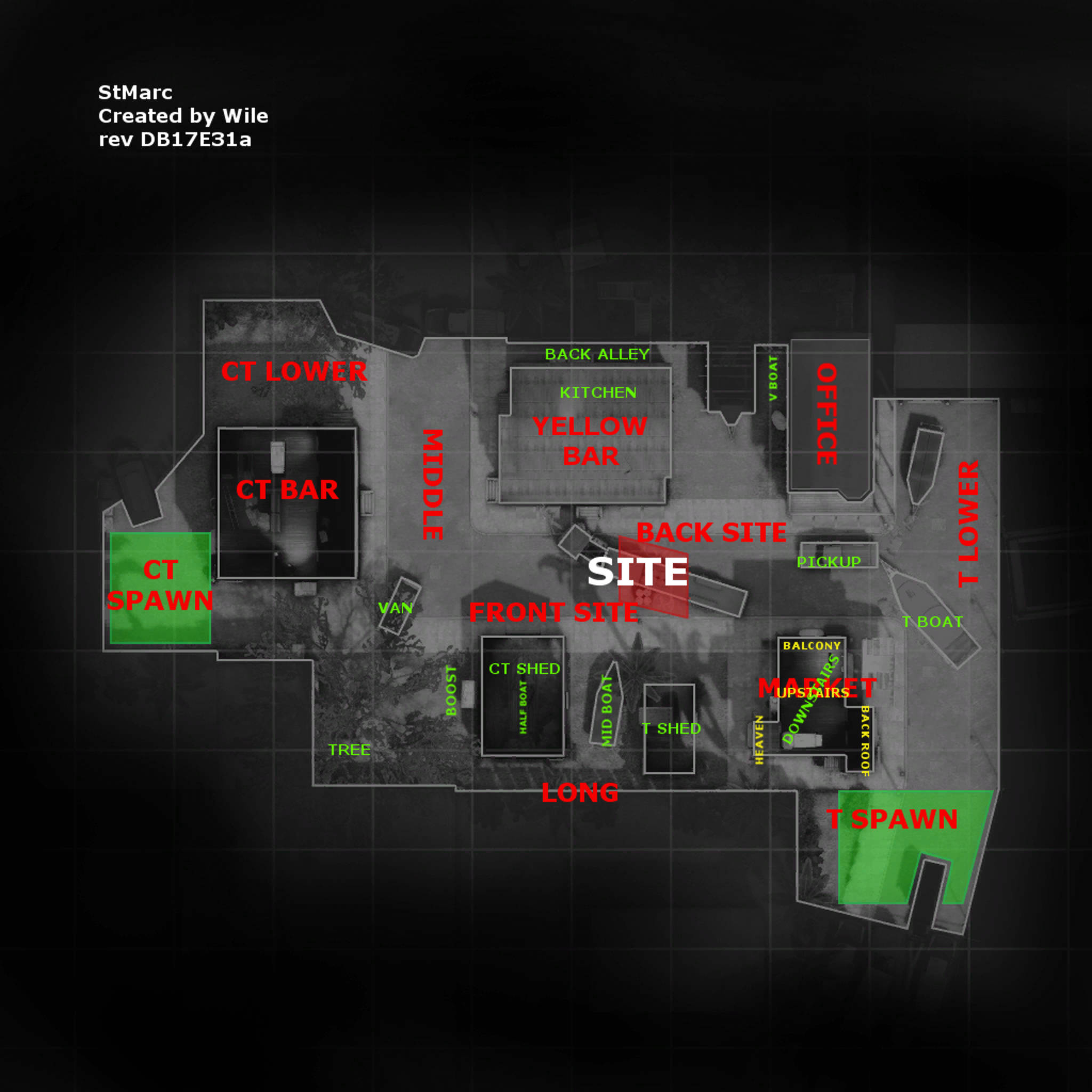 ---
SubZero
10/10/2018 11/30/2018 Delete: DROPPER CONNECTOR zone changed and some colors updates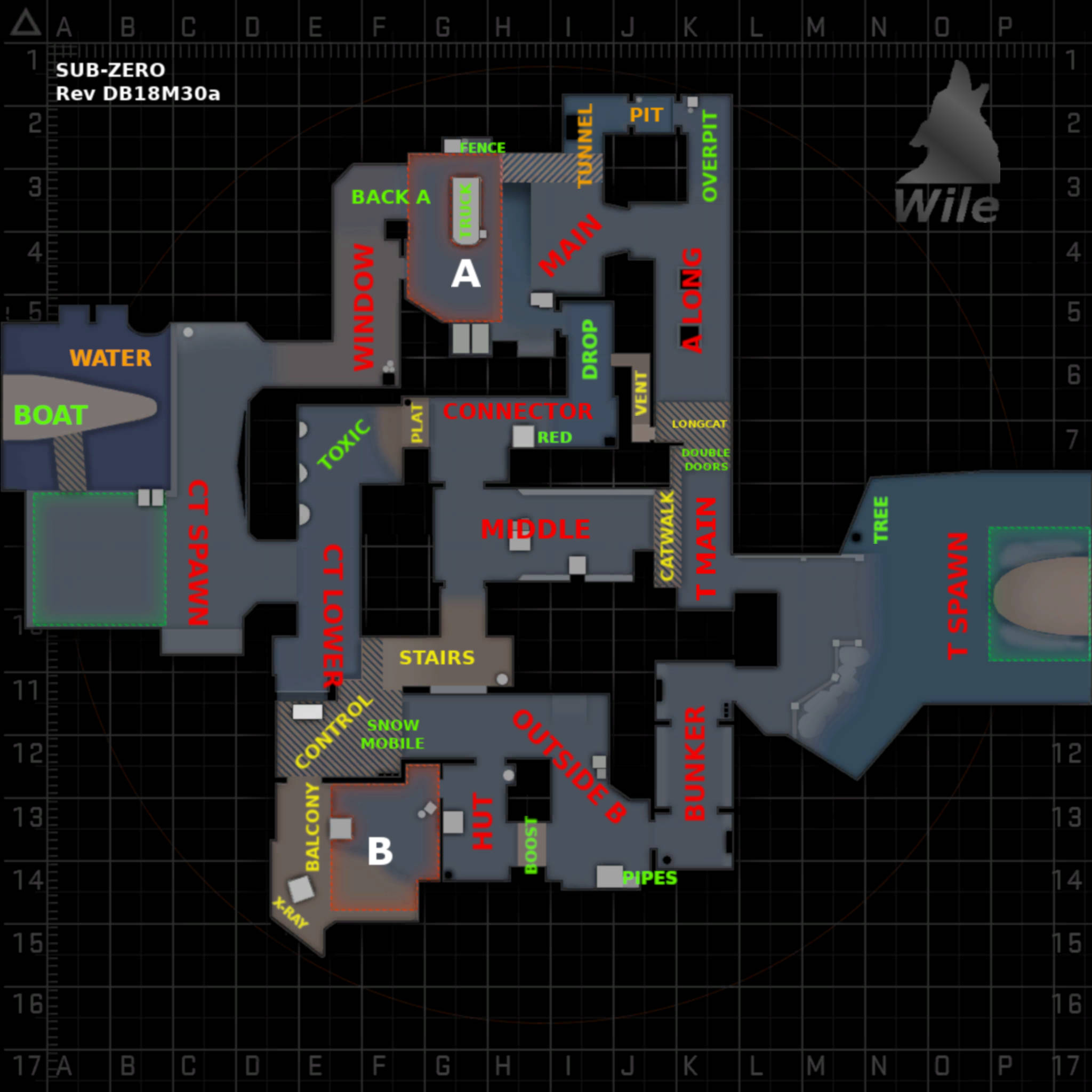 ---
Thrill
08/07/2017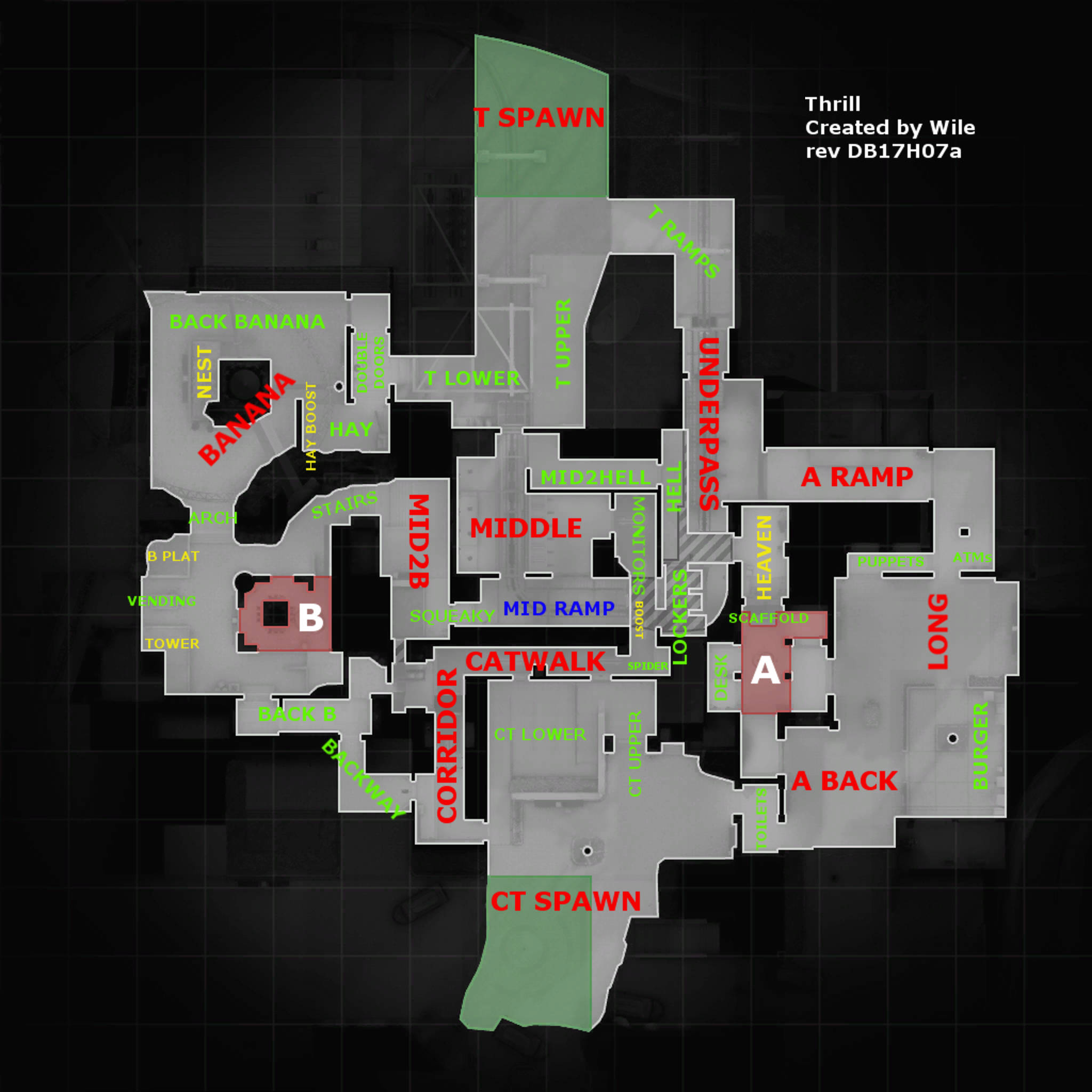 ---
Train
ChangeLog 06/16/2017 New:: NINJA - ON B site Change: POPDOG -> LADDER - Teammates using 02/16/2018 New:: CT STAIRS Change: B-RAMP -> T-RAMP COAL -> BLACK T1 -> TUNNEL2 T2 -> TUNNEL1 LADDER -> POPDOG (more common) BREAKROOM -> KITCHEN Delete: B STEPS, NINJA 12/11/2018 Radar image updated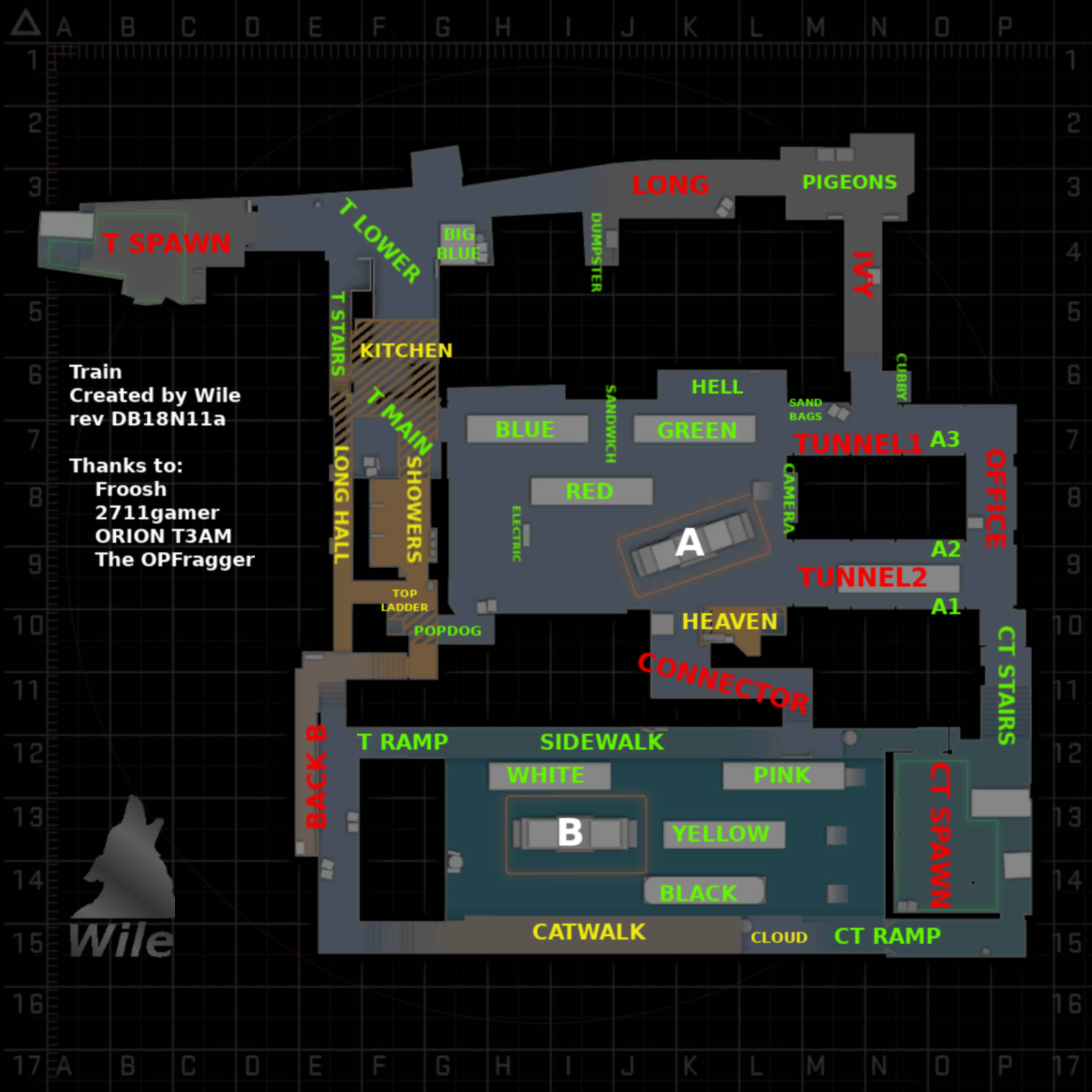 ---
Zoo
1/25/2019
---