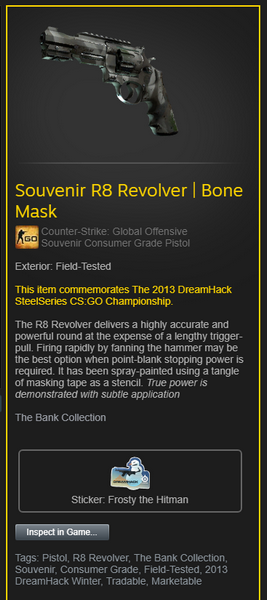 ---
Souvenir R8 Revolver | Bone Mask
4/4 - 2 Minimal Wear and 2 Field-Tested.
Those 4 skins are the rarest of the game.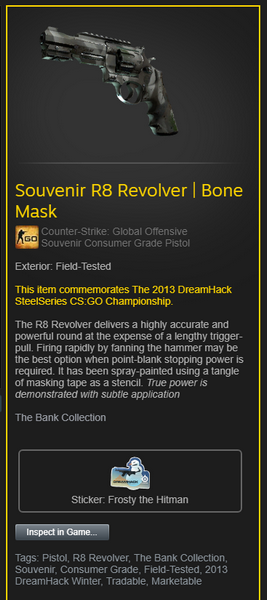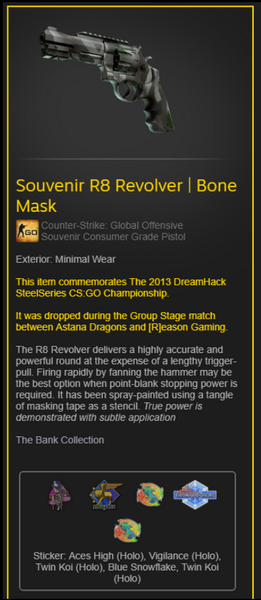 ---
Souvenir M249 | Gator Mesh
1/1 - Only example of a blank skin, missing souvenir informations.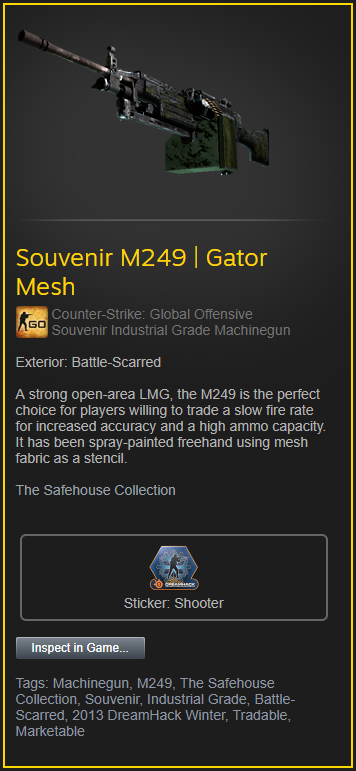 ---
Souvenir MP5-SD | Lab Rats
Rarest pattern : 514.
This is the only skin to come in only the Souvenir condition.

---
Steam Support Karambit
1/1 - Refund by the Steam Support, missing the regular Covert quality and purple borders/text.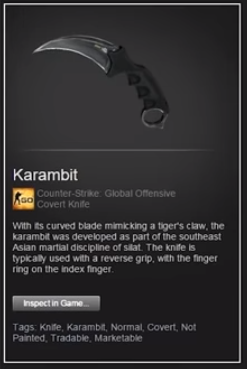 ---
Nova | Predator
1/1 - Regular Nova | Predator, but with a 0.
05999999 float value, which is under the caped 0.
06.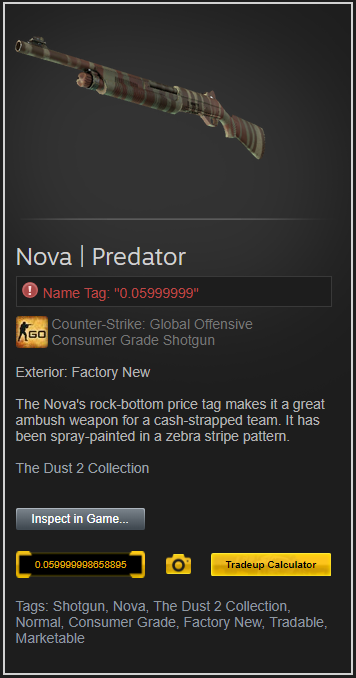 ---
Souvenirs Packages
Souvenir Packages from 2013 are the rarest and the oldest.
You can find regular packages, from game between two teams, and you can find Teamless Packages, without teams in the description.
You will have a Teamless Souvenir Skin from those packages.
You can also find packages for Valve Squad Alpha & Bravo, and NiP Team A VS NiP Team B.
They are a limited ammount of packages for those games, and they can go for well over 250$.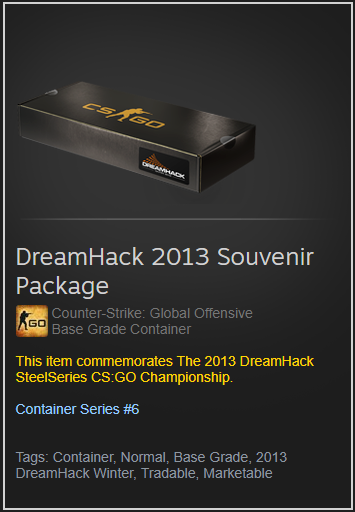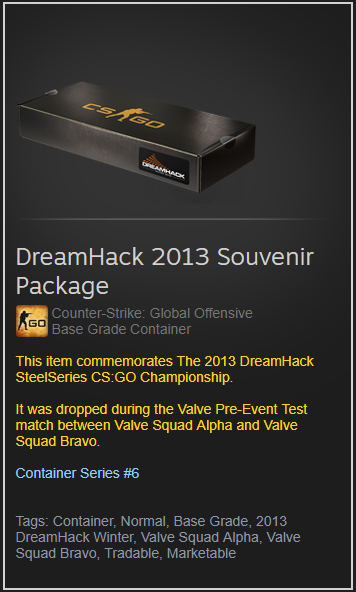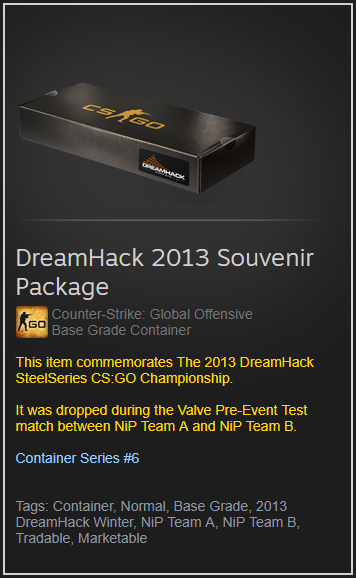 ---
Prototype Items
If you are a CS:GO Contributor, making Maps, Skins or Stickers on the workshop, and if your creations are added to the game, you can be rewarded by Prototype Items, which have a lime border, and can't be sold nor traded.
There are 4 type of Prototype Items : Prototype Map Coin Prototype Operation Pass Prototype Case Key Prototype Capsule Key Here are some screenshots of those differents Prototype Items :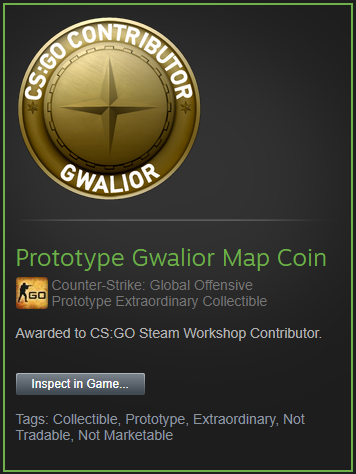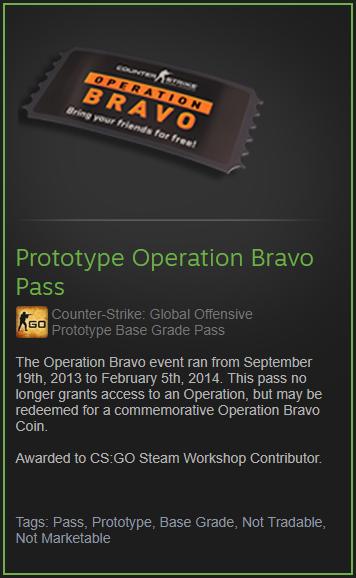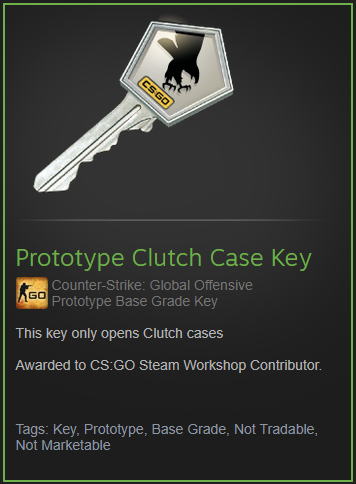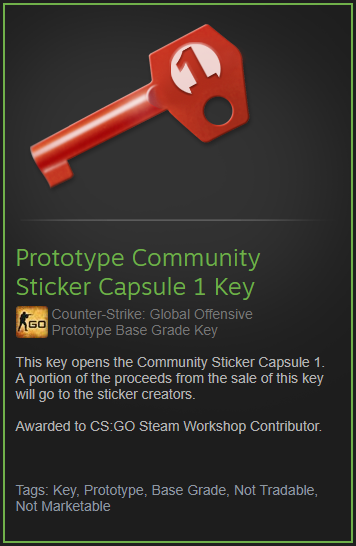 ---
Prototype Capsules
There are also Prototype Capsules, from Katowice 2014, which exist in only 2 exemplar, owned by the professional player Skadoodle and his teammate AZK.

---
Bloddhound Operation Rewards
These items were dropped during the 2015 Bloodhound Operation, after missions.
They don't exist anymore, but some players still haven't opened them.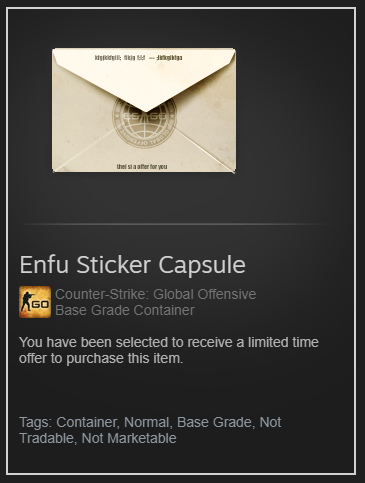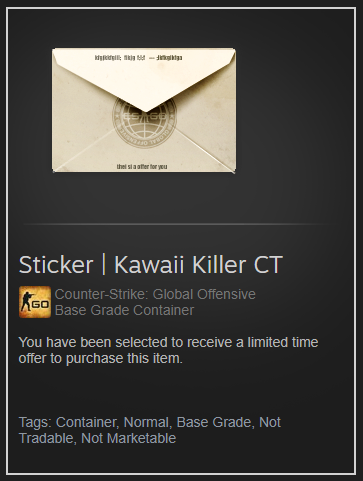 ---
Bloodhound Operation Coin
This player bought 2 pass and activated them on his account.
This was most likely a bug, and was patched soon after.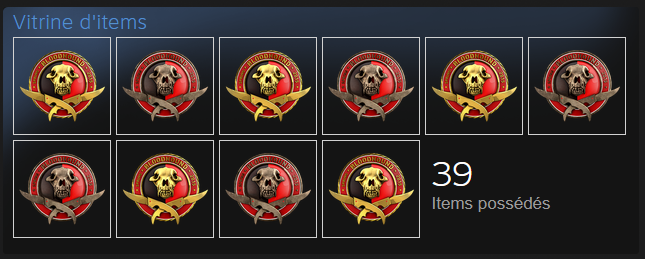 ---
StatTrak Keys and Nametags
---
Final Words and Special Thanks !
We hope you enjoyed the guide, if you know any other Special Items, or weird Skins, be sure to leave a comment, or add Phazz for more informations.
- Vukast - czamarr - JEBTHESHEEP - Dutch - Lixo


---
Best Steam Guide about Souvenir Skins and Items
Check it out !!! http://steamcommunity.
com/sharedfiles/filedetails/?id=568865100
---