---
Intro - What it is and how it became that
This guide introduces you to a Google Chrome browser extension that helps with CS:GO trading.
It describes the features and offers a compelling case to pick it over the competition.
A bit of a history:I am one of the busiest CS:GO traders around and I appreciate everything that helps me with trading, even saving a second or two on every trade adds up eventually! I started writing small userscripts for trading last year, like auto-bumping for the "new" CSGOlounge and various other ones that enhance or add to steam's functionality.
I was also developing a website called whatstradelocked.
com, that allowed you to check anyone's inventory and when their items became tradable.
It was expensive to run and not very popular or convenient.
I came to the decision that I would merge these two projects and package it as a Chrome Extension so I could publish it on the Chrome Web Store for fellow traders to use.
I spent last year's Christmas season researching how extensions work and started developing this one.
The first versions was published mid-January, this year and I have been updating it since (It's at version 1.
8.
2 at the time of writing).
I try to publish new versions every weekend.

---
Features
Current Features: Adds an "Inspect in Browser.
.
.
" button beside the default inspect button Shows when an item's tradelock will expire and adds a countdown Shows Doppler knives' phases Shows exterior on each item and adds links to other version to inventory and market pages NSFW filter mode to avoid showing anime boobs to your colleagues Bookmark and notify when item is tradable Other small automations, conveniencesMy ultimate goal is replacing Steam Inventory Helper entirely for my needs, but priority for now is on features that SIH lacks.
What I work on at a given time is pretty chaotic, but you can check my TODO[github.
com] file where I keep track of my plans.
There is no guarantee on anything though.
I might scratch something off the list entirely while adding 10 different things.
There could be features that never see the light of day, while others could be in the next release.
My aim is publishing a new version every weekend.
These screenshots are a bit outdated, it has more features and a more refined style on some places.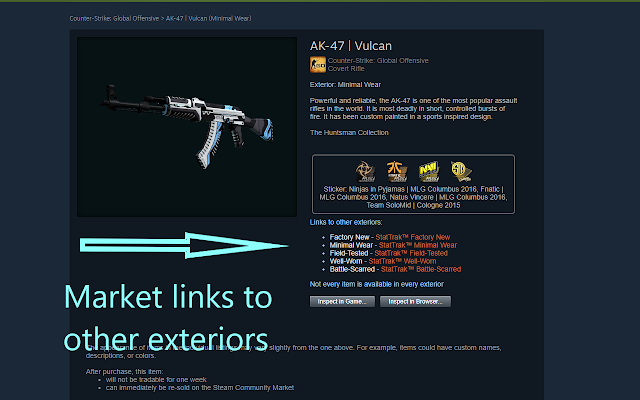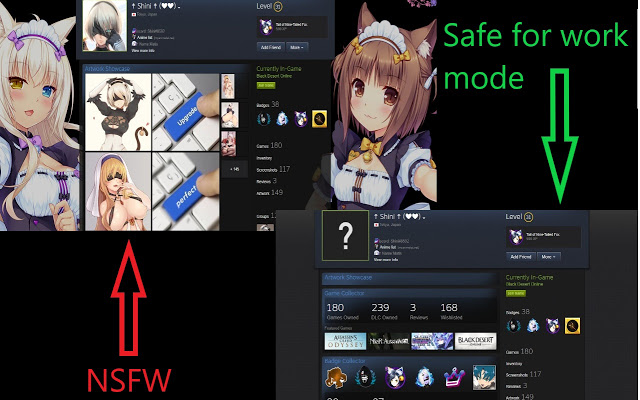 ---
The competition
SteamWizard I was a big fan of SteamWizard and used it for quite a while.
It had all the major features I wanted and served me well.
It's been dead for months now though together with csgo zone and metjm.
And there is no sign of the developer coming back.
SteamWizard getting abandoned was my main motivation of starting to develop this extension.
Steam Inventory Helper (SIH) Steam Inventory Helper (SIH) is the biggest out there with a good feature set, but it some entity bought it and started to monetize it by adding tracking scripts to every website you visit.
It has permission to view and record all your browsing activities, which it does.
As I already mentioned for now I am developing features that it does not have and I personally have it installed in it's own separate browser, so it's not able to access my real browsing data.
The two major features it has that I use it for is pricing info on items and float checking.
My extension is fully compatible with it for now.
Others There are some smaller projects around, but they are either very limited or abandoned all together.

---
Getting the extension
The extension is developed for Google Chrome desktop and you can install it from the Chrome Webstore[chrome.
google.
com] .
I do not test it on anywhere else, but I have heard some success installing it on Opera (other chromium based browsers should be fine too, Edge is going to be that too soon), and even on Android with the Yandex browser.
If you want to tinker with the code, you can grab it from Github[github.
com] and load it yourself.

---
Additional information
Contact You can use the Chrome Webstore[chrome.
google.
com] for support - you can contact me with questions, suggestions or you can report a problem.
I would appreciate if you would take the time to review or just rate it! GithubThe extension is open source and is available on Github[github.
com] .
You can report bugs or issues, follow the development - like check what's going to come in the next release before the others.
You can also contribute, not with just code, ideas or graphics are needed as well! About the owner/developerIt's Gergely Szabo[www.
gergely-szabo.
com] or more widely known in the CS:GO trading world, GeRy.
If you are interested in who I am check out my personal website[www.
gergely-szabo.
com] , or if you are in the mood, send me a steam trade offer.
https://steamcommunity.
com/tradeoffer/new/?partner=75764727&token=tx0asz7q
---