---
Modurist
Need cheap and professional CS:GO team logos? Visit Modurist[www.
modurist.
com] & use code "stutter" for $3 off

---
Reccomended Settings
If you don't care about what each setting does and just want the most optimal settings here: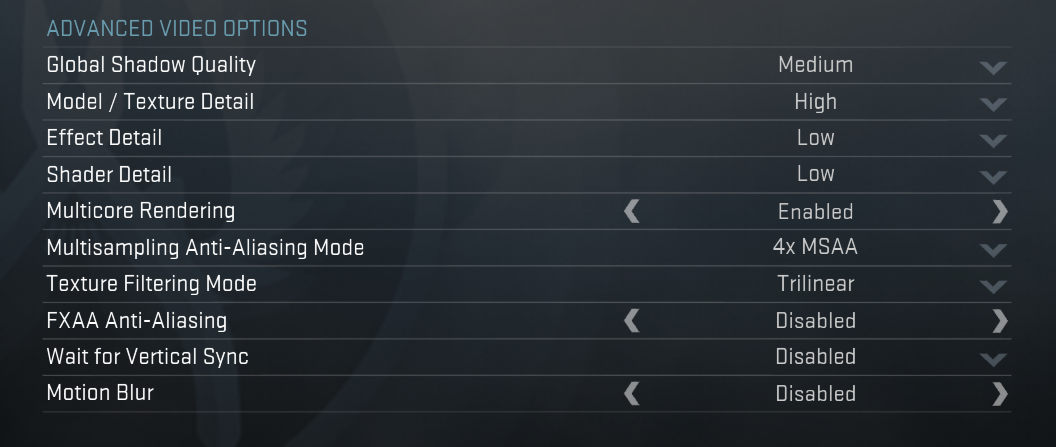 ---
Resolution
Resolution is really a personal preference however there are a few things to mind: • 4:3 Aspect Ratio cuts your FOV (Field of View) to 73 degrees even if streched where as 16:9 & 16:10 are 90 degrees.
• Lowering your aspect ratio/resolution will give you MORE FPS • Changing your aspect ratio/resolution from your current one will change your sensitivity [Lower Resolution = Higher Sensitivity ; Higher Resolution = Lower Sensitivity] My Reccomendation: If you're stuck deciding what you are most comfortable with just go with your monitors native resolution and aspect ratio unless this impacts your FPS.
My monitor is 16:10, 1680x1050 and that's the resolution I play on.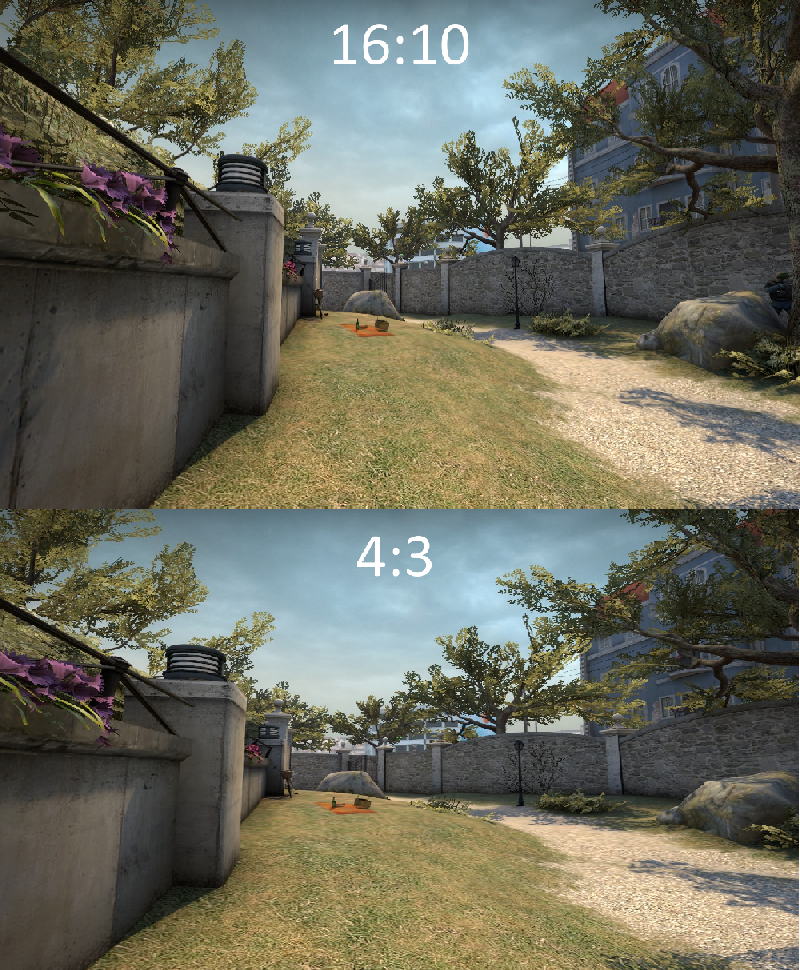 ---
Global Shadow Quality
The shadow quality mainly effects the shadows of buildings, other objects around the map and the distance that you see the shadows from.
• Higher shadow quality = More object shadows, detailed player shadows • Lower shadow quality = Less object shadows, pixilated player shadows My Reccomendation: Medium, it allows only the nessecary object shadows which can be useful for lining up smokes and has good-looking player model shadows that can be seen from a distance.

---
Model / Texture Detail
This barely makes a visual change in game nor impacts the FPS and just makes your game look a bit nicer.
Infact it makes plants less blurry and easier to see through.
Reccomendation: High
---
Effect Detail
This effects the edges of smoke grenades, smoke of the incendiaries and particles of a HE grenade.
• Higher Effect Detail = More effects, smoke and particles • Lower Effect Detail = Less effects, smoke and particles My Reccomendation: Low, this way you can see through smokes, incendiaries and grenade particles easier.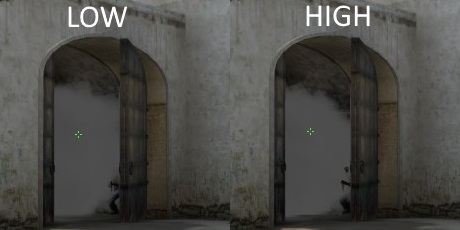 ---
Shader Detail
This creates weather on some maps such as snow or rain.
There is also more major differences which I will cover • High Shader Detail = Weather, opaque water, blurry • Low Shader Detail = No weather, Clear water, not blurry My Reccomendation: Very Low, this way there is no weather bothering your vision and the screen is alot less blurry.
This prevents anything distracting in your vision.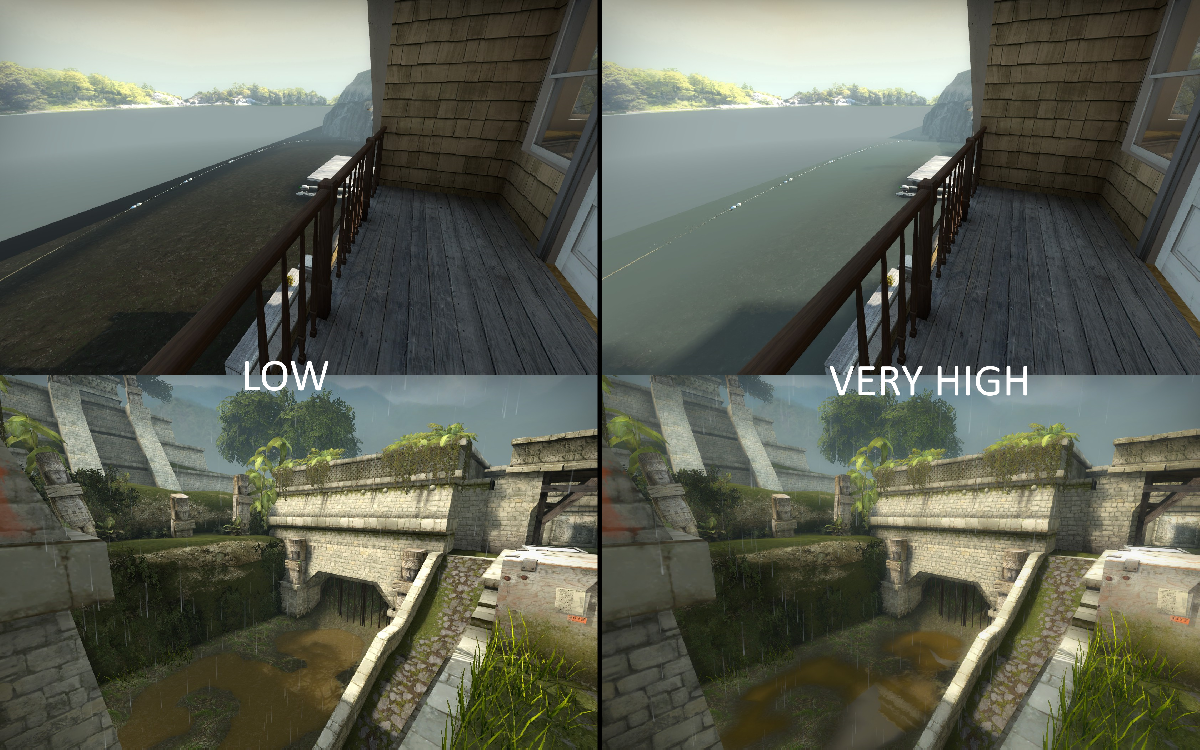 ---
Multicore Rendering
Having this enabled uses all the cores in your CPU My Reccomendation: If your CPU is powerful and has more than 2 cores then enable this.

---
Multisampling Anti-Aliasing Mode
This just gives models and textures a finer or pixelated edge.
My Reccomendation: Choose whatever according to your PC specs.
If you're getting poor framerate turn it down, if you can handle it higher turn it up higher.

---
Texture Filtering Mode
This also makes textures a finer look or blurs it.
My Reccomendation: Trilinear, this way enemy models stand out and don't blend in the background.

---
FXAA Anti-Aliasing
This "smoothens" edges of objects and textures but really it just blurs it.
My Reccomendation: Disabled, this way enemies stand out and your game has a finer look.

---
Wait for Vertical Sync
This pre-renders frames and basically has a delay in showing you the frames • Disabled = Live action • Enabled = Delayed Frames My Reccomendation: Disabled
---
Motion Blur
This blurs your screen if you move your mouse left/right/up/down • On = Blurs screen while moving • Off = Vision is still while moving My Reccomendation: Off, this only blurs your vision and gets in the way of seeing things when you move.

---