Creating the buyscript
To create your buyscript, simply navigate to this website[csgobuynds.
com] .
Here you can choose the key and then assign the gun that you want to be able to buy by pressing that key.
Small hint: FAMAS and GALIL AR can be put on the same key, since you're only able to buy one of them, depending on your current side anyways.
After you have selected all the bindings you need, press the Generate Binds button at the bottom (or simply tick the Auto-Generate Binds checkbox) and that's already it.
Your buyscript is now created and ready to be implemented into your CS:GO.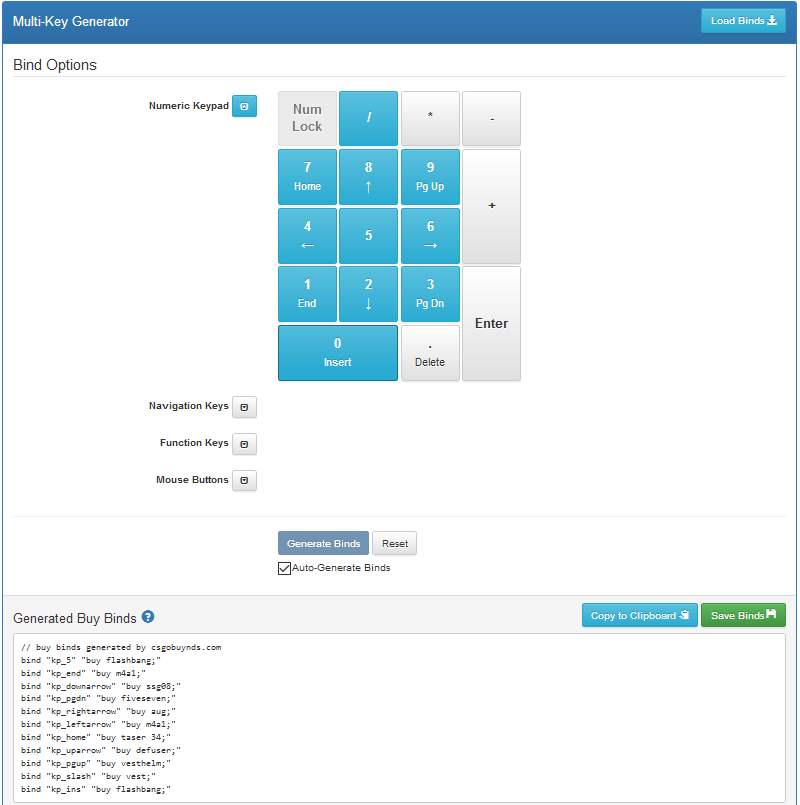 Implementing the buyscript
There are two different ways to implement the buyscript into your CS:GO.
1.
Option - Use this if you want to buyscript to only work on a single account on a single computer If you know you only want the buyscript for that specific account and only on that computer, you can simply copy and paste the generated binds into your CS:GO console.
If you don't know what the console is or how to use it, here is a quick explanation: The console in CS:GO (or basically any source game) can be used to customize and tweak settings of the game, that might but might not be accessable through the ordinary menu / hud.
If you don't really know what you're doing I recommend you not playing around with settings from the console.
To be able to open the console and type commands you have to go to the CS:GO Game settings and Enable Developer Console.
To bind the console to a different key than the standard one go to Keyboard / Mouse settings and scroll all the way down to the last option.
Choose a key for the console that surely is not being pressed by accident during normal gameplay so you won't have the console popping up in a gunfight.
(I recommend using ".
" or ",") If you managed to open the console correctly, simply paste the generated binds in there.
If copying and pasting all of the generated binds at once does not work, simply copy and paste each bind seperately (one bind command goes from the word "bind" to the ";") 2.
Option - Use this if you want to always have the buyscript activated on your computer, no matter what account is playing First, copy the generated binds to your clipboard.
Then navigate yourself to this directory: WHEREVER YOUR STEAM IS INSTALLED\Steam\steamapps\common\Counter-Strike Global Offensive\csgo\cfg if a file called autoexec.
cfg does already exist, you can simply open it, paste your binds into the bottom of the file and save it.
If the file does not exist yet, create it.
Make sure you have the data extensions turned on in your Windows explorer or you might end up creating a file that's called autoexec.
cfg.
txt.
To create the file you can use any text editor.
After the file is created you copy the generated binds in there.
If the game does not automatically execute your autoexec.
cfg when starting CS:GO you can either write "exec autoexec" into your console to execute the file or you can put "+exec autoexec" into your CS:GO launchoptions.
Using launchoptions is the most comfortable solution for this I'd say.
That's it! Now you have perfectly set up your buy script for CS:GO and never have to use the buy menu again! Great job!